Hello everyone! It's WWDC week and a large portion of the 1Password development team is here in San Jose basking in the glow of this year's Apple's Worldwide Developer Conference. For me it's my first time coming to WWDC since it was last held in San Francisco two years ago, and I absolutely love it. The conference center itself is gorgeous, and the surrounding area is wonderful. Somehow I'm finding it easier to run into folks I know, and I've already caught up with a bunch of old friends and made a number of new ones since I've arrived.
WWDC is much more than a place for me to stretch the wings of my social butterfly tendencies, however; it's all about new tech, and boy oh boy did Apple hook us up this year. Many of us are already rocking iOS 12 and macOS Mojave on our main devices and computers and they are awesome. Not only that, but 1Password is running quite happily on iOS 12 and needs just a couple small tweaks on macOS Mojave.
iOS 12 and Password Autofill
On Monday afternoon, during Apple's Platform State of the Union I sat down with my teammate Rudy and jumped into Apple's newly announced Password Autofill API. By the time we were ready to grab some dinner we had a tweet-worthy demo all done:
What a wonderful present for us at WWDC this year! Thank you to all our friends at Apple for this great new API. #1PasswordAutofill - @1Password View tweet
This new capability is transformational in our ability to integrate with iOS. Starting in the next version of iOS, 1Password will be able to fill your credentials into every app that has opted into the Password Autofill functionality that Apple introduced with iOS 11 last year. 
macOS Mojave and Dark Mode
After our incredibly successful launch of 1Password 7 a few weeks ago we've been waiting to see what Apple had in store for the Mac. On Monday we got our first glimpse of dark mode in macOS Mojave, which of course left our designer Dan itching to get back to his computer to start playing. Since then the mockups have been flowing like water: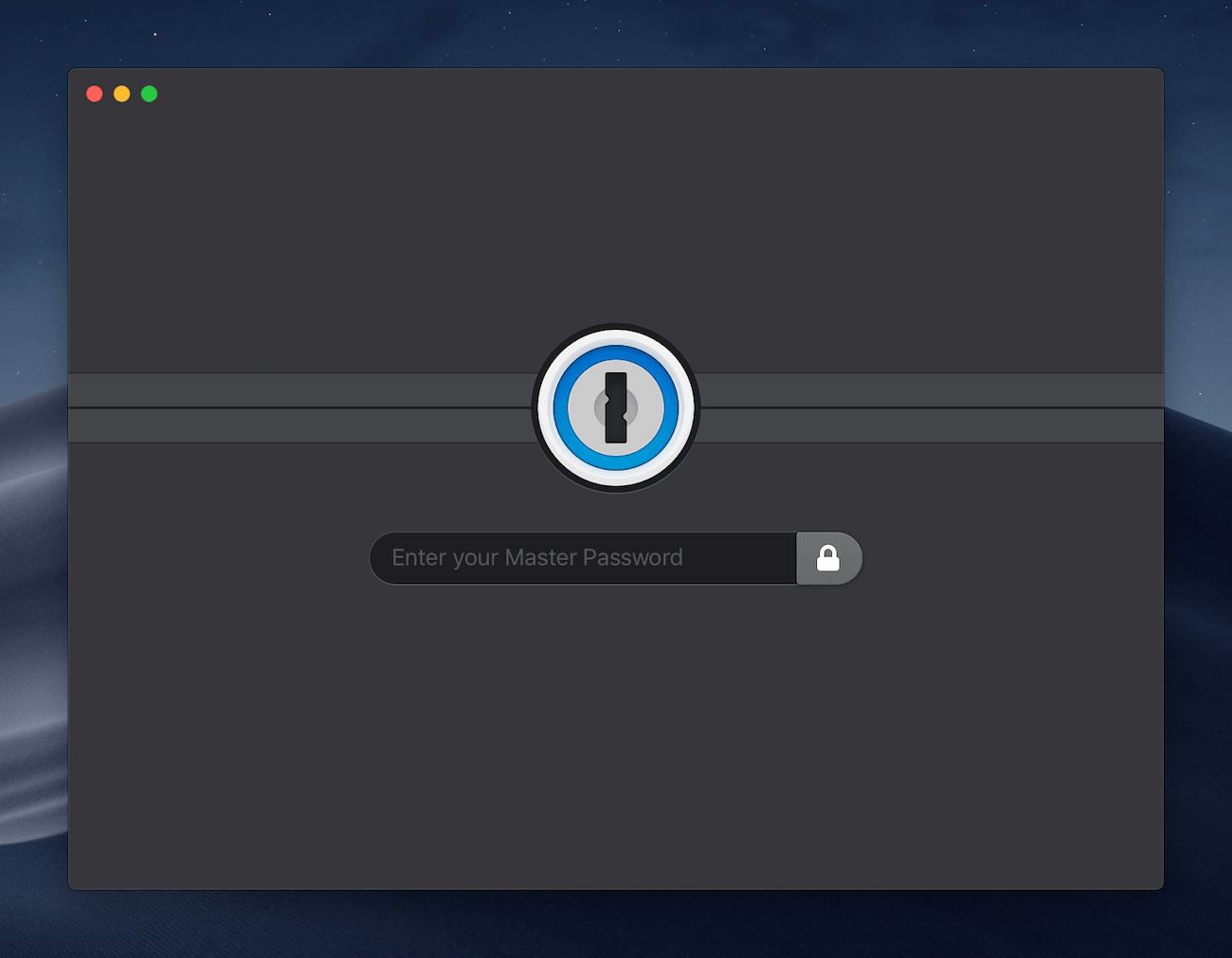 Privacy and Security
Apple's dedication to privacy and security are legendary and this year they introduced a whole host of new tools to help keep your computer safe. The biggest ones that we're excited about are system integrity protection (SIP) for apps and notarized apps.
Apple's documentation gives a concise definition of SIP at a high level:
System Integrity Protection is a security technology in OS X El Capitan and later that's designed to help prevent potentially malicious software from modifying protected files and folders on your Mac.
SIP for apps allows us to opt in to these same protections for the 1Password app binary that resides on your computer. It gives you (and us!) peace of mind knowing that the app we built and shipped is the one running on your computer.
Notarized apps is the other thing that we're really excited about. Apple is standing up a new service for developers where they can submit their app prior to release. The service will check the app, verify that it's free of malware, and issue a certificate that will be "stapled" to the app. This certificate is then used by your Mac to verify that the version of 1Password you're using has been screened and approved as being free of malware. Coupled with SIP, these two new technologies are going to be great for all apps, and 1Password in particular.
Wrapping it Up
While I can't comment on rumor or speculation, you could use our previous track record to reasonably conclude that when iOS 12 and macOS Mojave ship later this year we'll be there, on day one, with full support for both. In the meantime, make sure you sign up for the iOS beta, and opt-in to the betas of 1Password for Mac in Preferences: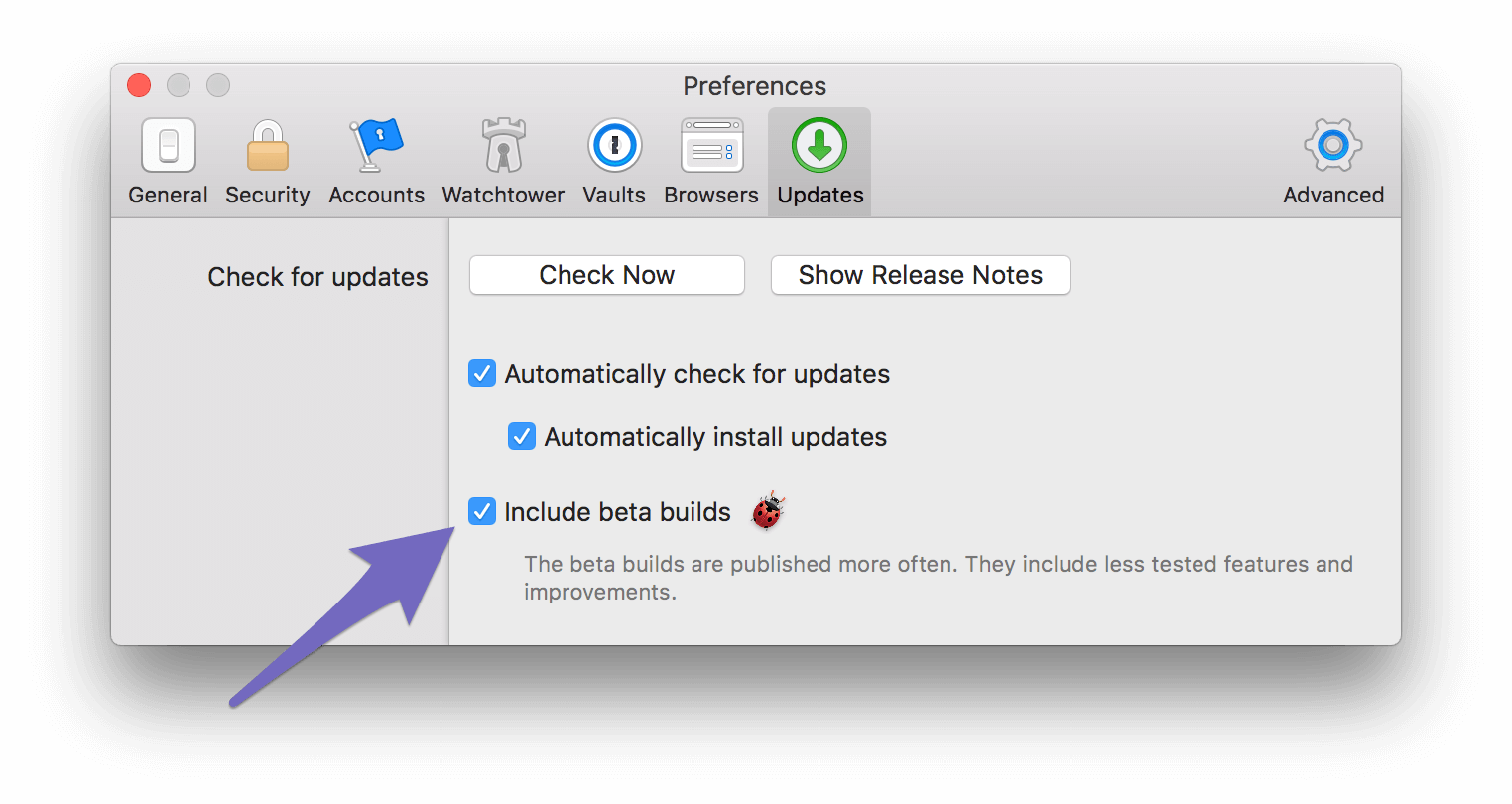 How about you? What was your favorite announcement from WWDC this year? Sound off in the comments below, I'd love to chat about it with you.