Pride Month is about coming together to honor, celebrate, and show support for the LGBTQ+ community. A number of our 1Password team members are part of the LGBTQ+ community, and it's important to me personally, and to us as a company, to be allies and create space for everyone to be their truest selves. While we're celebrating Pride this month, showing support for LGBTQ+ year round is important to us. Which is why we created a number of programs to champion equity and diversity on an ongoing basis at 1Password.
Alongside my colleagues and team this month, I'm taking the step to make my pronouns more visible across my social channels as well as internally across Slack and Zoom. I do this to normalize the use of sharing pronouns in advance of meeting new team members and colleagues, and to ensure that no 1Password team members feel they are alone in declaring who they are at work.
We'll be hosting a number of learning sessions that will be led by speakers and organizations who are part of the LGBTQ+ community. These talks and seminars will focus both on educating our team on being supportive allies, and also providing useful information for those who identify as part of the community.
How we're celebrating pride
Kicking off our celebration will be a keynote by Cheddar Gorgeous, a gender-divergent drag artist and producer. We also have Queer Events hosting two workshops for our Customer Service team, so they have the right tools to support all of our customers.
To help our 1Password culture continue to encourage and exemplify a safe space for everyone, we invited Canada's LGBT+ Chamber of Commerce to speak to our team about creating a welcoming and accessible workplace. We're also hosting a Pride-related financial wellness webinar that will provide information on how the Pride community can overcome unique financial challenges they may face because of their identity.
Pride is about more than just an opportunity for education – it's also a time for celebration. We want our team to have some fun this month, so we organized some exciting events including Drag Queen Trivia, hosted by Confetti, and a Pride-themed trivia game hosted by BarNone.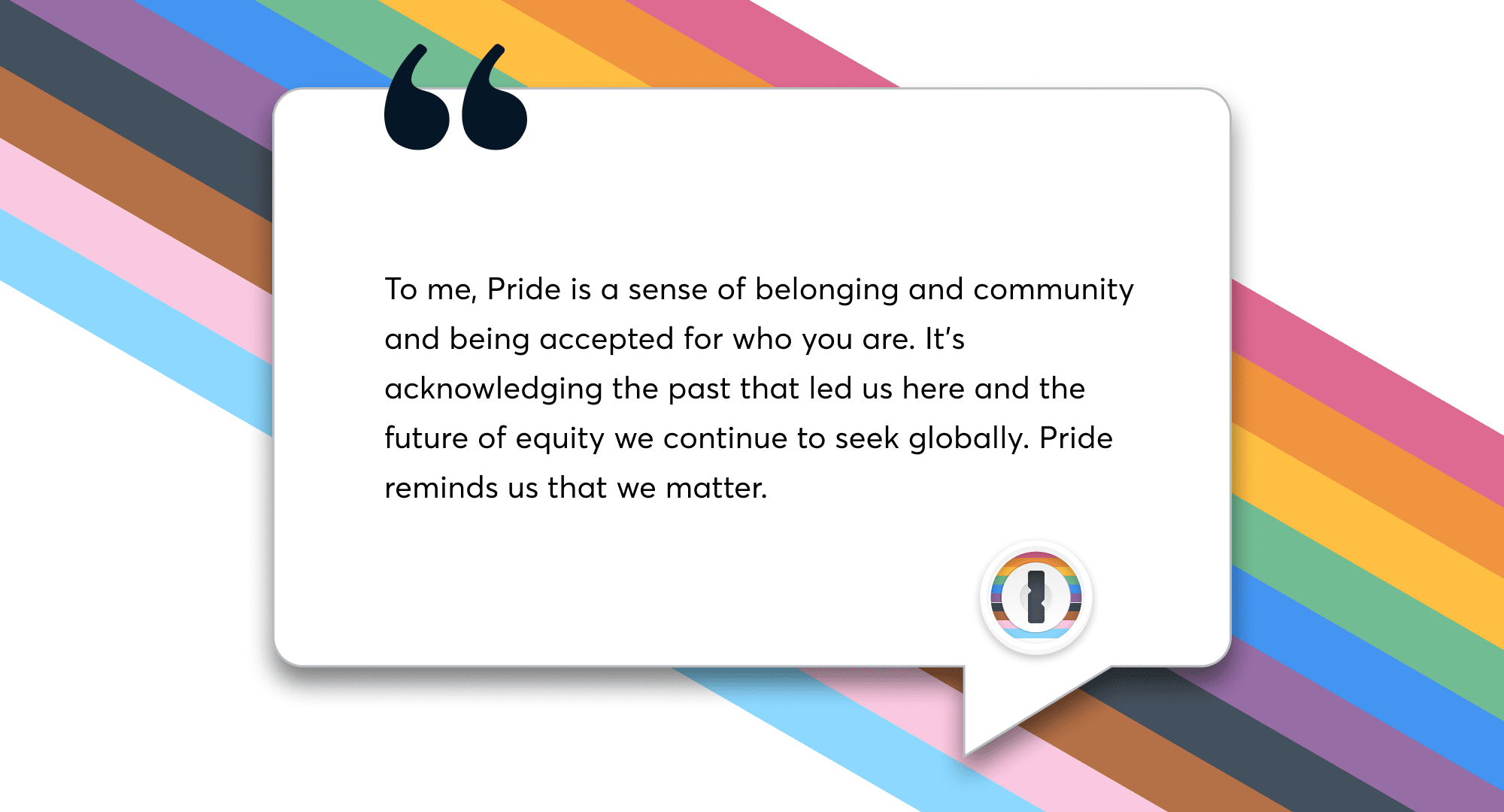 Supporting the Pride community
There are so many amazing organizations working to improve and support the LGBTQ+ community. This year we'll be donating to The Trevor Project, a suicide prevention and crisis intervention organization for LGBTQ+ youth. We'll also be donating to Pflag Canada, a nonprofit organization which brings together family and friends of LGBTQ+ people to help themselves and their extended family understand and accept LGBTQ+ family members.
At 1Password we use an internal rewards system called Bonusly. With Bonusly each employee is given an allowance of dollars that they can give to other employees for doing a good job, or to show support. This month we're encouraging everyone at 1Password to use some of their Bonusly allowance to support the Trevor Project and the ACLU.
Addressing equality all year long
While we're looking forward to celebrating Pride throughout the month of June, addressing equality is a year-round commitment. In the past year, we've worked to formalize our DEIB (Diversity, Equity, Inclusion, and Belonging) initiatives. This started with myself and my C-Suite attending a multi-day course run by ReadySet, a firm specializing in helping work environments become more human-centric and inclusive.
We also launched a program, Strong, Unique Voices (SUV), meant to amplify the voices of our strong, unique team members. Each month, we aim to celebrate a key cultural movement and provide education – from talks and seminars to recommending relevant podcasts, books, television shows, and documentaries. While Pride is our focus for June, support for the LGBTQ+ community continues year round, as does the support for other minority groups.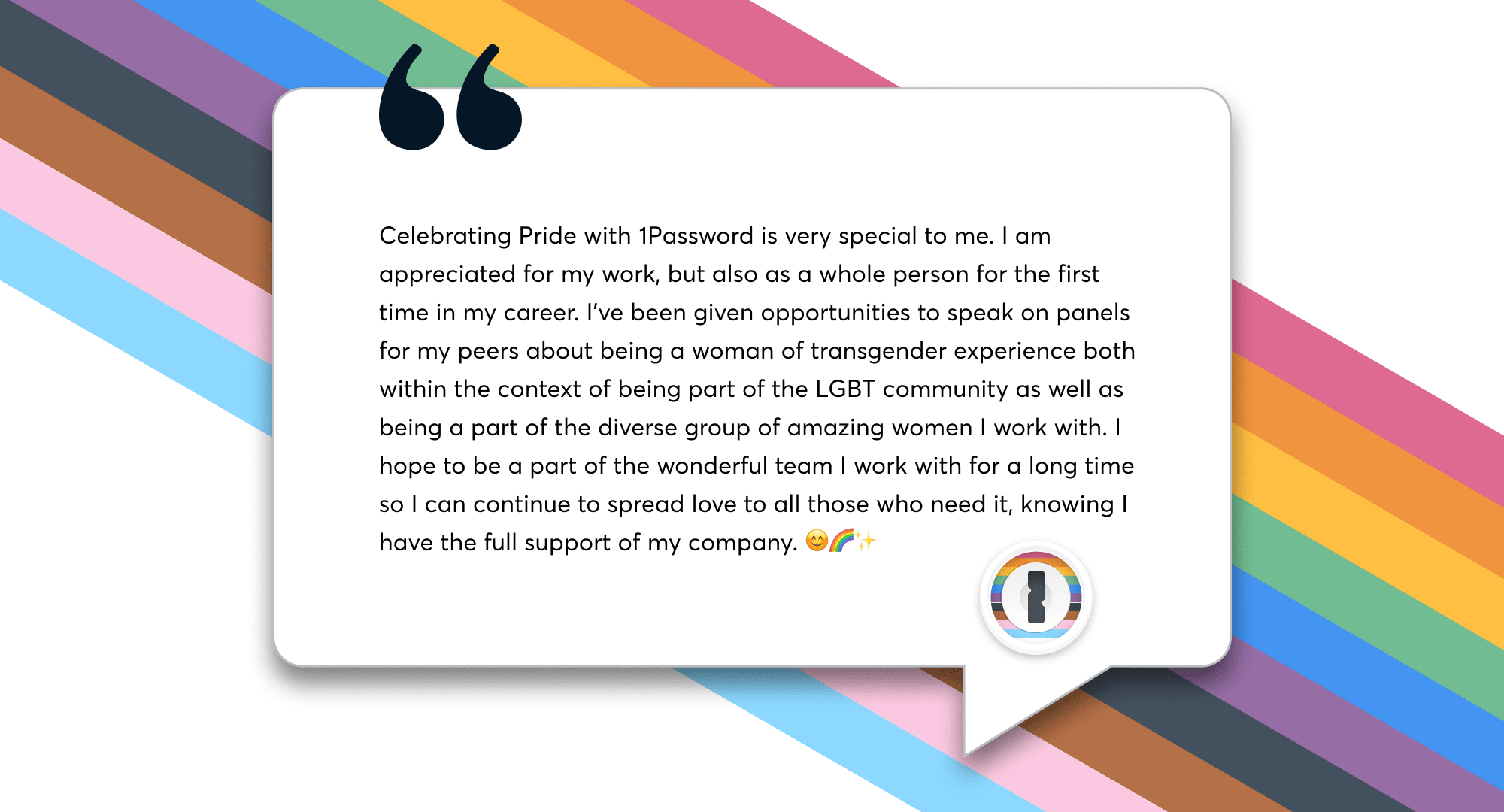 Growing a diverse team
For the past few years our 1Password team has nearly tripled in size, and we're looking to continue growing. It's important to us that our teams growth reflects and includes talent across all races, ages, abilities, ethnicities, sexual orientations, and gender identities – just like the customers we serve. To help with this, we're working with Power to Fly, North America's largest diversity job board, to find underrepresented talent.
We want everyone who comes into contact with 1Password to feel welcome. To improve the interview experience, we ask all of our candidates to share their pronouns with us before our first meeting. We also encourage employees, if they're comfortable, to make their pronouns visible on our internal platforms like Slack and Zoom.
While June is Pride Month and we're focusing on education and fun to celebrate, we know there's more to do. We are committed to fostering a culture that not only promotes equality, but understands that there will always be new things to learn and new ways to recognize minority groups within 1Password. We're committed to humanizing cybersecurity, and to do that we need to lift up everyone together.