The moment you've been waiting for has finally arrived. Passkey support is now available in 1Password, letting you create, manage, and sign in with passkeys on a growing number of websites and apps.
Starting today, you can save and sign in with passkeys using the desktop version of 1Password in the browser, as well as your iOS 17 and iPadOS 17 devices. You can also use 1Password on any device to view, organize, and share your saved passkeys.
It's the most convenient and complete passkey experience.
There's no better time to get started with Google, Nintendo, GitHub, and others turning on capabilities for passkeys this summer.
Visit our online passkey directory or open Watchtower in 1Password to discover which of your logins can be upgraded with a passkey.
Passkeys are here
Need a refresher on what passkeys are, and how they work? No problem. Passkeys are the future of account security and how we protect our private data. And they're here to stay.
You can use passkeys to sign in to compatible websites and apps without entering a password. No magic links. No two-factor authentication codes. Just passwordless bliss.
Passkeys are secure, convenient to use, and backed by the largest companies in the world. Here are just a few reasons why you should start using passkeys in 1Password:
Signing in with passkeys is quick and hassle-free. You don't have to memorize or type out anything when you sign in with a passkey. Find the login page or button and, if prompted, choose the passkey option. 1Password will then handle the rest.

Passkeys are secure. Unlike passwords, every passkey has two parts: a public key and private key. The private key isn't shared with the service you're signing in to. That's why passkeys are resistant to phishing and can't be stolen in data breaches.

You can sync your passkeys between devices. Passkeys are synced just like any other item saved in your password manager. You can access them on any device and any major web browser, and organize them using tags and vaults.
Save and sign in using passkeys in the browser
Ready to start using passkeys? Download the 1Password extension for one of the following browsers:
Chrome (macOS, Windows, and Linux)
Edge (macOS, Windows, and Linux)
Brave (macOS, Windows, and Linux)
Safari (macOS, iOS, and iPadOS)
Firefox (the ability to save and sign in with passkeys is coming soon)
Next, find a site that supports passkeys. You can do this by browsing our passkey directory, or by opening Watchtower in 1Password, which now flags all of your existing logins that could be updated with a passkey.
Locate the site's sign in page or button and follow the prompts to create a passkey. 1Password will ask which account and vault you'd like to save it in.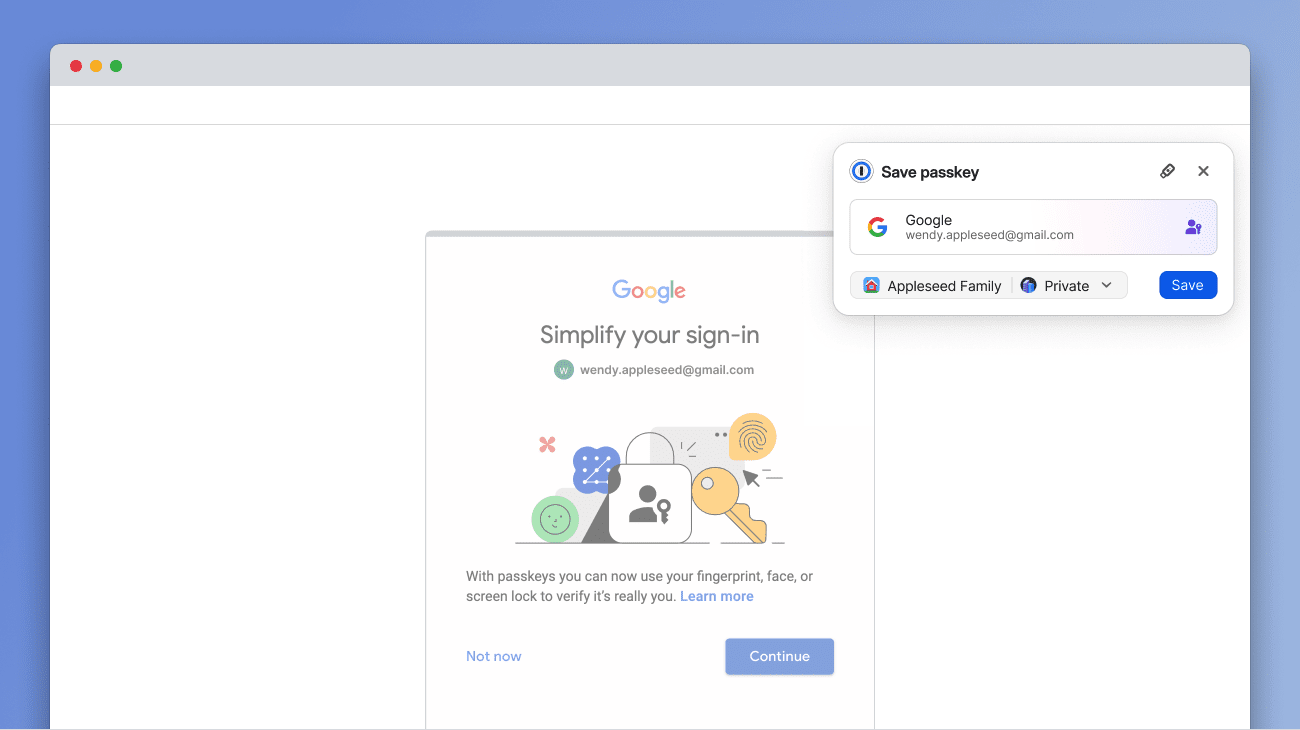 Save and sign in with iOS passkeys
Here's what you need to start using passkeys on your iPhone or iPad:
iOS 17 or higher.
The latest version of 1Password for iOS.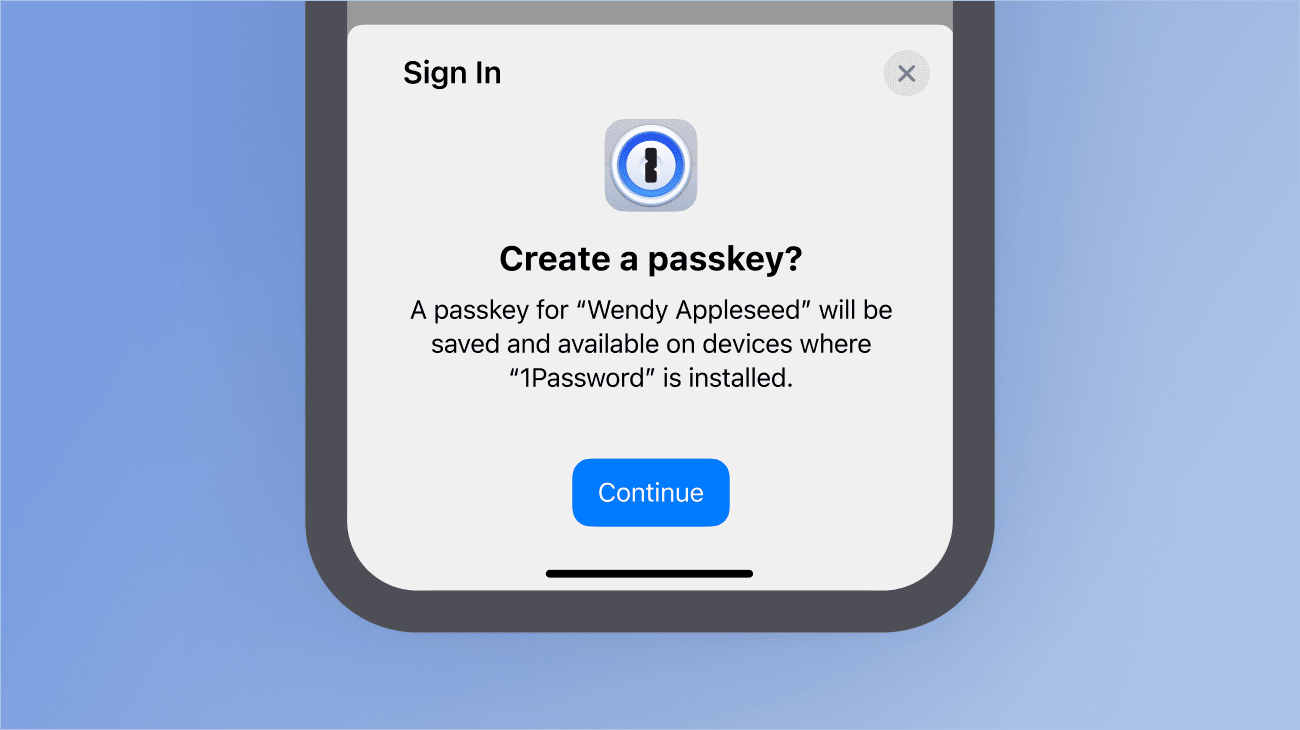 Coming soon: Save and sign in with Android passkeys
Google is working on Android 14 and APIs that will enable password managers like 1Password to create and use passkeys inside Chrome and any other app that has added passkey support.
1Password is ready and will support these APIs as soon as they're available, giving you the option to save and sign in with passkeys on your Android 14 phones and tablets.
Passkeys at work: What you need to know
We know that every business is different. That's why we're letting 1Password Business admins choose when their team can start saving and using passkeys. To make your choice, sign in to 1Password.com and select Policies from the sidebar. Here, you'll find an option that lets you enable and disable passkey support.
The future is passwordless
We're proud to be at the forefront of passwordless authentication and offering the industry's most complete passkey solution.
For years, 1Password has given you a safe place to store not only your passwords but everything else that's important in your life, like credit cards, addresses, and medical records. Now, 1Password is the perfect home for your passkeys too. You can access your new login credentials anytime, anywhere. It's the passwordless experience done right.
We'll be keeping our ears to the ground to understand how we can build on what we've released today. Our goal is to go above and beyond your expectations, and we're just getting started. Thank you for using 1Password during this exciting time.
Discover how to save and sign in with passkeys
Ready to create some passkeys? Learn how to get started with the desktop version of 1Password in the browser and 1Password for iOS.
Get started with passkeys in 1Password