Today we're announcing a new partnership with Privacy.com. 1Password now lets you create virtual cards in your browser to make online payments more safely. You can create as many virtual cards as you need and control where and how they're used.
We're so pleased to add these features to 1Password – we're pretty sure it's new territory for password managers across the board. This partnership means we can now do for your money what we've always done for your passwords. Namely: create unique information for every service you use to keep your most important data as safe as can be.
We have all the details below, but here's a video with the main details if that's your jam:
Payments with 1Password
1Password is now the best way to create and use virtual cards in your browser. The Privacy integration is available now for 1Password X, and soon for the 1Password Safari extension. It lets you:
Create new Privacy.com virtual cards right from your browser. When you're asked to enter a card number, 1Password will show you an option to create a virtual card instead. You can give it any name you choose.
Set spending limits. When you create a new Privacy card with 1Password, you can set a spending limit there and then. You can choose a one-off payment, monthly or annual limits, or a total amount.
Save card details in 1Password. If you like, you can save your new virtual card in 1Password so it's always to hand if you need to quickly grab the CVV number. When it's time to enter payment details again, we'll show any cards associated with the site you're on. That way, you won't create cards you don't need.
When you create a card, it's locked to that merchant so it can only be used for that particular site or service. So if the card details are ever exposed in a data breach, they can't be used elsewhere.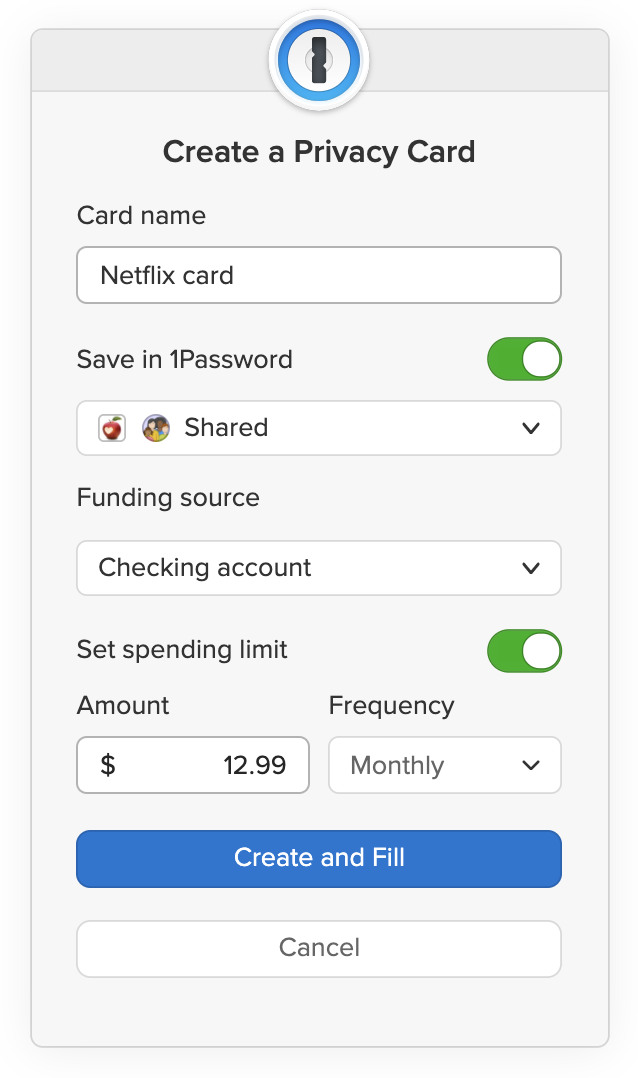 Partnering with Privacy.com is a no-brainer for us – our goals couldn't be more aligned. Virtual cards let you make payments with safety and privacy. But another great thing about them is that they give you back control over your spending. It's been great working closely with the fantastic team at Privacy to bring these benefits to 1Password.
Getting started
At the moment, Privacy.com is limited to users in the United States. So for now, you'll need to be in the States to use this integration. We won't put words in Privacy's mouth, but do keep an eye out for announcements about new countries.
We have some introductory offers to help get you started:
New to 1Password? Get 25% off your first year of 1Password, including 1Password Business, 1Password Teams and 1Password Families – you can get started from our promo page.
1Password customers new to Privacy.com can get 3 months of Privacy Pro for free. Privacy Pro lets you create extra cards, access priority support and more. You can get started at Privacy.com.
And if you're already a customer of both 1Password and Privacy, then you can simply activate 1Password in your Privacy.com settings.
As always, help in setting up and using the integration is available in our 1Password support article. Please don't hesitate to give this a try: we think you'll really like what Privacy and 1Password now bring to the table.