We're making it easier for Phantom wallet owners to save their account password, secret recovery phrase, and wallet address in 1Password. Phantom is a digital wallet that lets you manage cryptocurrencies, tokens, and NFTs built on the Solana blockchain.
This is the first of many partnerships that we've been working on in the cryptocurrency space. It's always been our goal to make it easier for everyone, regardless of their technological proficiency, to protect everything that's important to them. And for an ever-growing group of people, everything includes digital assets.
It all feeds into our mission to bring human-centric security to everyone.
Starting today, if you create a Phantom wallet in your browser – and have an active 1Password membership – you'll see a Save in 1Password button. Choosing this option will save everything you need to access your Phantom wallet and safely trade Solana-based tokens and collectibles.
That includes:
Your Phantom wallet password
Your wallet address (You need this to receive Solana from other people. It's also known as your public key)
Your secret recovery phrase (This is tied to your private key, which is what actually gives you access to your assets)
Why we're doing this
Here at 1Password, we want to help secure everything that's important to you, including your cryptocurrency wallets. We believe your keys and recovery phrases deserve the same level of protection as your credit and debit card numbers, medical records, and everything else you have stored inside 1Password.
Know someone who thinks crypto is too complicated or overwhelming? So do we. Most people don't know what a recovery phrase is, or what will happen if they lose it. We know that getting started and securing your hard-earned investments should be simpler. That's where 1Password comes in.
1Password has always been a place to store wallet addresses, private keys, and login credentials for cryptocurrency exchanges. But with the Save in 1Password button, it's now easier than ever for Phantom wallet owners to gather and protect this information. We've also created a new item type for cryptocurrencies in 1Password, with clearly-labeled fields for everything you might want to store.
It's secure but also convenient, because you can retrieve anything you need on any device or web browser.
What's Phantom?
Phantom is a free digital wallet that you can access through your web browser, or the team's recently-released iPhone app. It lets you store, buy, send, and receive assets that are managed on Solana's decentralized blockchain. These assets include the original Solana cryptocurrency – which is abbreviated as SOL – and other Solana-based tokens. You can also use Phantom's wallet to view the one-of-a-kind NFT artwork that you've collected on the Solana blockchain.
How to use Phantom with 1Password
To get started, make sure you've set up 1Password in the browser. Then visit the Phantom website and download the wallet extension for your Chrome, Edge, Brave, or Firefox browser. Choose Create a New Wallet and use 1Password in the browser to create a strong, unique password for your Phantom account.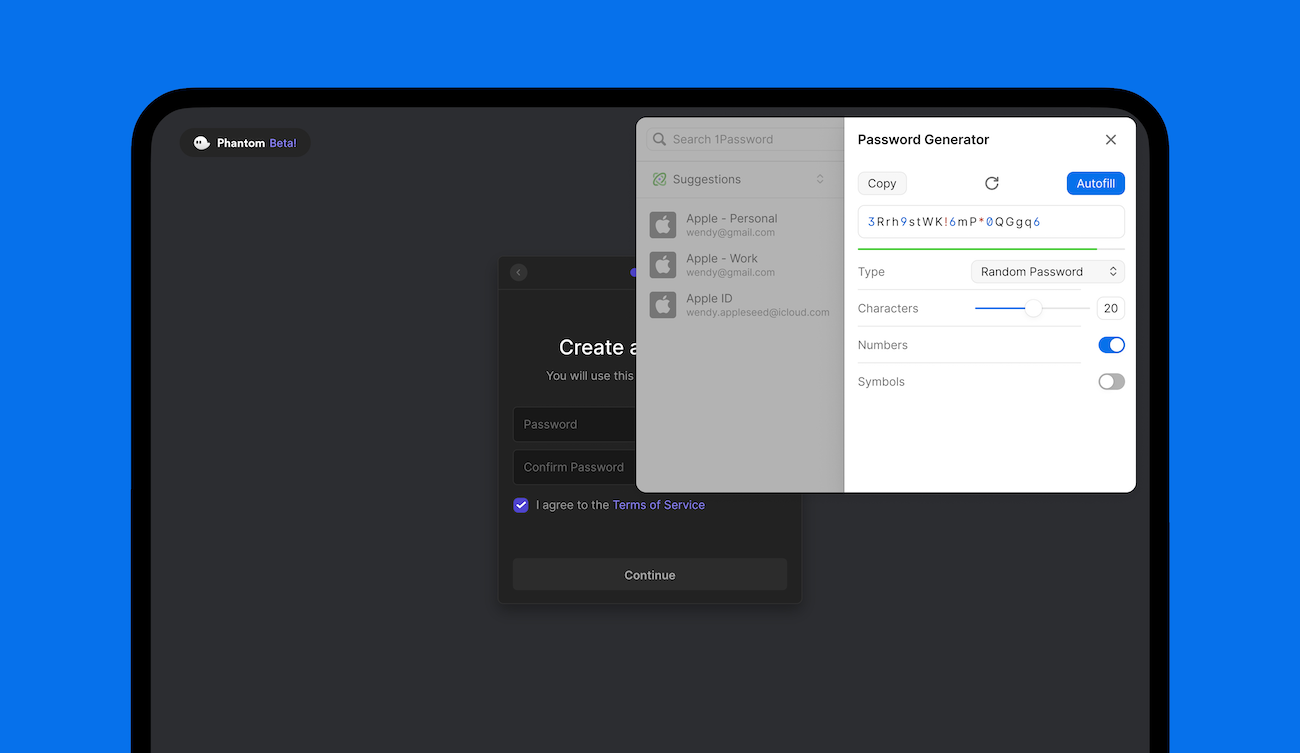 You'll then see your secret recovery phrase – composed of 12 random words – and the option to save all of your wallet details in 1Password. (You should never share your secret recovery phrase with another person, as it will give them full control over your wallet!) Everything will be stored in a brand new item type that we've created just for cryptocurrencies and other digital assets.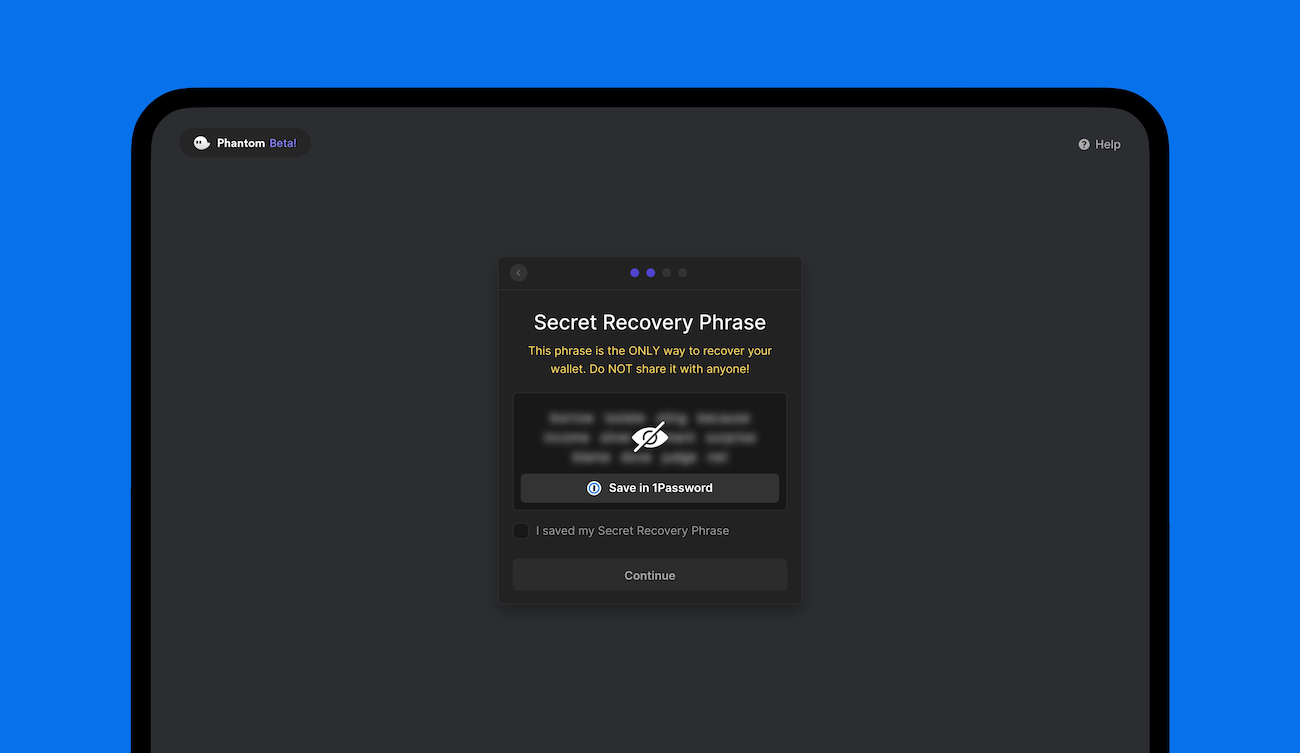 And that's it! You're all done.
The next time you need to log in to your Phantom wallet, 1Password will autofill your password, regardless of which device or browser you're using. And if you ever need to access your encryption keys, you'll find them inside 1Password, safe and sound.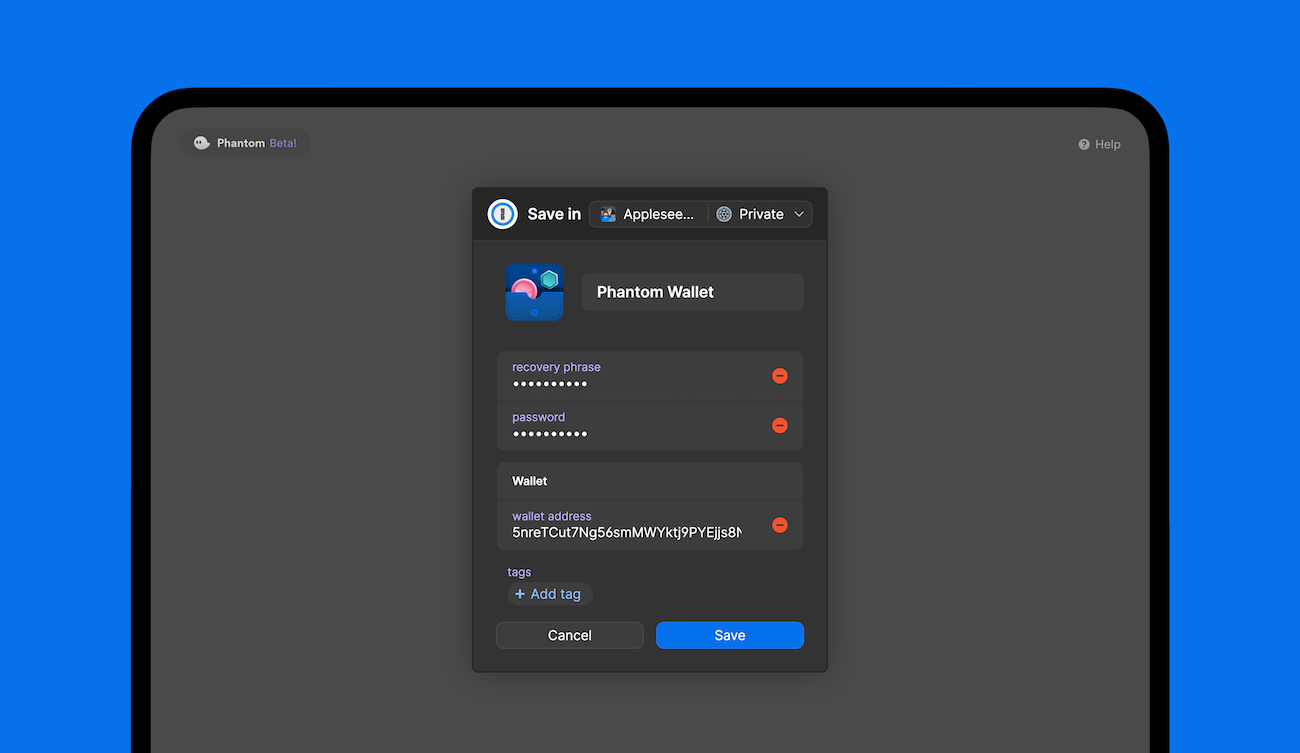 The possibilities of cryptocurrency. The security of 1Password.
Buying and trading cryptocurrencies shouldn't be complicated. And you should never be forced to pick between convenience and security.
With 1Password, you don't have to choose. We make sure your wallet details are secure, while giving you the freedom to access them whenever and wherever you like. With this peace of mind, you can focus on other things, like managing your personal portfolio, learning about new tokens, or deciding which digital collectible to buy or sell next.
We're thrilled to be partnering with Phantom, and what it means for the future of 1Password. Whether you're a new or longtime crypto investor, there's a lot to be excited about. And if you'd like to be next to add the Save in 1Password button to your service, get in touch!
Get started with Phantom
Download the Phantom wallet for Chrome, Edge, Brave, or Firefox to create a new wallet and save your details in 1Password.
Get started