Each year, a bunch of us make the annual pilgrimage to GopherCon, the largest and most well attended Go developer conference in the world.
We take in the sights Denver has to offer, get the best coffee around from Denver Little Owl Coffee (If you think there's better, please tweet us 😉), and most importantly learn all about the miraculous things people are creating with Golang.
This year things will be even more special as we are the headline sponsor of GopherCon 2018!
The GopherCon organizers have some amazing things planned this year, with the racing theme in full effect. As this is our first time sponsoring, make sure you visit the 1Password Pitstop while attending the conference!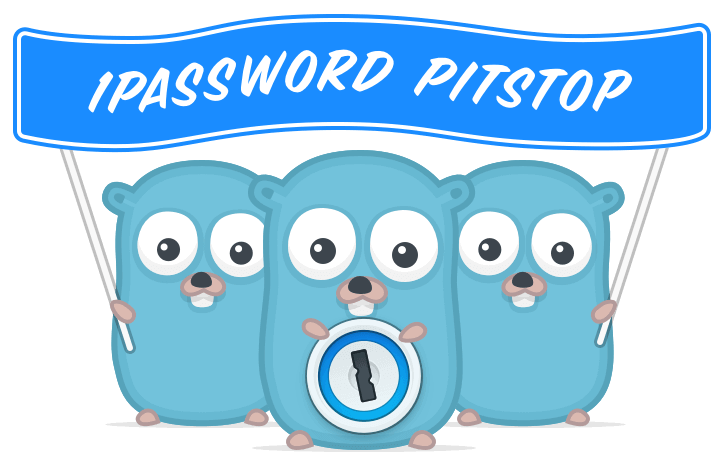 Visit the 1Password Pitstop
If you are attending GopherCon, come and get a checkup from our expert Passwordologists at the 1Password Pitstop, and find out the best ways to secure your business and family online. We also love to hear from customers already using 1Password, so do come on over and chat about your favourite 1Password productivity features.
Our Pitstop will have will have lots of surprises, and if you come by, you'll get the chance to meet some of the amazing people behind 1Password. It's a great opportunity to talk shop and maybe even pick up some stickers to pimp your ride and add some bling to your device!
1Password and Go
We use Go all over the place at 1Password!
Every 1Password account relies on our Go servers. Making everything work together is no easy feat and so we needed a strong (and fast!) language like Go to create the backbone that connects all our apps together. We also use Hugo for our many of our websites.
Sharing code between our six different apps across six platforms helps us provide a consistent experience and minimize bugs. Our filling engine "The Brain", our new password generator, and a host of other features are already built in Go. Our command-line tool is also built entirely in Go.
For more sneak peaks of the exclusive 1Password GopherCon shirt and the 1Password Pitstop, follow us on Twitter. If you are in Denver between August 27th – 30th, I really hope to have the chance to meet you in person at the conference!