You've set up 1Password Business for your team, but how do you make sure everyone uses it? With reports, you can track how your team uses 1Password and give everyone access to what they need. If anything doesn't look right, it's easy to take action.
Here's how you can use reports to help your team succeed and make the most out of 1Password Business.
Understand employee needs
Reports hone in on the heart of your company: the people. Everyone slots 1Password into their workflow in a way that best suits their needs. To learn how an employee uses 1Password, create a usage report. It tells you when they last signed in and how many vaults, groups, and items they can access. You'll also see a list of all the shared items they've used and when they last used them.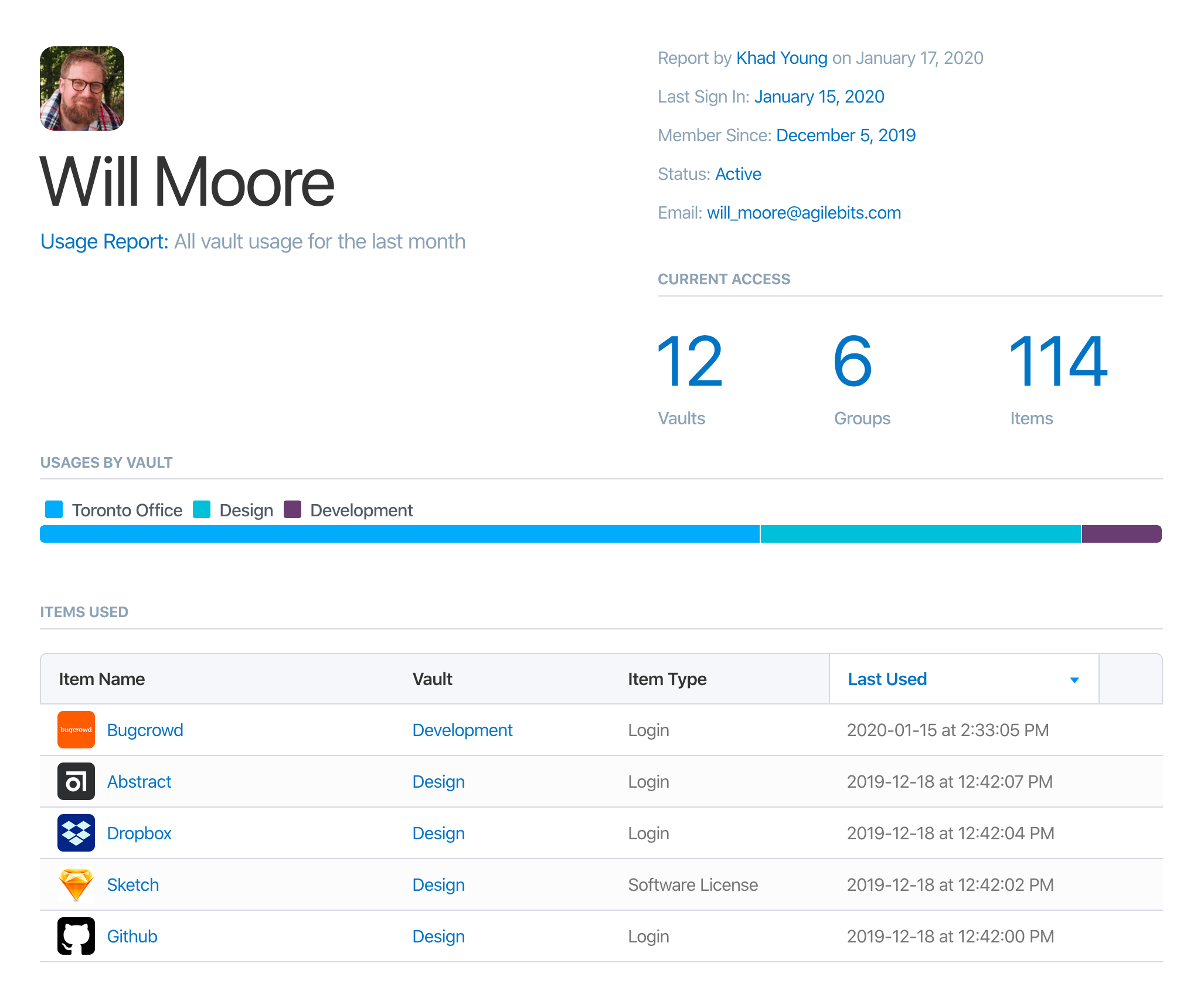 You can use the item list to help you decide what they need access to. To make it easier, sort the item list by vault, or focus the report around a specific vault. If they haven't used any items in a vault, or they've used items they shouldn't have, you may want to reduce their access.
Usage reports also highlight employees that aren't using 1Password, or that haven't for a while, so you can intervene early and offer training or support. They might need help getting started with 1Password, or they may not have access to the items they need.
Usage reports also come in handy when someone leaves the company. Before you delete their account, create a report so you have a list of shared passwords to change. It's much easier than changing every single password in every vault they had access to.
See who uses shared information
A password manager is the easiest and most secure way to share and maintain passwords among colleagues. If you haven't already, it's time to say goodbye to unsafe practices like using shared spreadsheets or public-facing whiteboards to track and share passwords. Instead, use vaults in 1Password to store and organize everything.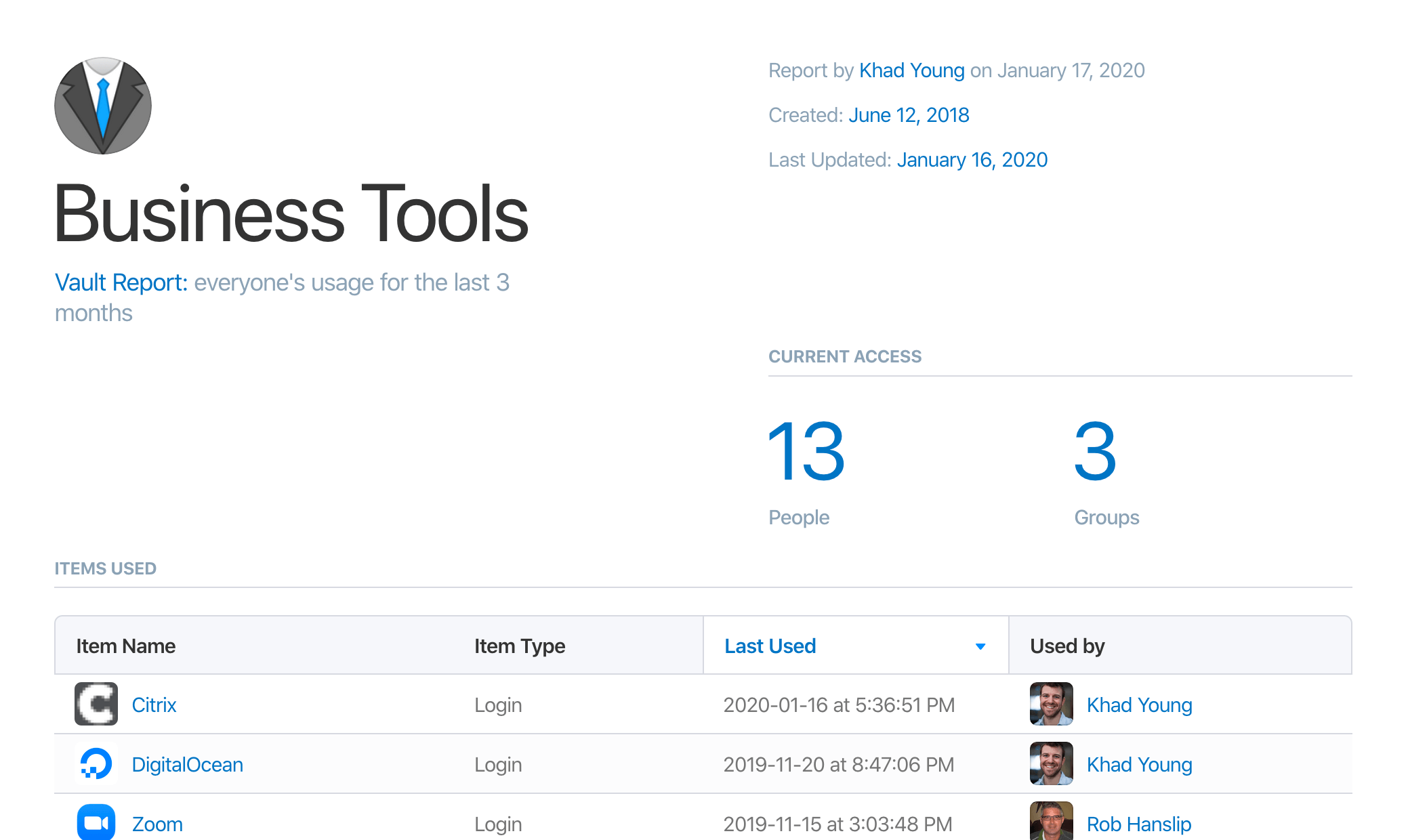 To learn how people use a specific vault, create a vault report. You'll see when the vault was created and last updated, and the number of people and groups with access to it. You'll also see a list of vault items, including when each person last accessed them.
You can use the vault report to help you organize information and decide who needs access to it. Sort the item list by title to see who uses each item, and which items are most popular. You may want to move less-used or sensitive items into a vault shared with fewer people. Or, if you see the vault is being used for items it wasn't intended for, you could create a new vault for that purpose.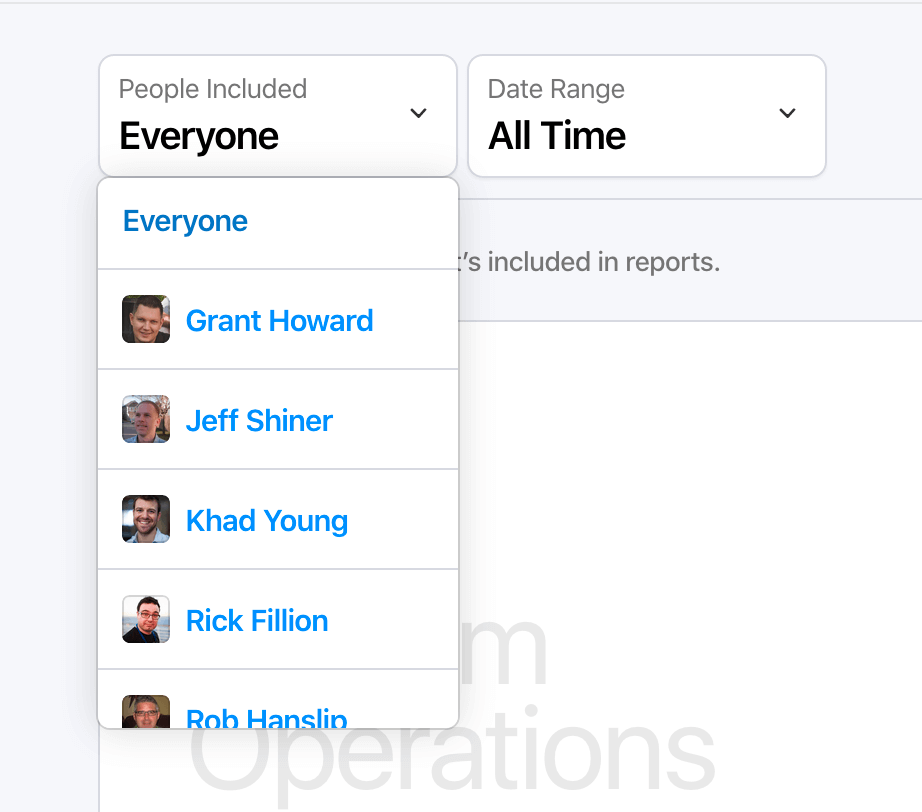 If you'd like to see how a specific employee uses the vault, choose them from People Included. If they've used items they shouldn't have access to, or they haven't used the vault at all, you may want to remove them.
Track adoption for your team
While usage reports give you a granular look at how individual employees use 1Password, team reports pull back to give you a bird's-eye view of how your whole team is using it. A team report includes the total number of people, groups, and vaults, a list of everyone on the team, and details about their usage.
When they last signed in and the number of devices they've signed in from hints at how often they use 1Password. People with only one device haven't used the 1Password apps. And if they haven't signed in for a while, they may have forgotten their credentials. Reach out to see if they need help.
The number of personal items helps you understand how people use their Private vault. Have they saved all their work accounts in 1Password, or only a handful? If they've saved far more items than others, it could mean they're using it for personal data, too. Encourage them to redeem their free 1Password Families membership for personal use.
Many companies require two-factor authentication, and now you can find out who's turned it on for 1Password. To make it easier to see, sort by the 2FA column. It's a good way to assess adoption if you've enforced two-factor authentication.
Get an overview of your business account
Step out even further and create an overview report. This one is all about the numbers, with a breakdown of the people, vaults, and items in the account.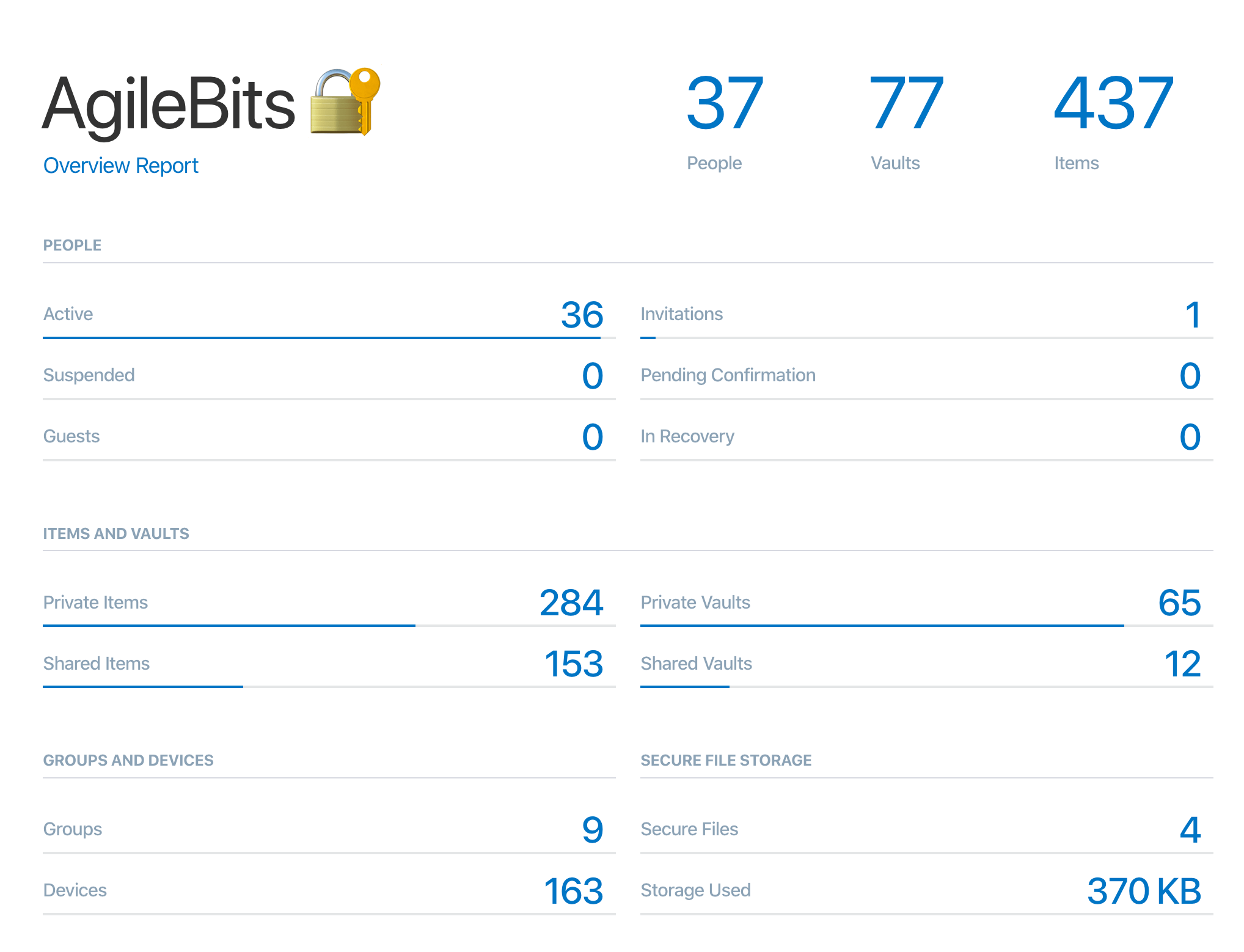 This dashboard view shows you how many people and guests are on your account, and whether they're active, suspended, or in recovery. Keep an eye on your guest count if you want to stick to the 20 included, and to make sure no one overstays their welcome.
Compare the number of items and vaults that are private and shared, so you can judge if you need to make any changes. You'll also see how many groups and devices are on the account, and your secure file storage.
Make the most of 1Password Business
With reports, you'll have a better understanding of how your team uses 1Password. Use reports to measure adoption, organize your data, and increase your security. If you use 1Password Teams, you'll see the entire usage history for your account when you upgrade. Learn how to create reports in 1Password Business.
Is there another report you'd like to create in 1Password? Let us know!
Sign up for 14 days free
Use reports in 1Password Business and set your team up for success.
Try 1Password Business