We're incredibly excited to introduce labs, a new space in the 1Password apps that lets customers test new experimental features to help influence the future of 1Password.
These experimental features will be in the early stage of development, so we can collect valuable feedback from customers like you. You hold the power to enable or disable each of these features, putting you in full control of your 1Password experience.
Why are we adding this to 1Password?
We have a lot of great ideas that come up from customer feedback, the community forums, and social media. We'd like to explore more of these ideas before committing to bringing a new feature to 1Password. This way we know if we should continue to invest time and energy into a project or, sometimes more importantly, if we should move on to something else that better suits the needs of our customers.
Labs lets us share early prototypes and new product explorations to every 1Password customer, so you'll be able to tell us if we should keep working on them. While we've been leading the industry in passkeys and passwordless, there's so much more we're innovating on that we want to share with you!
How long will experimental features run?
Labs is intended to help us innovate and make decisions faster, so experimental features will run for no longer than a few months. Our aim is to quickly identify the features that provide the most value to our customers, so we can focus on releasing them faster.
How do we know if experimental features went well?
One of our goals is to quickly improve the features we introduce to 1Password, so we'll be carefully tracking the performance of each experimental feature by:
Providing a link to feedback forms for each experimental feature to capture customer insights.
Creating community threads for each feature under the new labs category so that we can hear directly from you and answer any questions.
If an experimental feature has successfully gathered enough positive feedback, the feature will progress through the beta 1Password apps and eventually be officially released into all 1Password apps.
How do you try experimental features?
In the 1Password mobile and desktop apps under Settings, you'll find a new Labs tab. Select Labs, and you'll see a list of all available experimental features. From there, you can easily toggle each feature on or off at any time.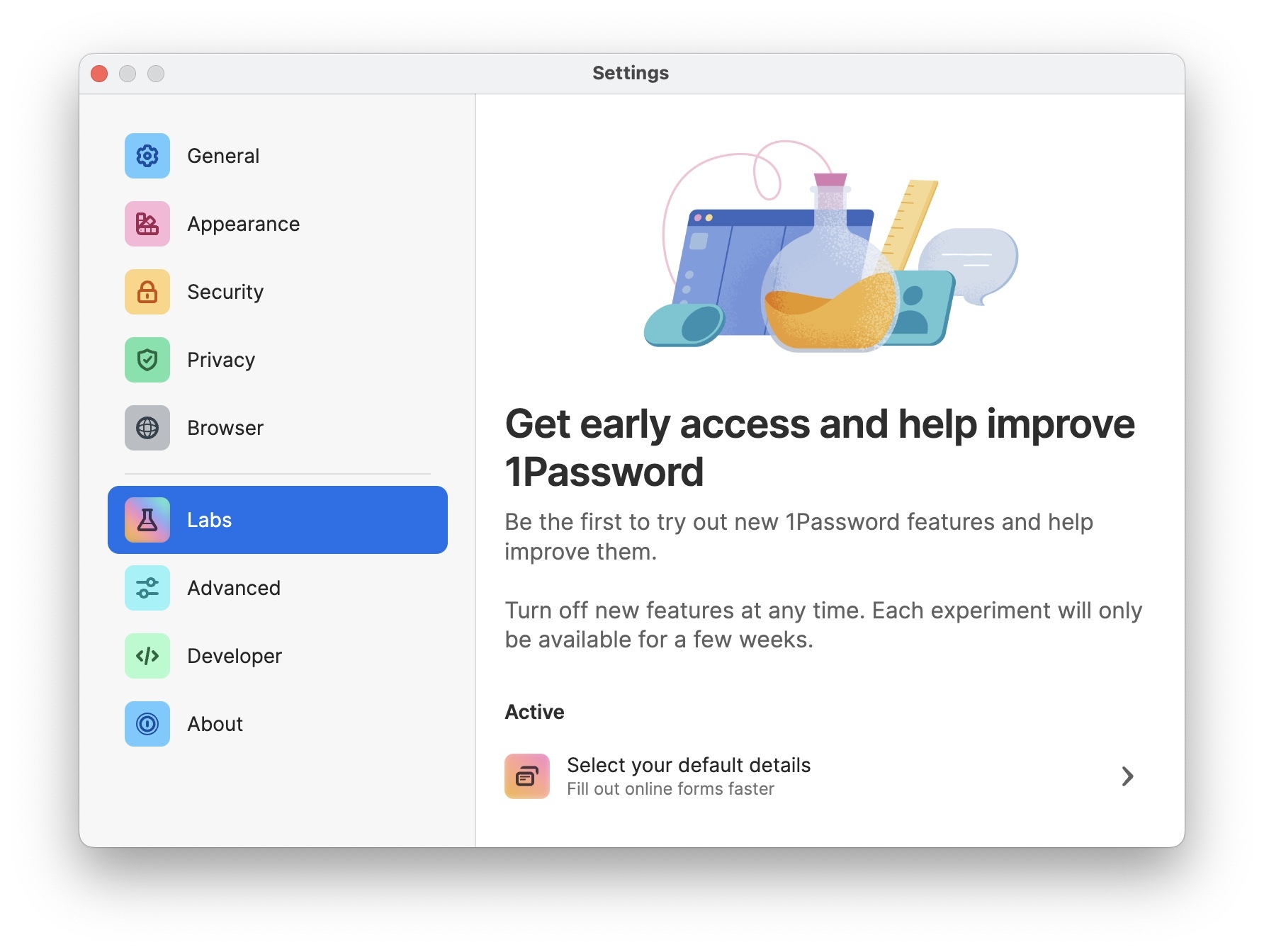 The first experimental feature: default details
For our first experimental feature, we're addressing a piece of feedback we've received frequently in the past. It can be a hassle to sort through a long list of identity items (like your name, birthdate, address, phone number, and more), email addresses, or credit cards when you're autofilling a form field.
That's why we're introducing default details. This experimental feature will give you the ability to claim a preferred identity and a preferred payment card. Whenever you need to fill that information in, those set details will take the top position in the suggested list via 1Password in the browser to help you autofill even faster. It's a clean, simple, and high-value solution that we think you'll love! You can choose your default details in any 1Password app and begin testing right away when you autofill information on your desktop or iOS. The autofill functionality for default details on 1Password for Android will be available soon.
We can't wait to hear your feedback as you try out new experimental features and work with us to make 1Password even better at simplifying your digital life.