1Password 7 for Windows is almost here! 🎉🙌 Today marks our first beta and you're invited to join in on the fun.
This is a massive release where quite literally everything has changed. And with support for local vaults, everyone can enjoy the awesomeness that is 1Password 7 for Windows.
Read on to see what all the hullabaloo is about and I think you'll find our excitement is quite contagious. 🙂
Incredible New Design
Our design team has been working their tails off making 1Password 7 for Windows the best it can be, so it seems fitting that we start by showing how great 1Password 7 looks.
The awesome starts with the lock screen.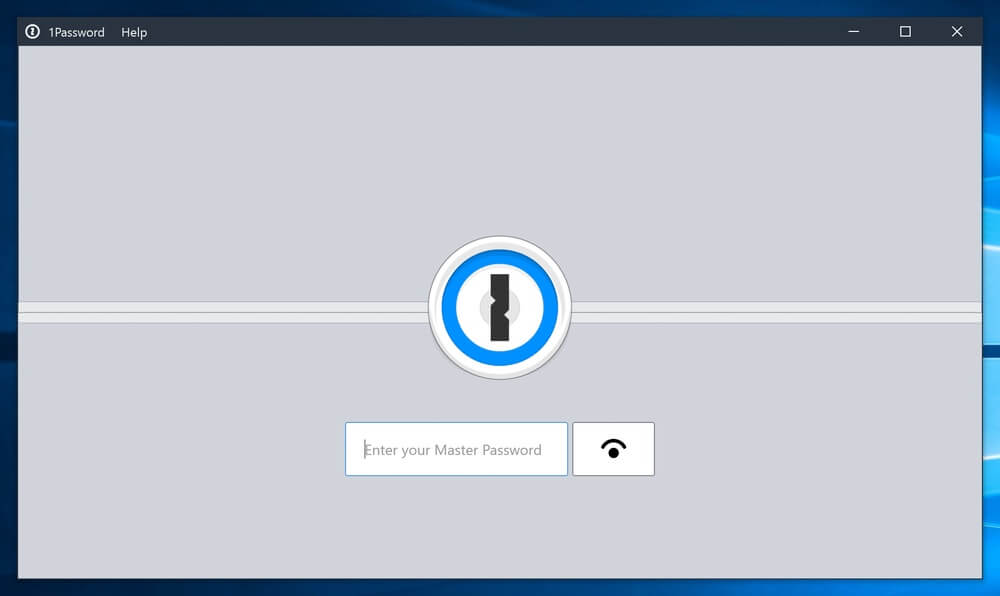 Once you unlock 1Password with your Master Password (or Windows Hello), you're in for a delightful surprise. I'll let 1Password speak for itself here.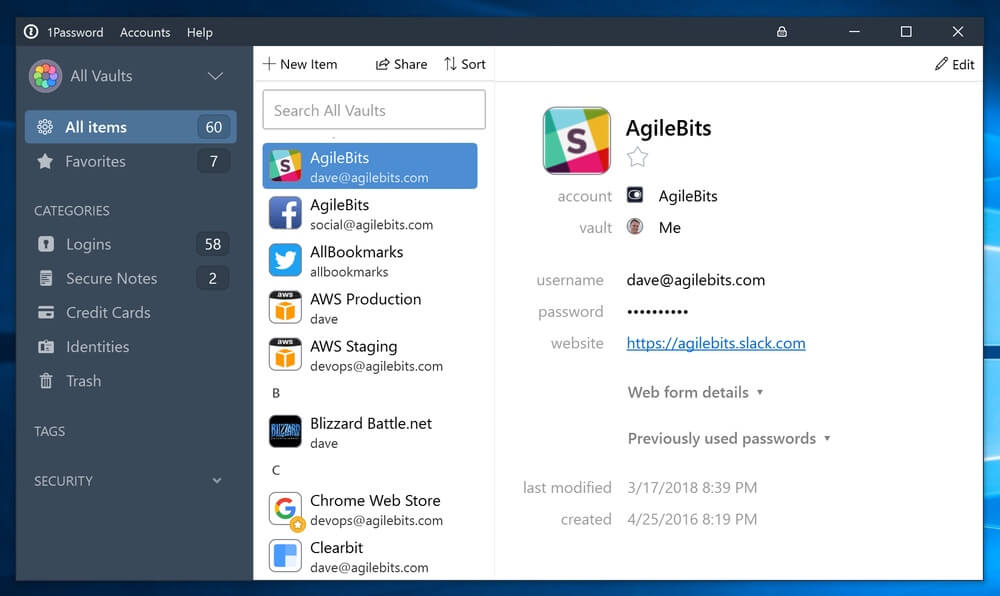 From the typography to the rich icons to the layout, everything has changed. Yet the soul of 1Password remains, so you're able to jump right in and find everything you need.
The new sidebar is not only gorgeous but it's more powerful, too. It allows you to navigate between your categories and tags just like you always could, but now your vaults live there as well.
All your vaults, all in one place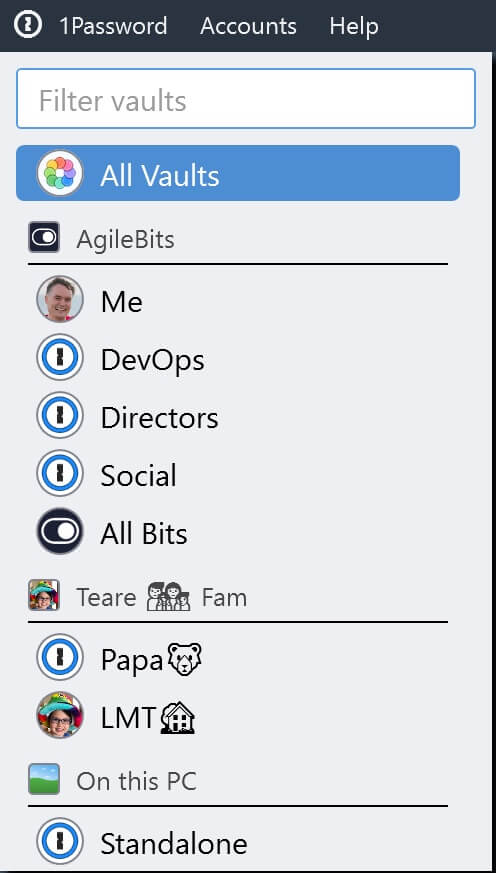 Organizing your items into vaults is a great way to keep your items tidy and share them with those who need them.
Vaults are so nice that you'll find yourself adding lots of them. Thankfully the sidebar makes it easy to see every vault you have at a glance. If you want to zoom in and see all the items in a vault or an account, just click on it. When you're ready to zoom out again, click All Vaults to see all your items.
Between my AgileBits business and Teare family accounts, I now have over 50 vaults. Being able to switch between vaults and accounts makes it super simple to stay focused on the task at hand. Which is perfect for those days when I need to find my mom's Pokémon password. 🙂
Small passwords. Large passwords!
If you spend as much time looking at computer screens as I do, your eyes will love our new Large Type. Passwords have never looked better!

This is great when you need to type a password into another app. But for browsers, 1Password mini will take care of this large task for you.
1Password mini is always by your side
To keep up with their bigger sibling, 1Password mini has a new design of their own and has learned some new tricks as well. As always, mini will automatically find the logins that are most relevant to the website you are on, making it super easy to sign in.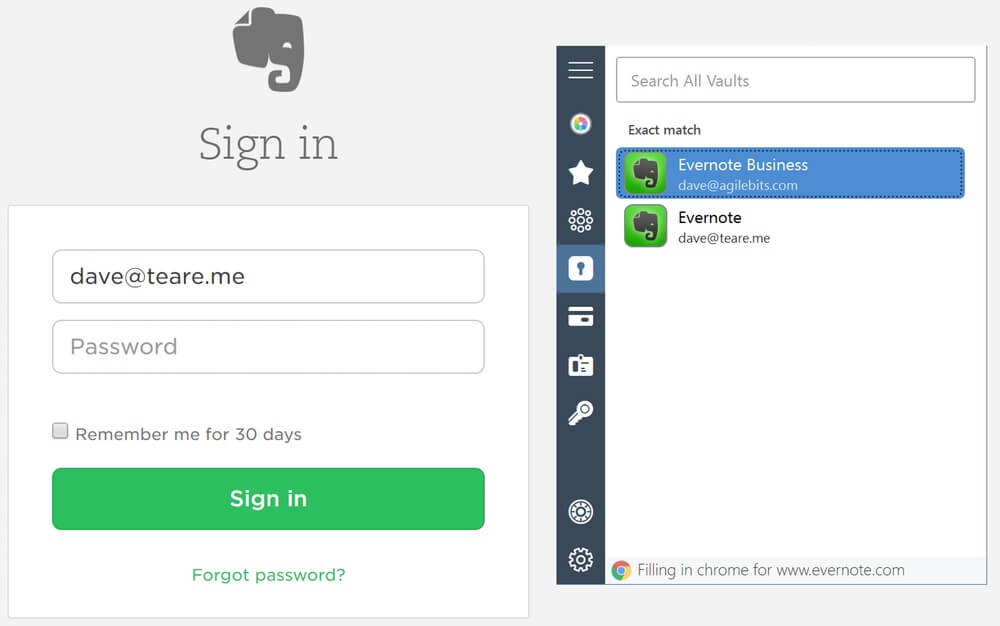 And if a website has been breached, mini will alert you so you know which of your logins need to have their passwords changed.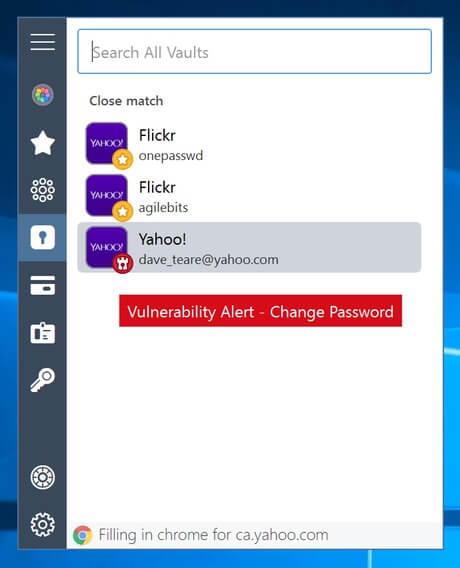 You can also open logins directly within your browser. And as an added bonus, your password will also be filled automatically after the page opens, making 1Password a great way to bookmark websites.
Designed for everybody
We wanted to create 1Password 7 for everybody and be as inclusive as possible. That started with allowing you to sync your vaults yourself as well as supporting 1Password accounts.
1Password also speaks your language and has been localized into 9 languages, including Français, Deutsch, Italiano, 日本語, 한국어, Português, Pyсский, and Español.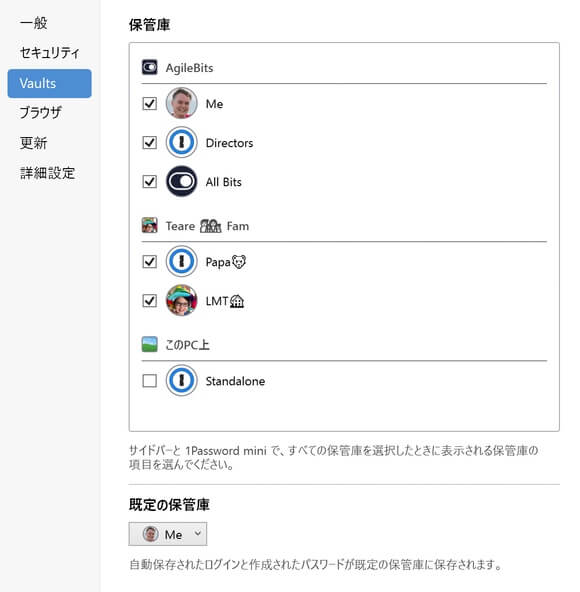 Being able to use 1Password in your language is great and it's even better on High-DPI displays. 1Password 7 has full support for HiDPI in Windows 10 so it looks incredible on 4K monitors and other high density screens.
And for those of you who rely on assistive technologies, rest assured that 1Password 7 is fully accessible. Accessibility is near and dear to my heart and I'm looking forward to seeing your feedback on this beta.
Why hello there, Windows Hello
We also added support for Windows Hello so you can unlock 1Password using your fingerprint or simply your smile. This works great in the main app as well as in mini.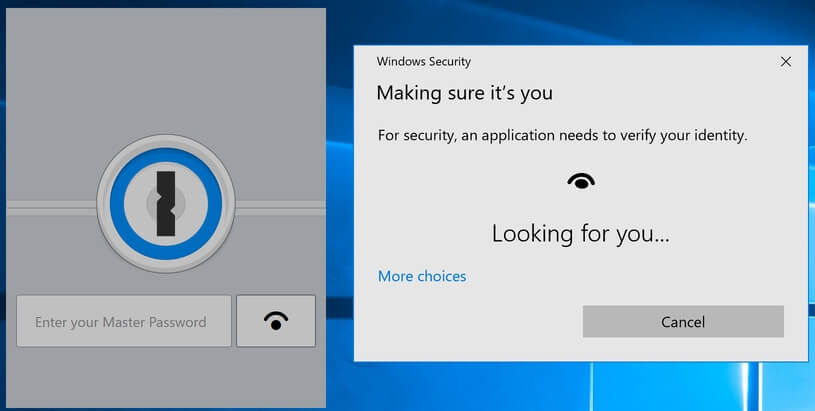 To keep things as secure as possible, the first time you unlock 1Password you will need to provide your Master Password. Windows Hello will then be able to unlock 1Password afterwards.
Pricing
1Password 7 is included free with every 1Password membership. This includes individual accounts, as well as anyone who is part of a family or team. If this is you, you're all set! Jump to the next section to get started with the beta.
For standalone license holders, 1Password 7 for Windows will be a paid upgrade. Once 1Password 7 for Windows is officially released later this year, a new license will be required and will cost $64.99.
If you join the beta you will get access to a special discount to show our thanks for helping us get the beta polished. The code hasn't been written yet, but in the next few months an upgrade window will appear, giving you the opportunity to purchase your license for just $39.99.
So join the beta, give us your feedback, and save! Here's how…
Join our beta family
Intrepid testers who enjoy being on the cutting edge can jump right in by downloading the beta today.
Download the 1Password 7 Beta for Windows
Please see our release notes for known issues and join us in our discussion forum to let us know what worked great and where we need to improve.
We wouldn't be here without you so thanks again for all your help! 😘