It's now easier than ever to secure your employees at scale with our powerful new updates to automated provisioning in 1Password. We've redesigned the user experience to be more straightforward to navigate from initial setup to managing existing deployments.
The SCIM bridge automates provisioning by securely connecting 1Password to your identity provider. 1Password integrates with Azure Active Directory, Okta, Rippling, and OneLogin, allowing you to fold the management of your 1Password account into your existing workflows, using the systems you already trust.
Once set up, you can use your identity provider to deploy 1Password, invite employees, grant them access to groups, and deprovision them when they leave.
With the latest updates, administrators gain access to an assortment of new features and refinements including a streamlined setup flow, improved user interface, health monitoring, expanded security options, and better Let's Encrypt support.
Together, these updates further improve the experience of administering users at scale, all while retaining the same degree of security you've come to expect – the SCIM bridge continues to operate under your control, with your account's encryption keys safely in your hands.
Save time and hassle with our revamped interface
We've completely redesigned the setup flow to simplify every step of the process so you can get up and running more easily and in less time. Now, you can integrate with our supported Identity Providers without incurring additional costs on your 1Password Business account.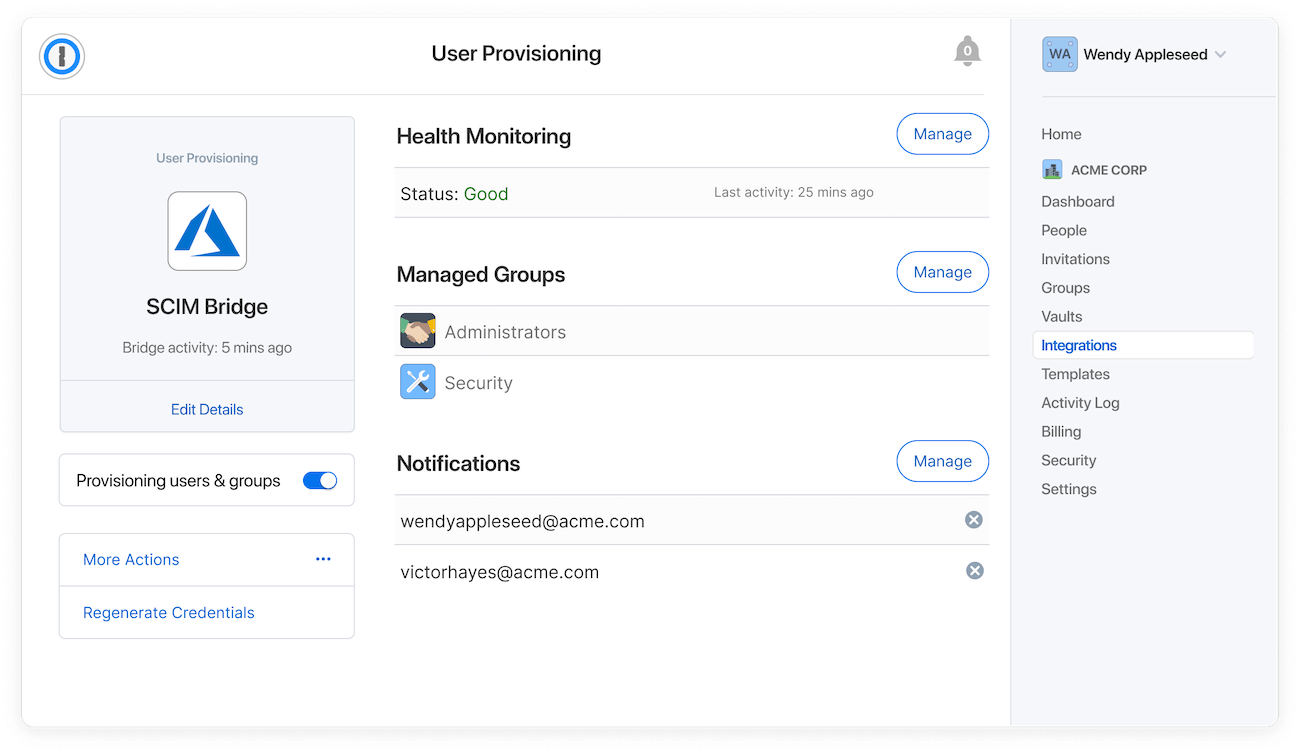 The new Active tab in the integrations section of your account dashboard provides at-a-glance information about your managed groups and the health of your provisioning setup. Similarly, a revamped configuration screen makes it simpler than ever to access and modify managed groups, verify your settings, or adjust your SCIM bridge configuration through a more familiar interface.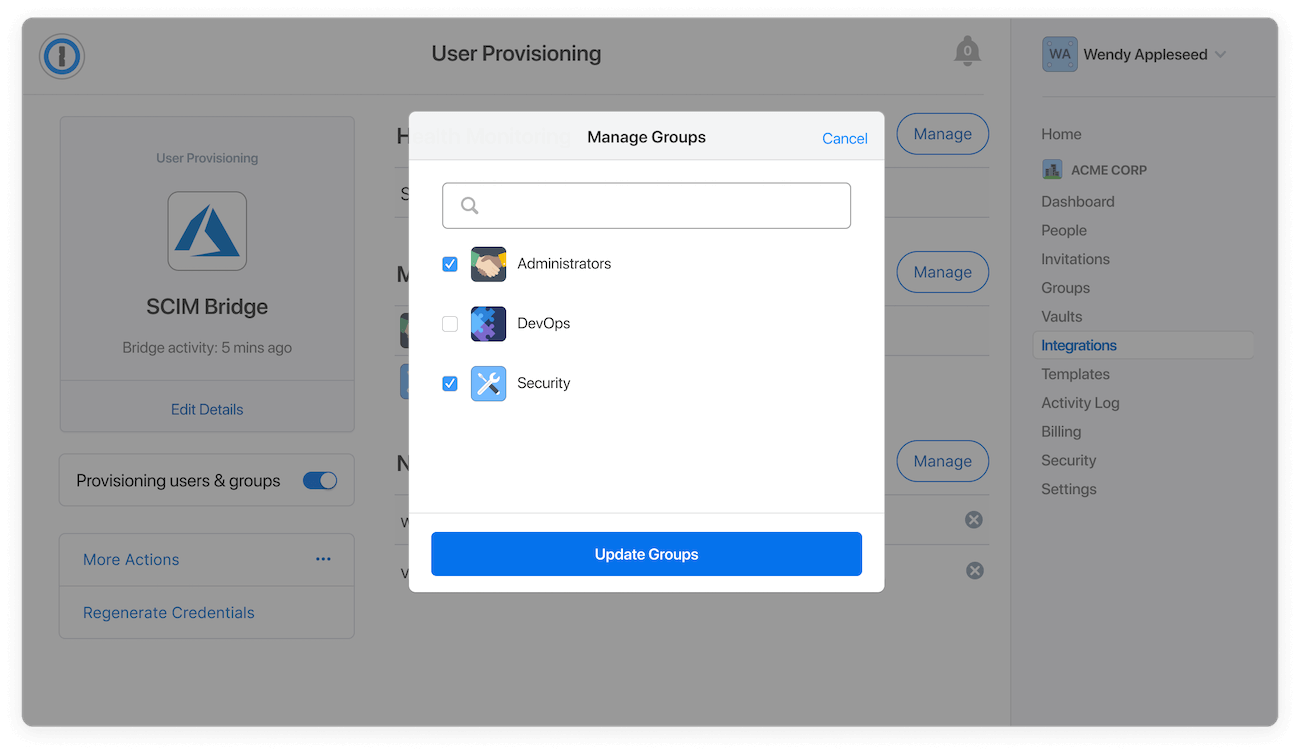 Investigate issues more effectively with health monitoring
We recently partnered with Checkly to introduce optional automated health checks that can identify issues with the SCIM bridge and notify you within minutes if something isn't working correctly. This health monitoring is available to you at no additional cost.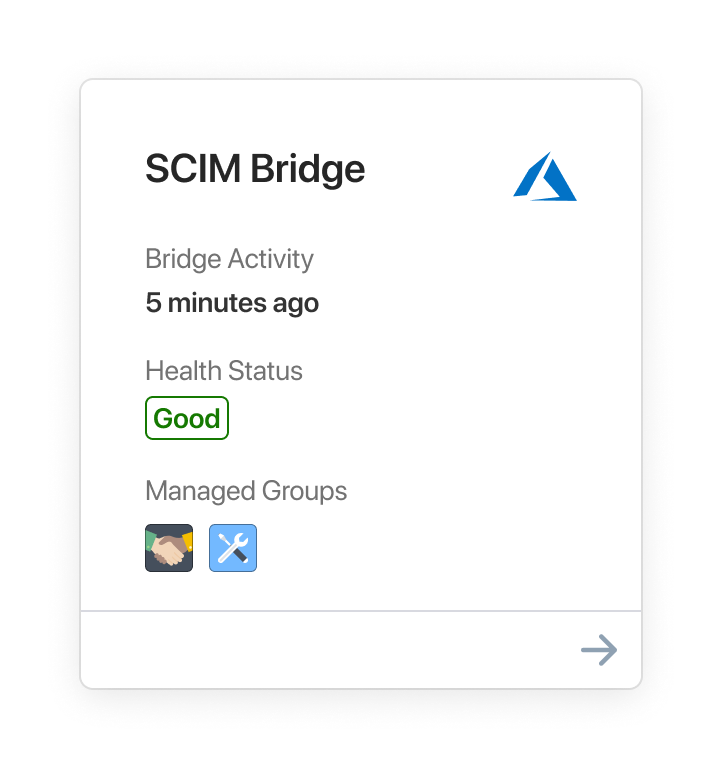 Enable two-factor authentication through 1Password Advanced Protection
With 1Password Advanced Protection you can create security policies for your organization.
Now, along with Master Password parameters, firewall rules, and up-to-date app requirements, you can enforce two-factor authentication while using automated provisioning, providing an extra layer of protection for your 1Password account.
Enhanced support for Let's Encrypt
With the release of 1Password SCIM bridge 2.0, we now support specifying a new domain name even when using Let's Encrypt.
We've also taken a careful look at our Let's Encrypt certificate support and significantly improved its reliability; it's now more resilient and can recover from various issues automatically.
In addition, we've improved the initial setup and application startup processes to perform domain validation when a Let's Encrypt certificate is required.