Passwords for apps, passcodes for rooms, passwords that get updated every three months: there are lots of credentials to keep track of at work, and sometimes you need to share them with a colleague. It can be tempting to paste these into an email or instant message — but by doing so, you're putting your security at risk.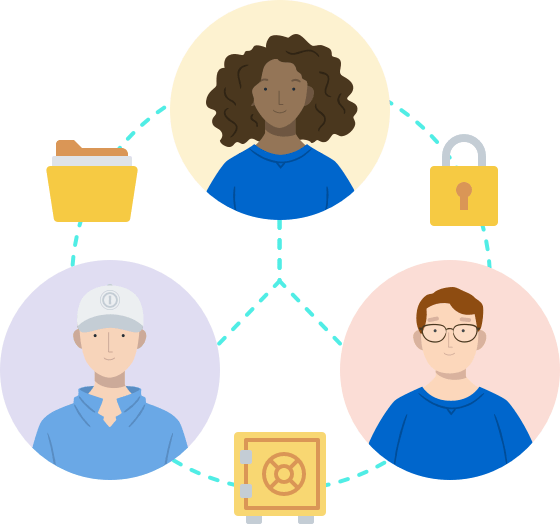 Passwords sent this way can be intercepted, passed on, or leaked without your knowledge. If you're going to create secure passwords, it makes sense to share them securely, too.
1Password makes this quick and convenient. There are lots of security and productivity benefits to using 1Password Business, and sharing passwords is just the tip of the iceberg.
How to securely share passwords with people inside your company
Save everything in 1Password — To get the most out of 1Password Business, save all passwords in 1Password, even if they don't seem important. That way, any shared passwords will be updated for everyone when they are changed. No more finding yourself with an outdated password because somebody else reset it.
Take full advantage of groups — Add people to groups based on the team they work in, or level of access they need. All system administrators could go in one group, and all members of the executive team in another, for example. This allows for fine-grained control of who has access to which passwords, which is an important way of making sure everyone has the access they need, but none that they don't. Which leads us on to…
Use shared vaults to limit access to passwords — You can give everyone in a group access to specific vaults and even assign permissions for those vaults. If you need to grant someone the ability to create and remove items from one vault but not another, you can do that. And because the vault is shared, updating a password in one place means it's updated everywhere, too.
For a recap on how to share vaults, take a look at our Support article on creating vaults to share passwords.
How to securely share passwords with people outside your company
Sometimes, you might need to give clients or contractors temporary access to passwords. 1Password Business has the tools you need to make this happen.
Invite people as guests - You can invite anyone to be a guest in your company, and limit their access by creating a shared vault just for them. Or, if you trust them enough, give them access to an existing vault instead. Guests don't have their own private vaults, and they can only access one shared vault at a time. Guest access can be easily revoked when it's no longer needed.
Change any shared passwords when the guest leaves - While a guest has access to passwords, they can copy them. For this reason it may be wise to change any password that is shared with a guest once their work is complete. Whether you deem this necessary will likely depend on the guest, the passwords they had access to, and your company's security policy.
Passwords can be shared securely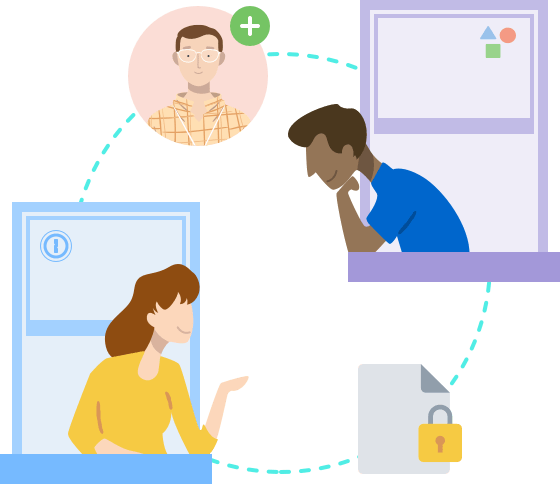 If you're sharing passwords on sticky notes or the office whiteboard, we're more than happy to show you a better way.
1Password Business has many strings to its bow, and password sharing is just the start. With advanced reporting and the ability to connect with existing system like Okta and Active Directory, 1Password Business is the last piece of the puzzle you might not realize you were looking for.