Last year, we made it easier to make secure payments online through direct integration with Privacy. Now, we're doing the same for email. Announcing Masked Email – a 1Password and Fastmail integration. Create new, unique email addresses without ever leaving the sign-up page. Keep your real email address private from the apps or services that you sign up for – using a masked email address can protect you from breaches, and puts control of your inbox back in your hands.
Taking control of your privacy and masking your email address is now as easy as generating a strong password.
1Password and Fastmail – a privacy-focused partnership
At 1Password, we believe your data should be kept private and protected from prying eyes. Our friends at Fastmail wholeheartedly agree that privacy matters, which is why we're thrilled to integrate their privacy-focused email experience with 1Password.
We've teamed up to create Masked Email, making it easier for you to separate your online identities and reclaim some of your online privacy.
Masked Email – protect your identity online
Whether you're using 1Password on a desktop web browser, or with Safari on iPhone, Masked Email is now the best way to create unique email addresses on the fly.
Add an extra layer of security to all your accounts: Protect yourself from data breaches and spam with a unique email address for each account.
Easily create email addresses on the fly: When you're asked to enter an email address, 1Password will show you an option to create a new email instead. Now, creating and managing unique email addresses for every login is as easy as generating a strong password.
Take control of your privacy: If you start receiving unwanted emails you can easily identify which services shared, leaked, or sold your email address. And, if you need to, you can simply switch it off from inside 1Password.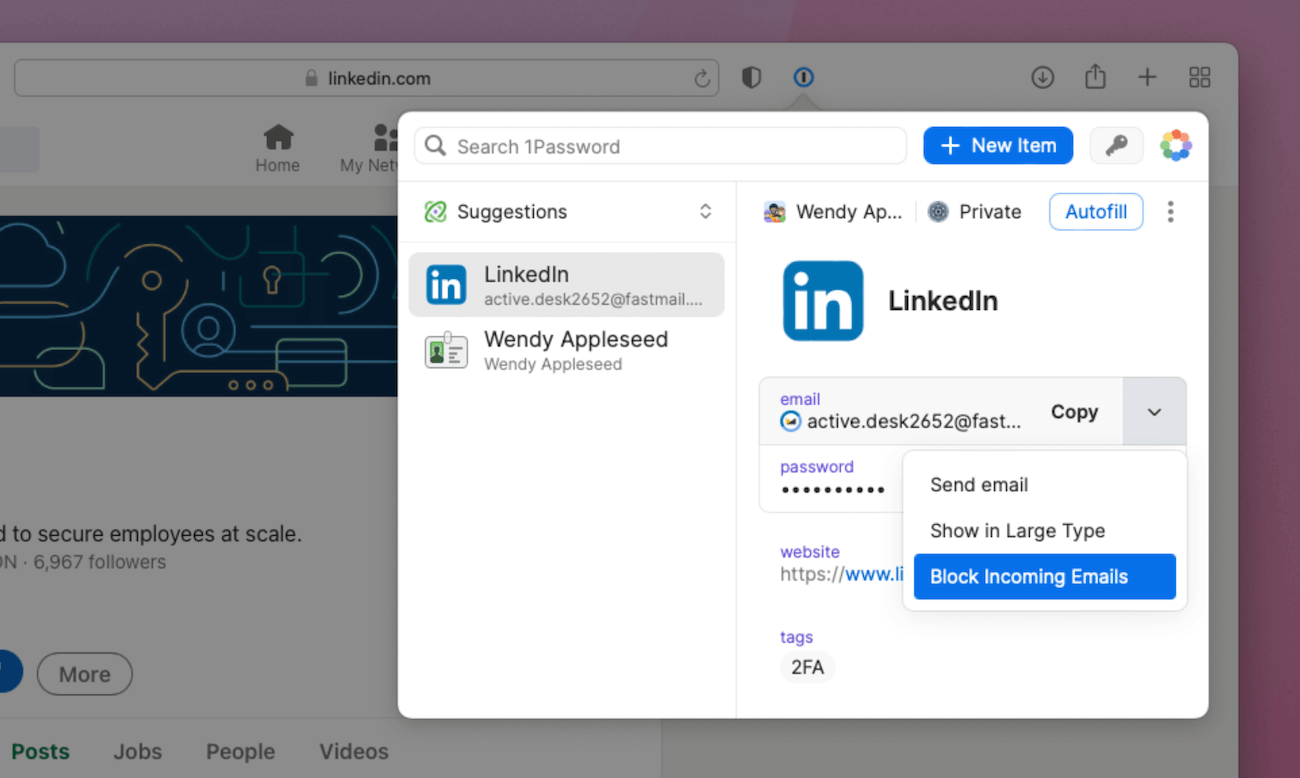 1Password syncs with Fastmail, so you receive mail at your new address right away.
Getting started
The Masked Email integration is available globally to anyone with both a 1Password and a Fastmail account.
New to 1Password? Get 25 percent off your first year of 1Password Families when you create your account.
1Password customers new to Fastmail get 25 percent off their first year. Fastmail lets you create custom email aliases and reclaim your email privacy. Get started at Fastmail.com.
And if you're already a customer of both 1Password and Fastmail, then you can connect your accounts right now.
Questions? 1Password Support has the answers.
Creating new email addresses has never been faster or more secure.
Get 25% off your first year of 1Password
To celebrate our partnership with Fastmail we're offering new customers 25% off their first year of 1Password. Try the world's most-loved password manager today.
Try 1Password today