When I joined 1Password at the beginning of 2022, I immediately recognized the value that the company places on its employees, its customers, and its community.
With the support of our employees, we are fortunate to be able to give back and support important initiatives around the world.
Our employee survey this year showed that over 80% of employees agreed 1Password is taking action to address issues of fairness, diversity, equity, and inclusion. Alongside our employees, we're proud to support a range of important causes around the world. We know there is more to do, but we are truly excited to continue building on the partnerships we've built.
Here are some of the ways we worked to make a difference this year.
Standing with Ukraine 🇺🇦
1Password stands with the brave citizens and leaders of Ukraine who are defending their homes and values. Earlier this year, we showed our support in a few different ways: pledging to match employee donations up to $50,000 USD, and standing with other Canadian business leaders in a letter to the Prime Minister in support of Ukraine.
Caring for our environment 🌳
Finding new ways to help the planet and the people around us is some of the most important work we do here at 1Password, so we wanted to continue to work towards making a positive impact for our environment this year: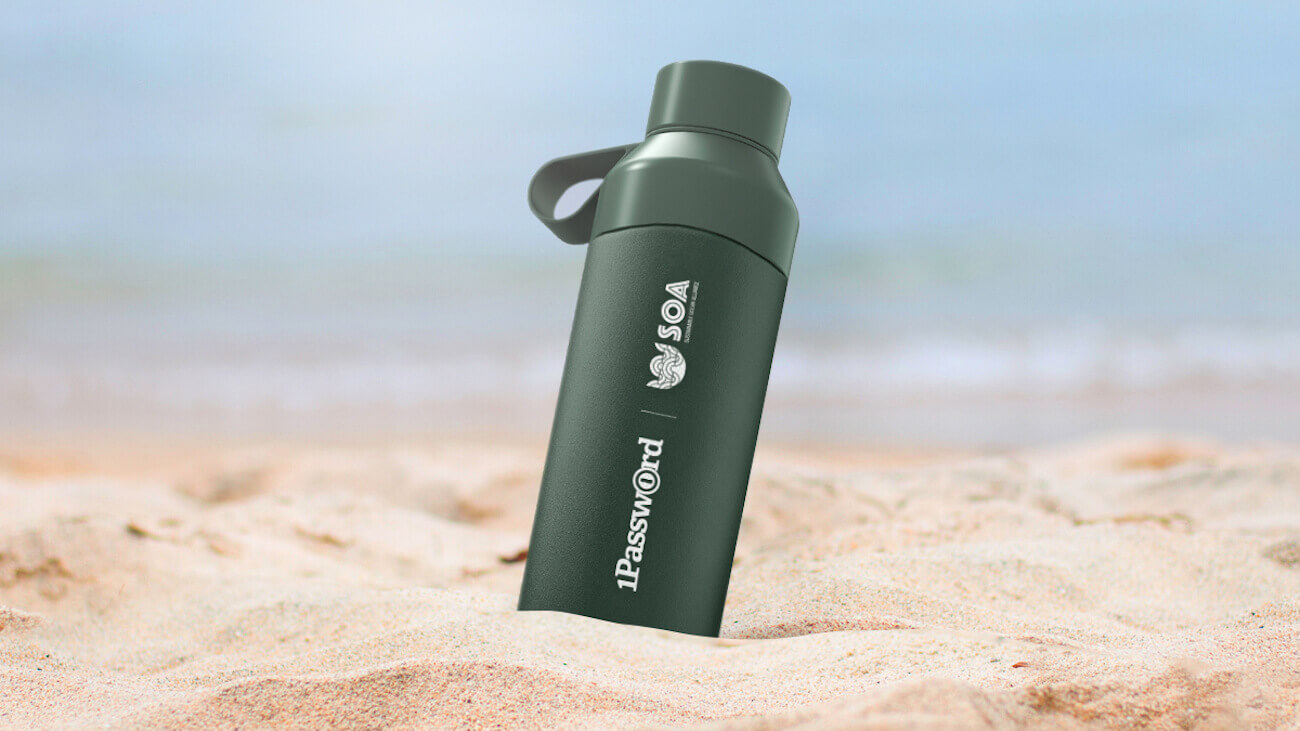 Truth and Reconciliation 🧡
September 30th is National Day for Truth and Reconciliation in Canada. We closed our virtual offices for all Canadian employees to honor Indigenous survivors, their families, and their communities, and to set aside time for our teams to get involved in their local community to promote reconciliation. Additionally, we donated to organizations working to recognize the legacy of the Canadian residential school system:
Supporting gender equality 💪
We're committed to gender equality, reproductive rights, and inclusion for everyone. This year, we made donations to organizations working to empower girls and women both in the workplace and beyond:
On the heels of the historic decision to overturn Roe v. Wade, we wanted to ensure that we were not only supporting our team members through changes to our benefit programs, but also supporting the organizations ensuring safe access to reproductive healthcare in the United States: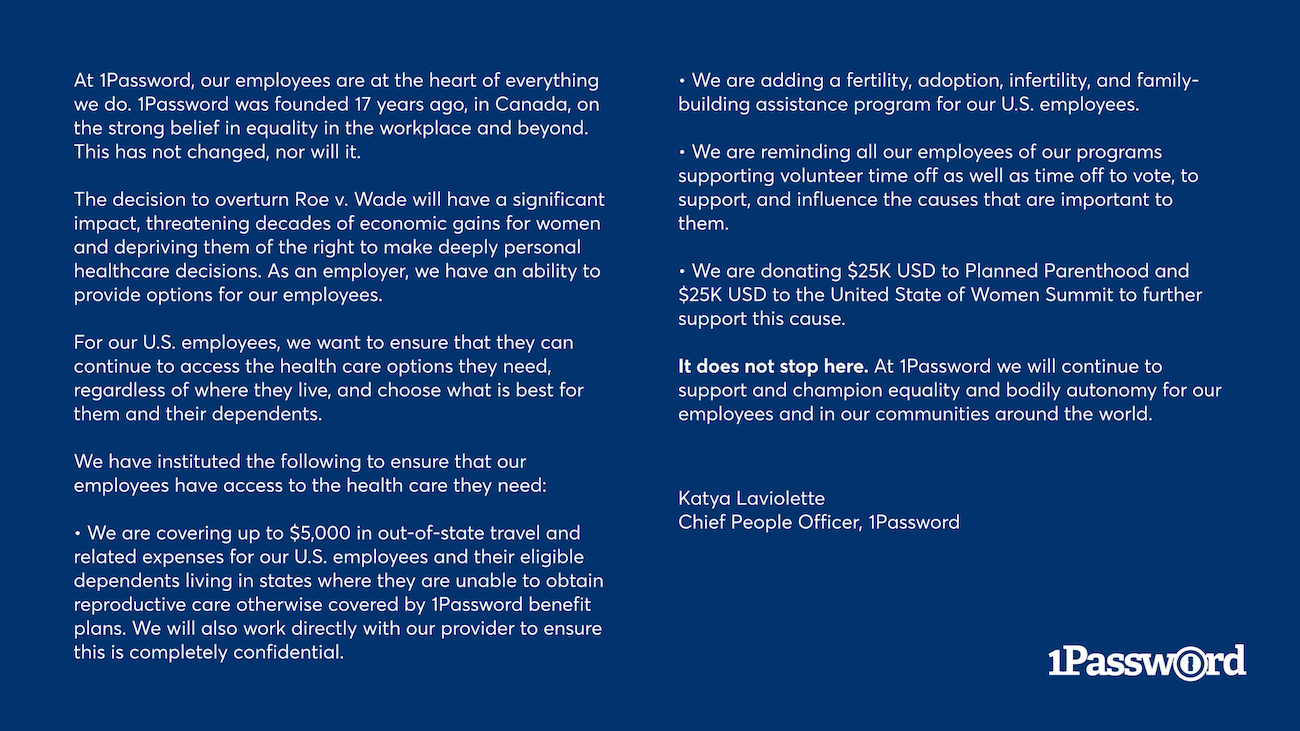 Championing diversity 🤝
This year, we leaned on our employee resource groups (ERGs) to gather information on what organizations would benefit from our donations throughout the year. In starting this conversation, we were able to contribute to three important organizations doing work to support underrepresented group in tech as well as an organization providing opportunities for young people:
Showing Pride 🏳️‍🌈
Many of our 1Password team members are part of the LGBTQ+ community, so it's crucial to us as a company to be allies. This year, alongside our internal initiatives, we donated to several organizations making an impact for the LGBTQ+ community: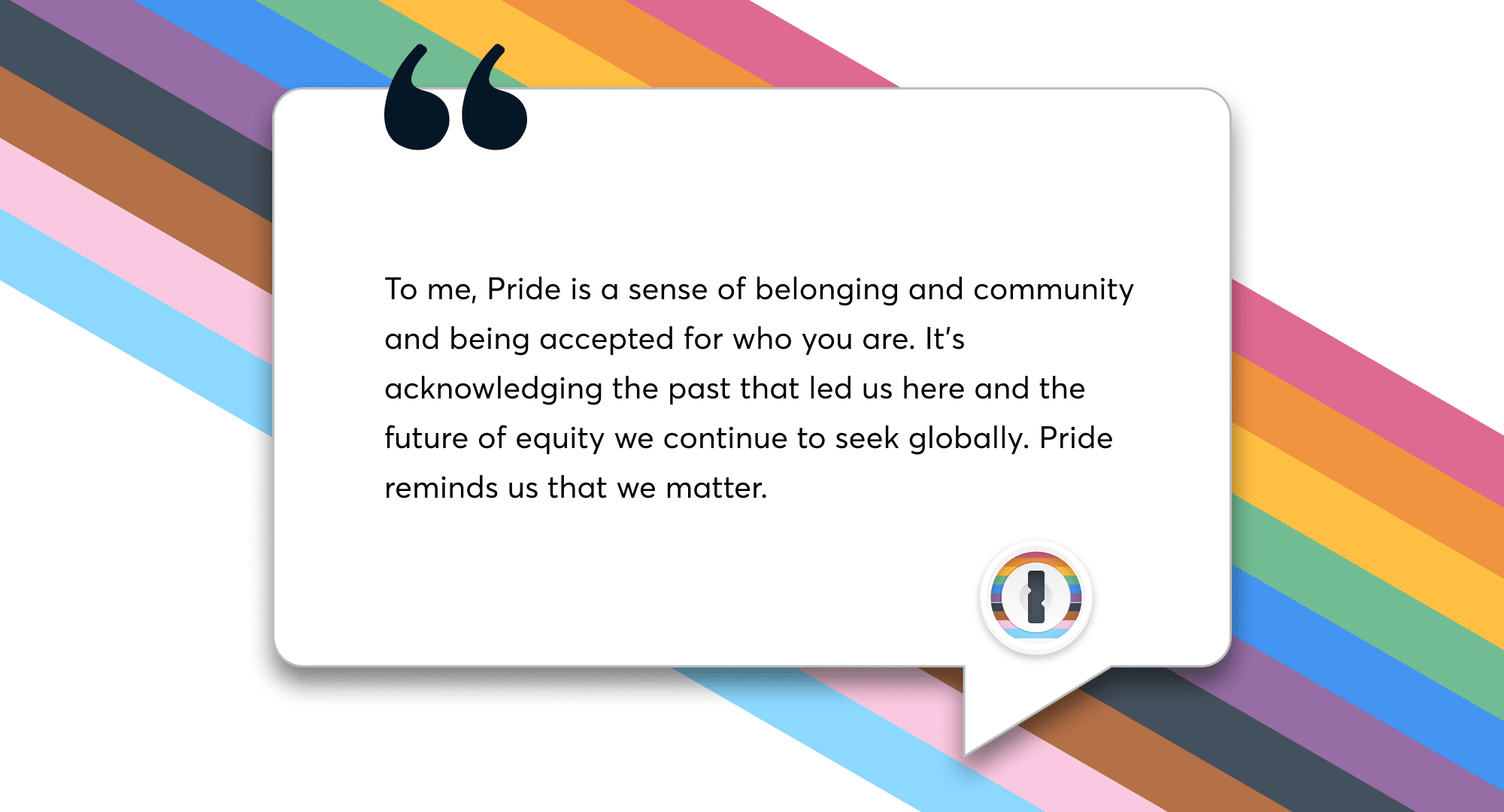 Investing in our community 🚀
Whether supporting mental health initiatives, or ensuring that our broader communities had access to healthy food options throughout the year, 1Password supported a number of organizations across the United States and Canada through both financial and volunteer time donations:
To celebrate Thanksgiving, we donated to three different organizations woking to make a difference:
Looking ahead
I'm extremely proud of the work our team has accomplished in 2022 but I know that our work is never done. We have so many opportunities in 2023 to continue making an impact with organizations like those we've mentioned who are doing important work that champions causes close to our hearts.
Thank you for supporting 1Password and helping to make initiatives like these possible. We already have a lot planned for 2023, from supporting our employees to our various communities and partners. We're looking forward to all that we accomplish – together.
K.