Brex and 1Password have partnered to make online payments secure and frictionless. 1Password customers can now use Brex virtual credit cards to check out online with just two clicks.
Brex is a powerful financial stack designed to serve the next generation of growing businesses, and now that power is accessible through 1Password in the browser.
Growing businesses choose Brex because their all-in-one platform of financial software, services, and products makes it easy to control corporate spending and manage runway in one place. 1Password Teams and Business customers can now connect their Brex account to 1Password for frictionless, secure online payments in just two clicks.
With the new integration, Brex customers can autofill their Brex corporate and vendor card information while checking out anywhere on the web – right from 1Password in the browser. Brex admins can also create and fill vendor cards during checkout.
How to simplify and secure online payments with Brex and 1Password
Imagine you're the owner of a growing business – perhaps a flourishing crypto/fintech startup called Block & Key 🔑. You've just raised your series A round and need to unblock employee spending while ensuring investor funds are spent securely.
And you're a 1Password customer because you know how important it is to protect your business and your workers online. Naturally, you want to combine the convenience of both platforms to make secure online payments simple.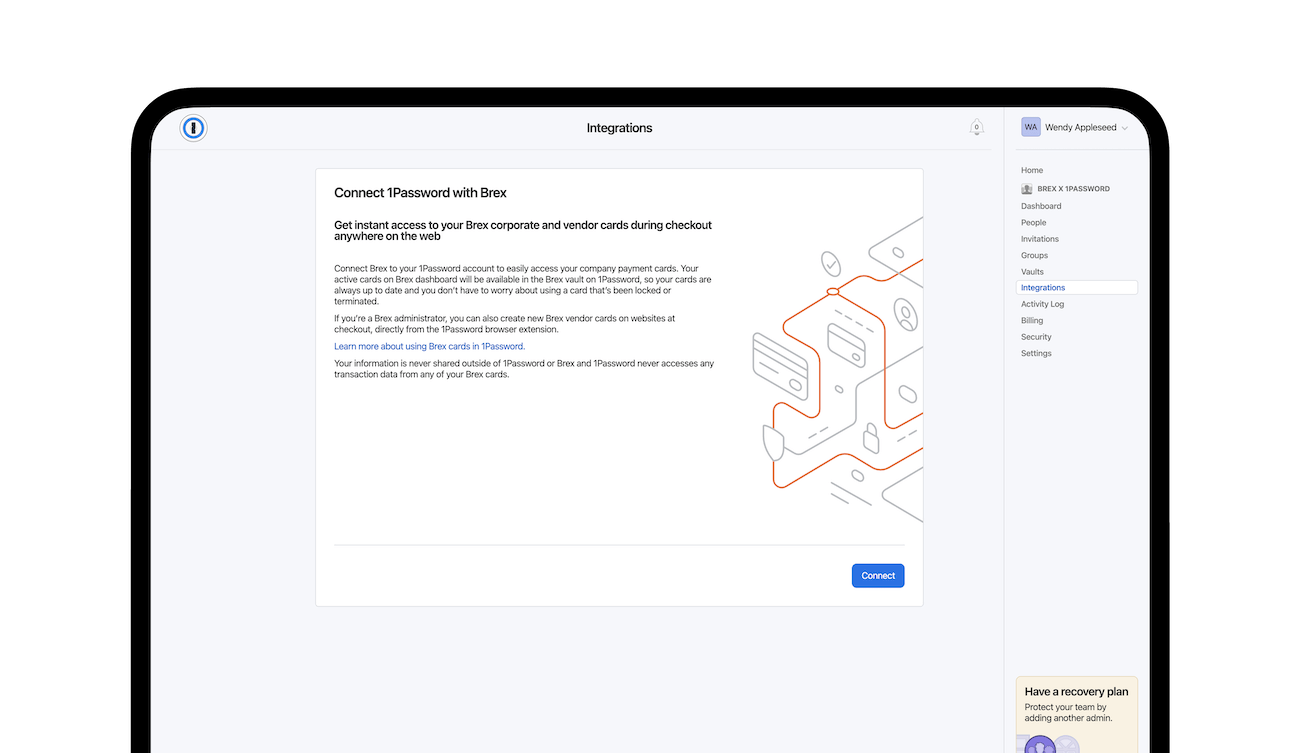 Once your employees connect their Brex and 1Password accounts, a Brex vault is created in their 1Password account. They'll then have access to their Brex corporate cards (everyone) and vendor cards (admins only) through 1Password in the browser, which they can manage from their Brex dashboard.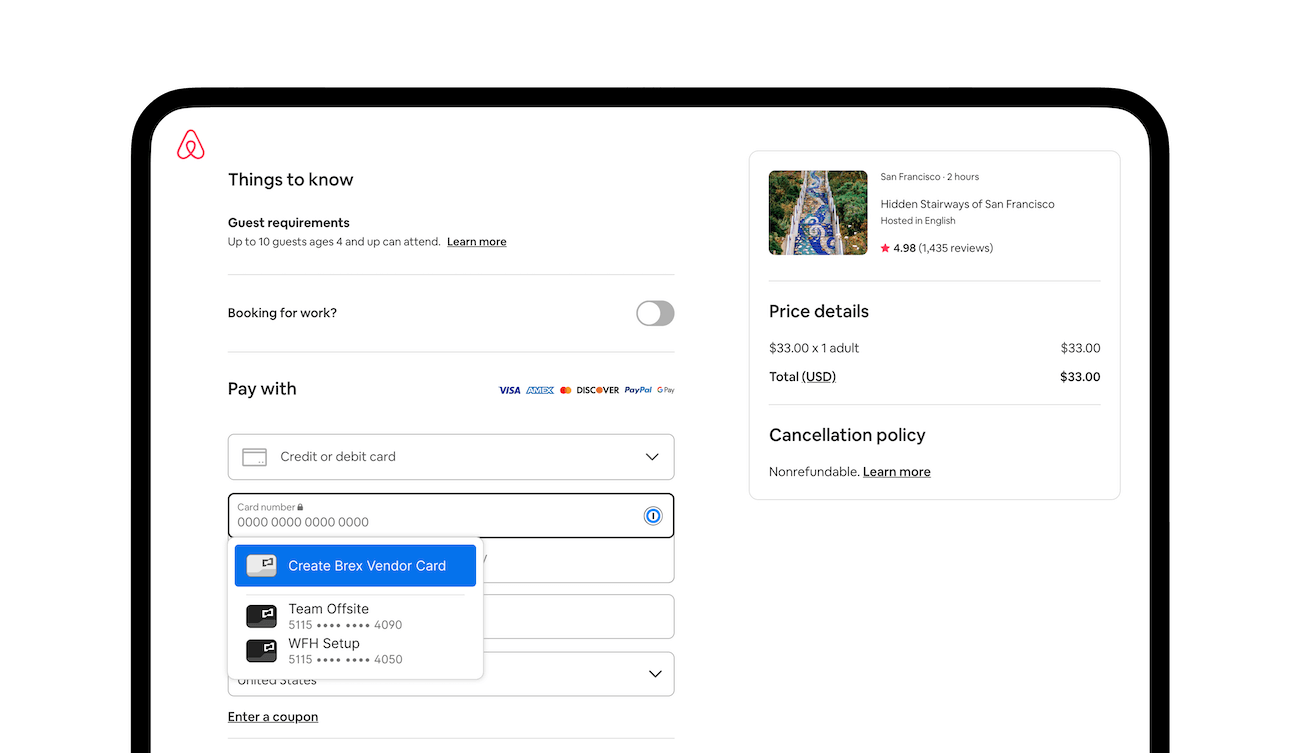 Those cards – and any updates made to them – are immediately available in your employees' 1Password Brex vault. When they want to use one of those cards to buy the latest MacBook Pro, all they need to do is add the items to their cart on the supplier website and click into the relevant credit card field. 1Password will display all their available Brex cards and autofill the information for the card they select.
Brex virtual cards can be created, stored, and used for payment anywhere on the web.
The admin experience
As a founder, controlling corporate spending is the surest way to preserve runway early on – but you also know employee productivity is critical to building your product. As a Brex admin, you can create virtual cards with pre-set spending limits when a new engineer joins the team, so your new team members can purchase the gear they need responsibly. Your admin privileges also give you the ability to create vendor cards for yourself at checkout, right from 1Password in the browser. When you do, you'll see options for setting a spending limit, locking the card after a period of time, and documenting a reason for the card creation.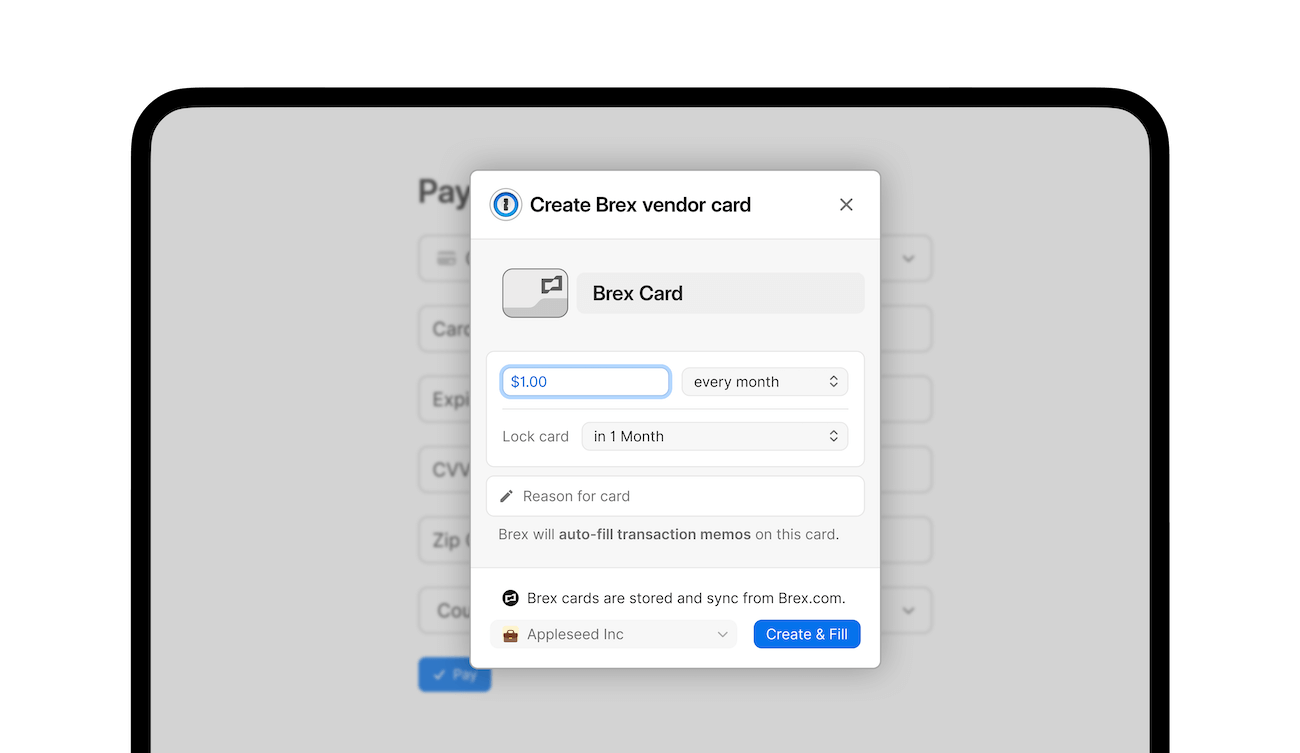 The cards stored in your Brex account are automatically kept in sync with your Brex vault in 1Password, so they're always up to date. Your employees will never have to worry about using out-of-date or terminated cards during checkout.
Exclusive offer for new customers
As a business owner, you can never have too much control over business spend – and now that control is at your fingertips wherever you browse the web. The new checkout experience is entirely frictionless (dare I say delightful?), which encourages employees to use corporate cards during checkout, giving you greater visibility into your overall financial health than ever before.
As a thanks to our customers (fintech founders or otherwise 📈), 1Password customers new to Brex will receive 35,000 rewards points when they sign up and spend $3,000 on their Brex card.
And Brex customers new to 1Password will receive a $100 credit on a 1Password Teams or Business account.
The power of Brex. The security of 1Password. The convenience of both.
Growing businesses have enough on their plates. Let 1Password and Brex simplify finances and online security so you can focus on doing what you do best: innovating and growing your business. 1Password's integration with Brex is available right now to 1Password Teams and Business customers based in the United States.
Join us for a live demo
Want to see the new Brex integration in action? Join us for a hands-on demo on February 15 at 11 AM EST / 8AM PST to see for yourself how Brex and 1Password make online payments smart, simple, and secure.
Growing your business with 1Password and Brex
Register for a quick demo and live Q&A to see 1Password's Brex integration in action on February 15 at 11AM EST.
Register now