Today we're announcing a major update to Watchtower, the part of 1Password that lets you know about security breaches on the websites you use.
This update adds notifications, so you don't have to remember to check Watchtower to see if any sites you use have been compromised. Instead, 1Password will notify you if and when there's a problem, so you can change your password to help keep your online accounts safe.
Notifications you really want
Watchtower will only alert you to security issues with sites you've saved, so you can be sure notifications will be relevant. They'll save you time and worry because you no longer need to check in on Watchtower to see if any websites you use have been compromised.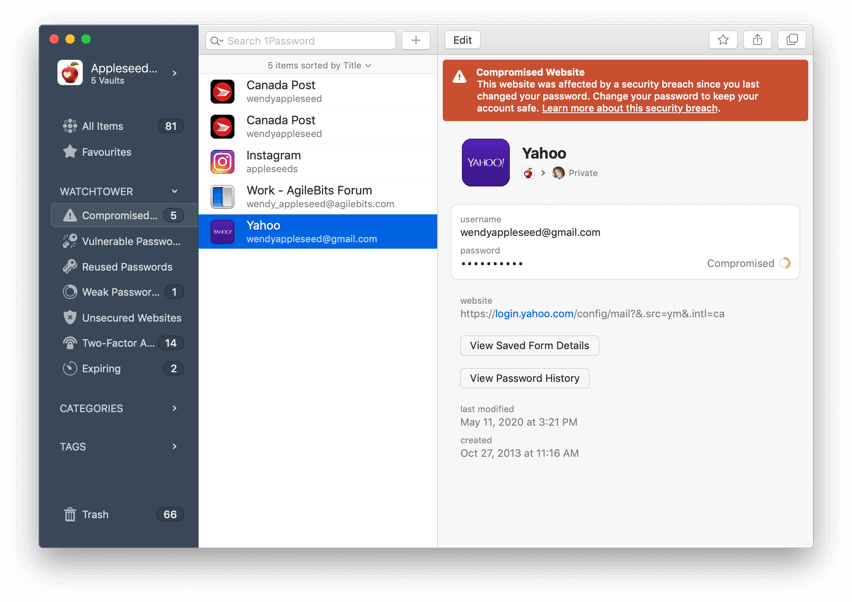 Website security breaches don't happen often, so you shouldn't see Watchtower notifications very much. It won't send you more than one notification per day, and you'll only receive notifications when 1Password is unlocked.
If a site you use has been exposed by a security breach, your username and password may have been exposed along with it, making it possible for others to access your account. Being notified that a site you use has been compromised lets you change your login information straight away to keep your account secure.
Watchtower notifications: things to know
Watchtower will use the native notifications of the operating system you're using, whether that's desktop or mobile. This will give you the same control over Watchtower notifications that you're used to with all your other notifications.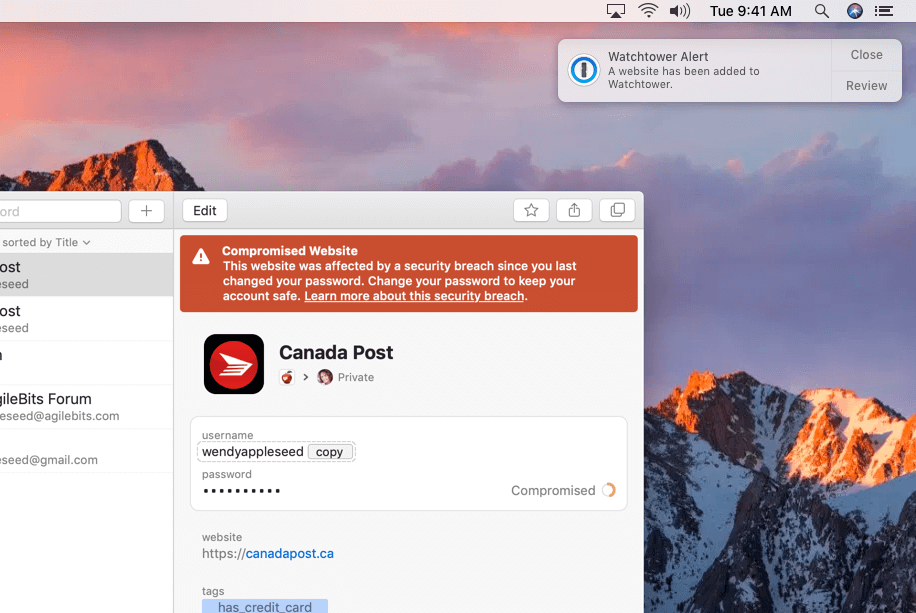 Watchtower notifications are available everywhere you use 1Password. You can control Watchtower notifications separately on all your devices. They aren't turned on by default, so you'll need to turn them on where you want to receive them.
Help is at hand if you need it:
Watchtower benefits
You can still access Watchtower at any time to check the status of your logins. It will flag issues that mean you should change your password as soon as possible:
Compromised websites. These are sites that have suffered a known security breach.
Vulnerable passwords. These are passwords that have been exposed in a data breach. Watchtower regularly checks the Have I Been Pwned database, which records and verifies all known online data breaches.
Reused passwords. If your login details are ever exposed, the risk of a breach is multiplied anywhere passwords are reused.
Weak passwords. These are passwords that are too short or simple to be safe to use.
And it will check for these other issues too:
Unsecured websites. These are sites that don't encrypt data. Your login and any other information could be at risk.
Sites where you can use two-factor authentication. These are sites where you can take extra steps to keep your account secure.
As always, Watchtower keeps your data safe – all checks are made on your local device. And when you need a new password, 1Password can create and keep strong, unique passwords for you.
Watchtower has your back
Watchtower's new notifications mean you don't have to worry about lurking security issues with your online accounts – 1Password will alert you if and when there's a problem. They're designed not only to help keep you safe online, but to give you peace of mind. Turn on Watchtower notifications today.