2021 has been an incredible year! 🙌 Here's my last newsletter of 2️⃣0️⃣2️⃣1️⃣ to wrap up the year. 🤗
Hello everyone, 👋
I hope you and your family are safe and well. 🙏
I'm fortunate that my biggest concerns this year are stocking up on all the ingredients for our three family dinner celebrations and making sure everyone has something wrapped under the tree. I'm very thankful for that!
We also have some presents for you. Let's unwrap them together now, shall we?
1Password 8 for Mac is now in beta 🎉
I'm thrilled to announce that 1Password 8 for Mac has officially entered beta. 🙌
I shared the early access with you earlier and the response was incredible. I was blown away by how many people reached out to discuss our latest baby. 🥰
Now that we've had a chance to polish things further we're ready to invite all of you to our beta family and give it a go. Here's the gorgeous design that will greet you.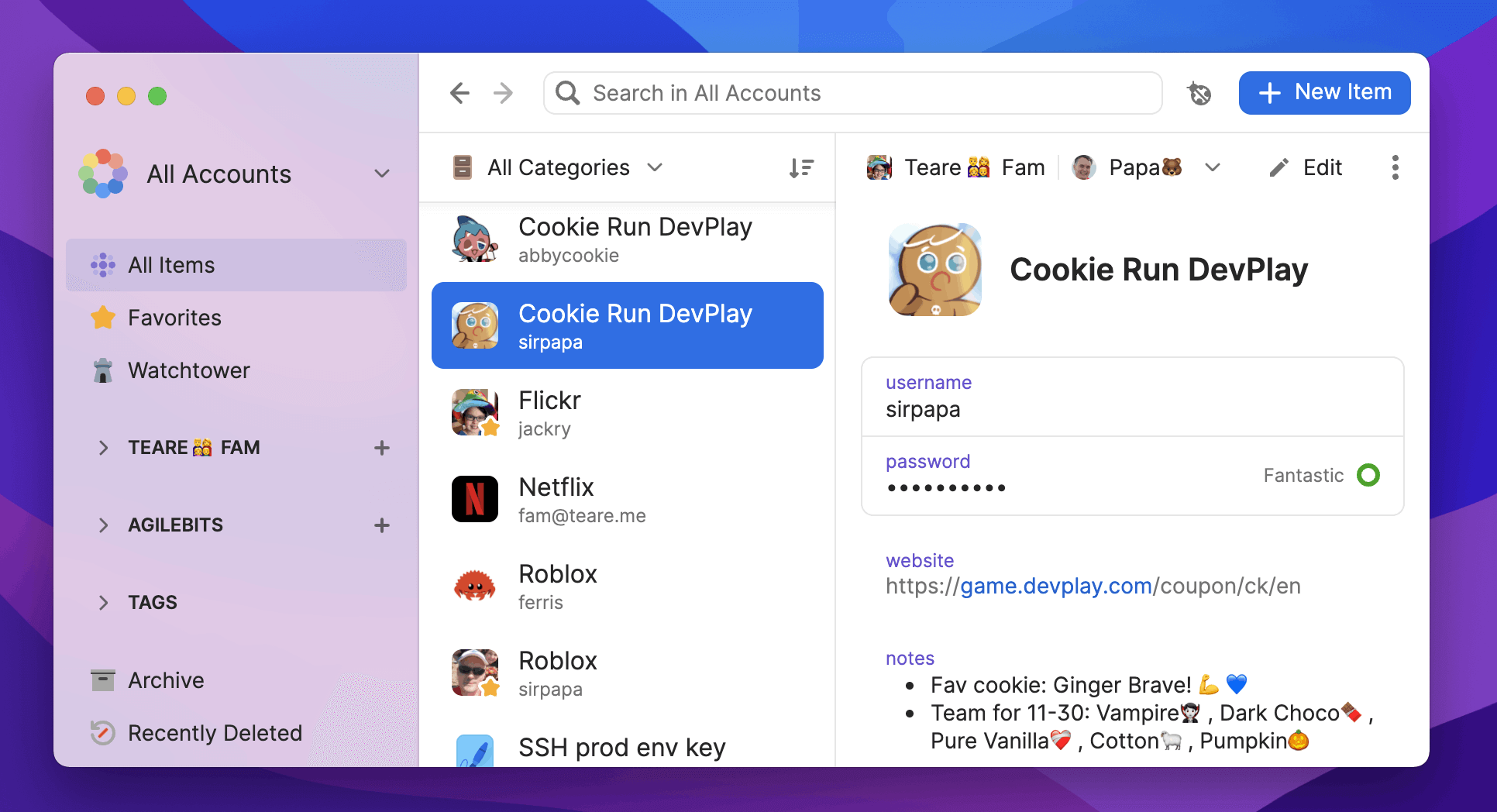 I really love our new design language and the incredible speed of 1Password 8. And the all-new Quick Access gives me access to everything I need, all from a quick ⌘⇧Space keyboard shortcut. 🔥

There's a ton of new features in this release and you can start enjoying them now before the official launch. If you enjoy being on the cutting edge, download the beta here to get started.
Download 1Password 8 beta for Mac
1Password 8 will require a subscription to our 1Password membership and will rely exclusively on 1Password.com (or .ca🇨🇦 or .eu🇪🇺).
If you are still using iCloud or Dropbox or WLAN Sync, now is a great time to migrate over your data so you'll be ready for the new release. You can trade in your license for 50% off your first 3 years by launching 1Password 7 and clicking the upgrade link.
Be sure to also join the development team and I in our beta support forum to discuss your experiences and help us gear up for an amazing launch next year. 🤘
Movie time 🎬
December is a super busy month for me so I often find myself looking for something to watch to rest, especially after a long day of baking or playing hockey.
One of the places I like to go when I need to rest my muscles but still have an active mind is our webinars page. Our team has some great talks to curl up in front of the TV with. 🍿
My favourite is our Security Trends: Fireside Chat on how we adapted to being fully remote, managing burnout, and creating a mentally healthy work environment. Those last points being especially important during the holiday season. 💝
1Password Families 🤗
This time of year always gets me thinking of my family and how blessed I am to have them in my life. 💕
Once again this year everyone wants to host dinner themselves, so to make sure everyone stays happy we are having three dinners. It's a lot of fun (and delicious!) so nobody complains.
After dinner Sara and I will once again remind my parents why it's so important for them to actively use our 1Password family account. None of us are getting any younger so it's important we have access to important accounts, medical histories, and the like.

My mom is happily using our family account for her passwords now and doing great, but she often falls back to the old ways. To help get her thinking of more ways to use 1Password, I created a Cookie Run Kingdom tips & tricks secure note.
Now when she gets stuck on a level in Cookie Run Kingdom, instead of messaging her I tell her about this secure note. It gets her excited to launch 1Password and I hope the rest will take care of itself.
If you're not on the family plan yet and looking for the perfect present for the holidays, upgrade to a families account and invite the people closest to you to join. Just email us and we'll help get you setup. 🥰
I'd love to hear your tips & tricks that you use to get your family members excited about using 1Password. You can find me @dteare on Twitter and in our forums. And yes, I'd equally love to hear your Cookie Run Kingdom strategies as Abby has me quite addicted to that game at this point. 😂
Until next time, take care and stay safe out there. 😘
++dave;
P.S. Last month I shared my pumpkin pie recipe using our new item sharing service and I was delighted to see I struck a chord there. So many reached out to share their recipes and thank me for mine that I thought I'd share another. In the spirit of Cookie Run Kingdom I decided to share my Gluten Free cookie recipe. After all the care and attention I put into my pies you might be surprised how simple I kept this one. 😂
P.P.S. My new MacBook Pro is everything I dreamed it would be! Writing newsletters here has been an absolute delight. 😍