I've long been curious about Microsoft Edge. It's fast, light-weight, and much more secure than the Internet Explorer of my childhood. It had everything you look for in a browser … except 1Password support. Today that changes!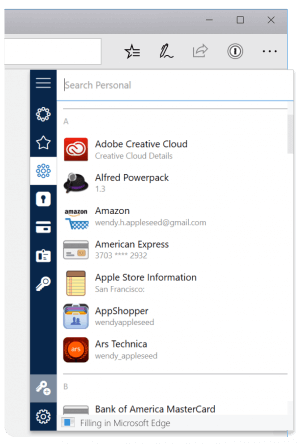 Thanks to the hard work of the Microsoft Edge and Windows Store teams, along with our own Windows team, I'm excited to announce that 1Password now has a lovely new home right on your Microsoft Edge toolbar. 🎉
Boldly go where no Login item has gone before
To bring your items with you to explore Microsoft Edge, first make sure you have 1Password 6.7 or later installed and set up. Then, head to the Windows Store and grab the 1Password extension. Open Microsoft Edge, enable the 1Password extension, and enjoy saving new Login items, opening and filling in Microsoft Edge from 1Password mini, filling addresses and credit card details, and easy access to the Strong Password Generator, just like you've come to know and love. If you're still using an older version of 1Password, you can follow this handy guide to migrate your existing data to the latest version of 1Password to get ready to seek out new frontiers in Microsoft's latest browser.
Hello dark mode, my old friend

As you're working your own 1Password magic in Microsoft Edge, don't forget to check out my favorite feature: its super-sleek dark mode. I love how it turns your 1Password extension icon into a lovely point of light on your toolbar and it's perfect for late-night browsing. Let the stars next to your favorites light up Microsoft Edge and help guide you to your most loved websites at the click of a Login item. Of course, if a different vision has been planted in your brain, the extension icon looks right at home in light mode too. 😉

To the Edge and beyond!
As stoked as we are about 1Password coming to Microsoft Edge, this is only the beginning and some finishing touches are coming in future releases. Support for keyboard shortcuts to fill logins and some tweaks to how mini lets you know you're filling in Edge are included with the latest 1Password 6 for Windows beta. Additional improvements for filling on certain sites will also be addressed down the road.
Currently, the 1Password extension in Microsoft Edge requires 1Password 6.7 for Windows or later and a 1Password membership. We will be expanding Edge availability in future releases but if you'd like to enjoy using Edge sooner than later, now is a great time to give a 1Password membership a try. In addition to early access, there are many other benefits and it's free for 14 days!
I hope you enjoy saving and filling in Microsoft Edge and, as always, we love seeing your feedback in our support forum. 😊