Now we can remove that "virtually" bit. Item sharing now supports sharing documents (the Document item type in 1Password) and files (files attached to any other 1Password item, like logins, secure notes, and credit cards). 📄🙌
What is 1Password item sharing?
Item sharing with 1Password is the easiest way to share anything in your 1Password vault with anyone else. Let's say I want to share my bank account information with my partner.
To do that, I first open the item in 1Password. Then I navigate to the item menu and select "Share."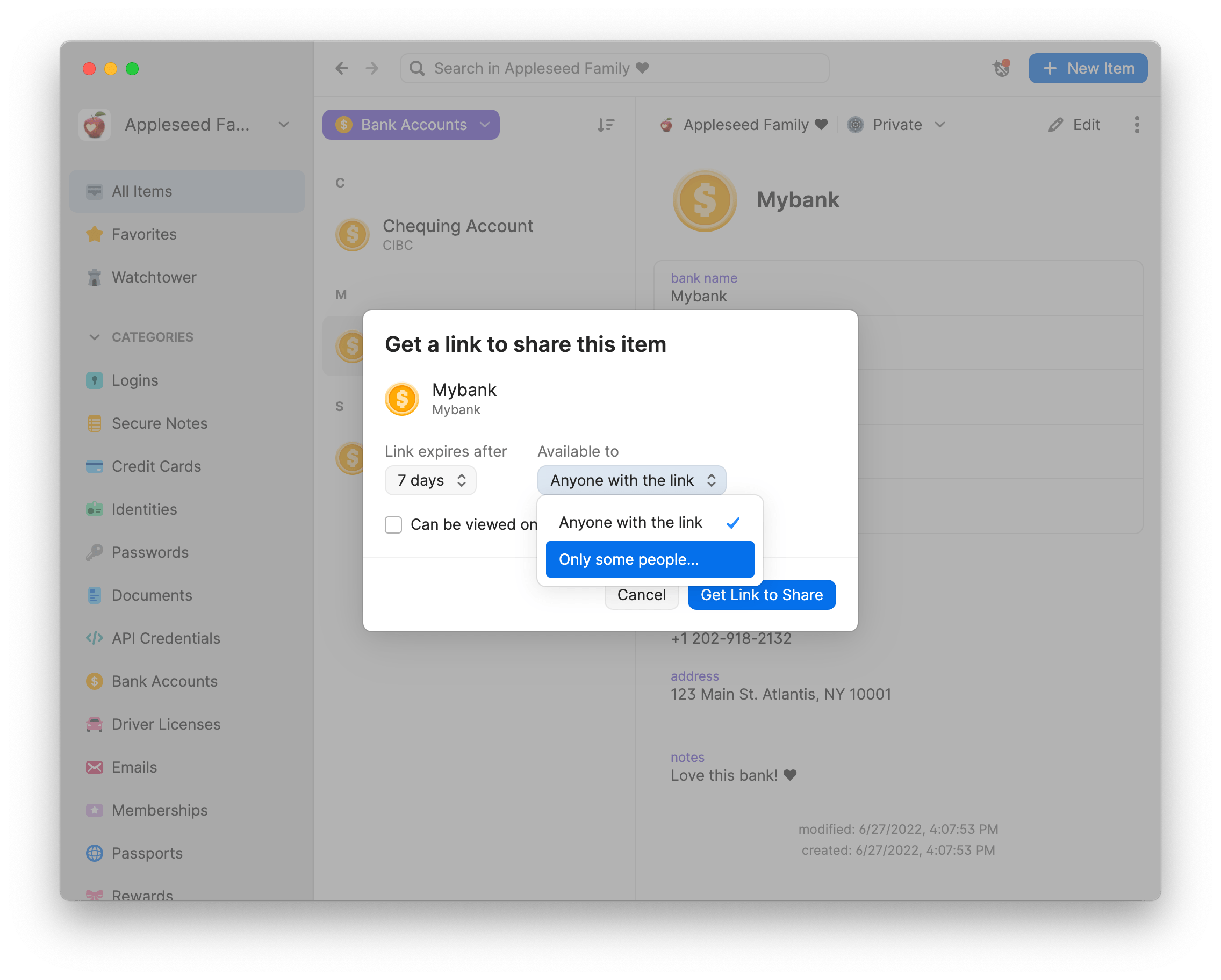 When I do, I'll see two options. I can set an expiration date for the sharing link I'm about to generate, and I can choose to share it with anyone with the link, or only with people I specify. (If I restrict sharing to only people I specify, they'll need to verify their email address with a one-time code to view the item.) I can also toggle an option to make the link self-destruct after it's been viewed for the first time.
When I select the "Get Link to Share" button, I then have the option to copy the share link I just generated. I can share that link wherever I wish – in an email or a chat, for example.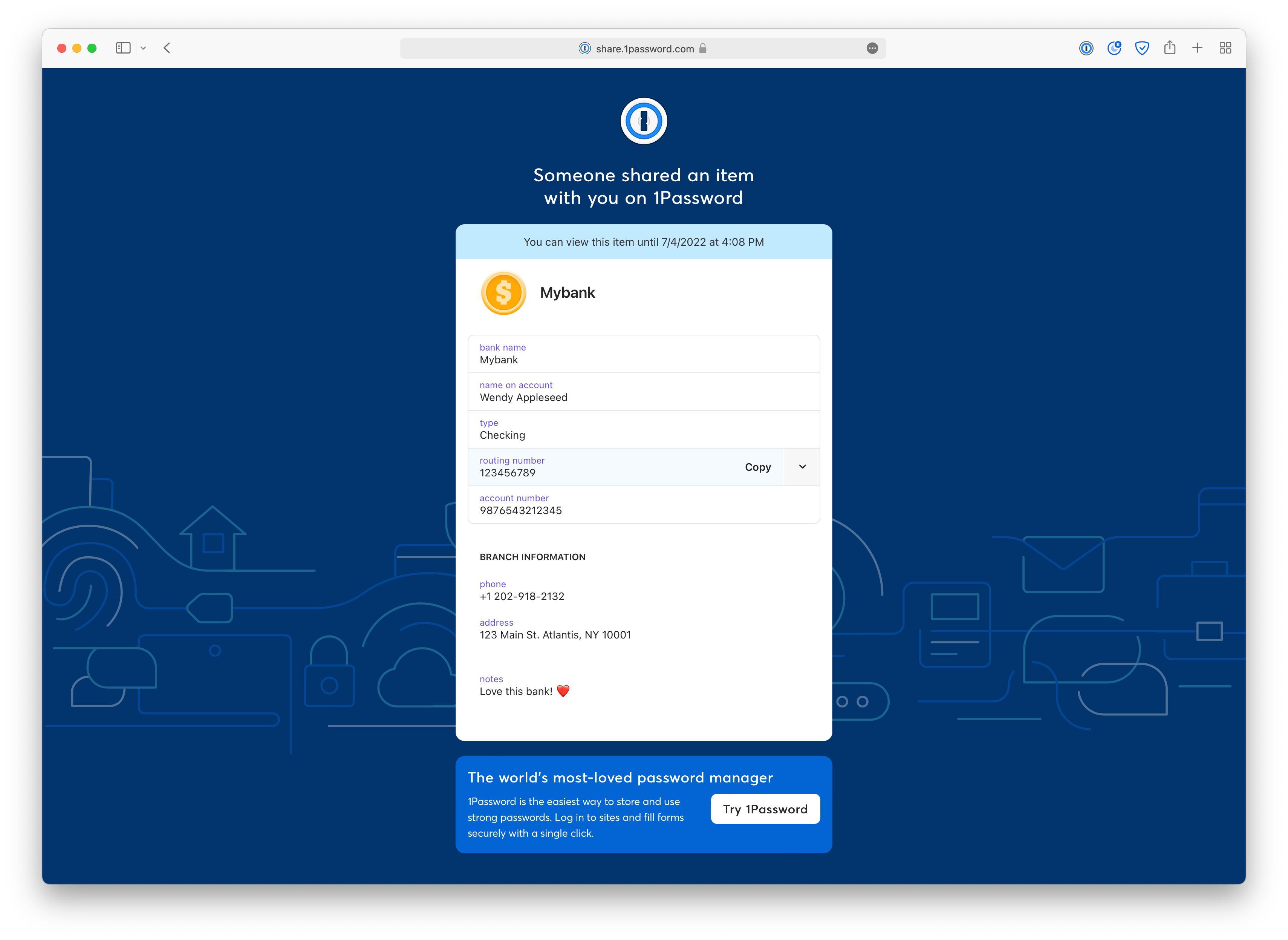 When my recipient clicks the link, they'll see each field for that item – for a bank account, that may be the account number and routing number, possibly a PIN if I've added one – in their web browser. They can copy each field individually, or save a copy of the item in their own 1Password account. That last bit's optional, though: recipients need not be 1Password customers to view a shared link.
To recap: open the item in 1Password, share it, and send it. Easy.
Want to see it in action? We shared something with you to give you a sneak peek.
How to share documents and files with 1Password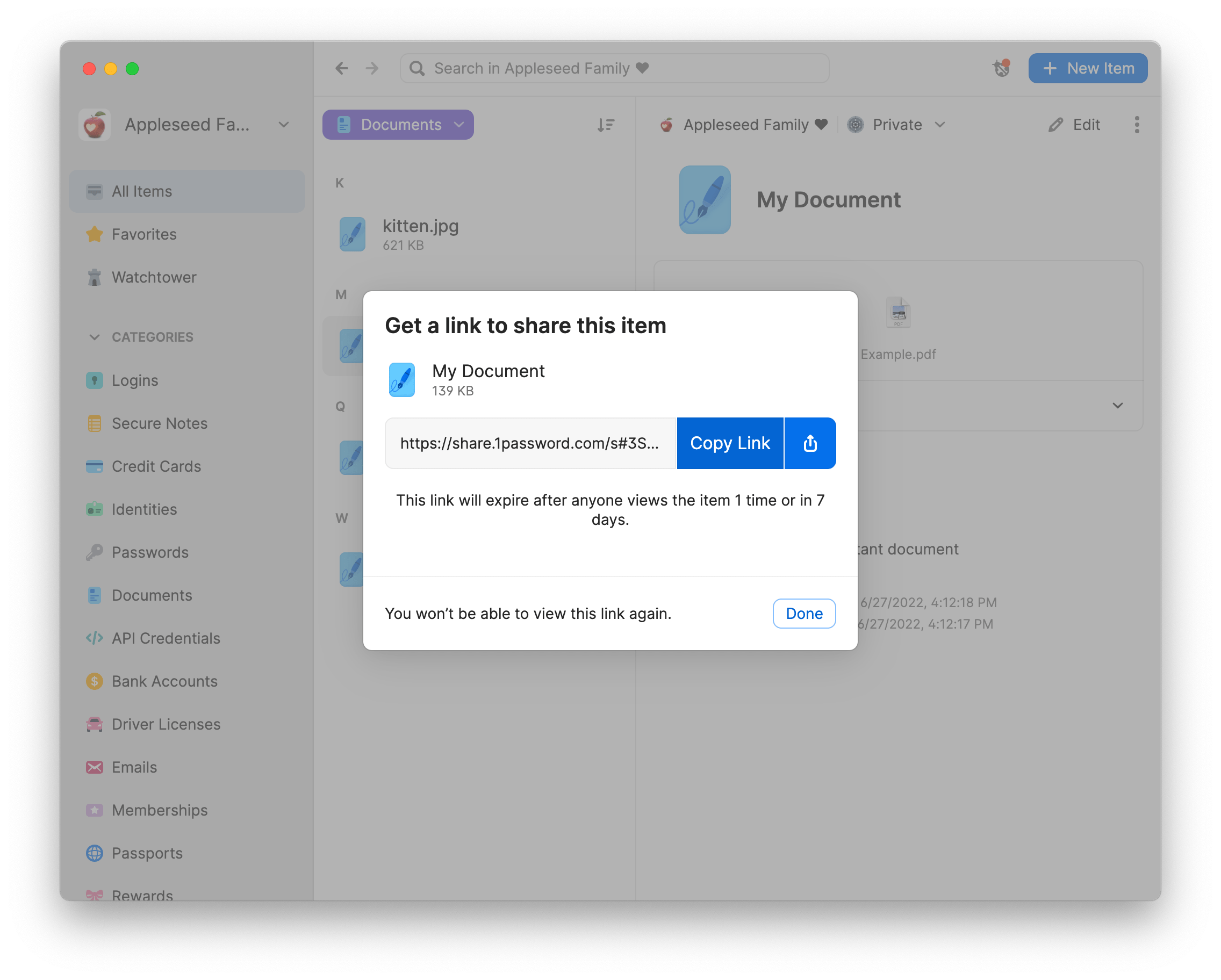 Now, I can also follow the process outlined above to share a document I've stored in 1Password.
Or, I can attach a file to any other item type and that file will be available to the recipient just like all the other item fields. You can share images, Excel files, a plain text file of your grandmother's super secret banana bread recipe – whatever you'd like.
Share anything with anyone, securely
Why is item sharing in 1Password such a big deal? We need to share sensitive stuff with other people all the time. When we do, we often share it in the most convenient way: through email or chat, or by putting it in a spreadsheet or shared doc.
That, to put it mildly, is not secure.
So why not make the easiest way to share the most secure way to share? With 1Password item sharing, you can still share those secrets in the apps and channels you already use, but with the knowledge that the item you share isn't actually hosted on that platform. Instead, you're sharing a secure link to the item, stored safely in 1Password.
Turns out we aren't alone in our desire for more secure sharing options. Since the launch of item sharing, more than 1 million items have been safely shared with 1Password. 🎉🤯
More improvements to item sharing
Document and file sharing aren't the only improvements to come to item sharing. We've also added these other enhancements:
Recipients will now see the item shared in their preferred language (based on their web browser settings)
If the recipient's email address matches the domain used by the sharer, the recipient will now see an invitation to join the sharer's team in 1Password
Senders can now share items with an entire domain while still requiring recipients to verify their email address
Admins can limit item sharing verification to a predefined list of domains
Admins can toggle email verification requirements for recipients
Admins can specify the maximum and default duration of shared links
Admins can require that items shared be limited to a single view
You can now copy the original share link from 1Password by viewing the item's sharing history
Visual improvements like new icons
Workflow improvements like item templates
Support for Large Type
Item sharing is available now in 1Password 8. (Note that for 1Password Business customers, file sharing is disabled by default. Admins can enable the feature to allow file sharing on a per-account basis.)
Happy sharing!
Get the newest generation of the world's most-loved password manager
Securely share documents, files, logins, and anything else you've stored in 1Password with 1Password 8.
Download 1Password 8