Update: Our TestFlight program for 1Password 8 for iOS filled up fast! We're making room for new testers every week, so check back often to sign up.
I have been waiting to publish a post with this title for a long time. With 1Password 8 for Linux and Windows out in the world – and the Mac version in beta – many folks have justifiably been asking, "but what about iOS? When do I get to see that?
The answer to that question is: today! We are lifting the Early Access curtain on our brand new iOS app – and it is gorgeous.
I've written a whole post about why you'll love this update and why you should check it out, but maybe you don't need that. Maybe all you need is the TestFlight link. If that's the case, happy testing – and don't forget to report those bugs!
It's worth noting that 1Password 8 is a separate app from 1Password 7, and you'll need to join this TestFlight crew even if you're already a 1Password for iOS tester.
If you'd like to take a quick tour before testing, I'm happy to oblige. Let's explore, shall we?
Next-gen design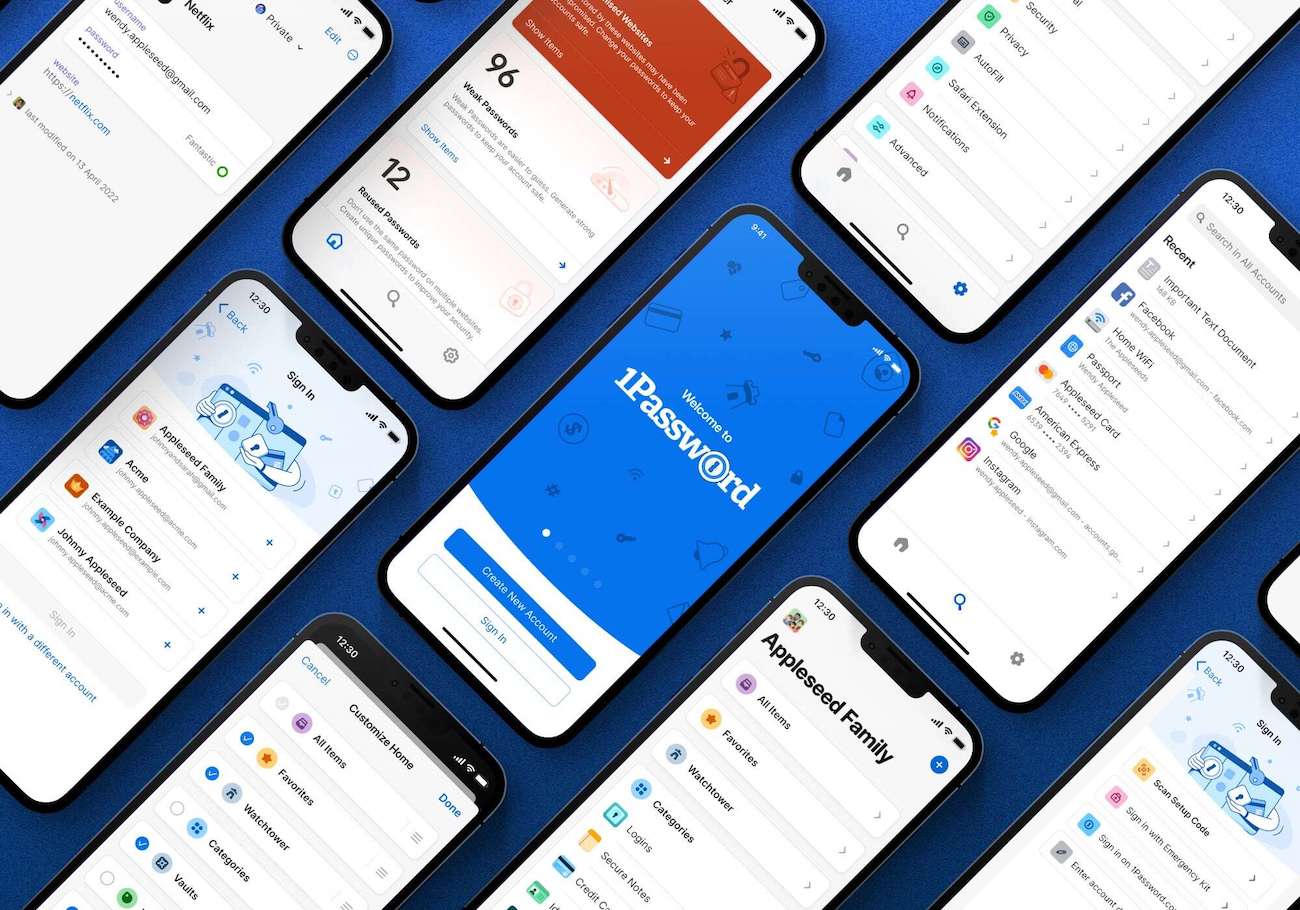 When we began work on 1Password 8 for iOS, we started with a fresh canvas and then filled it with all the things that makes 1Password great, backed by over a decade of experience shipping amazing apps for iOS.
Over the last couple years we've been making a concerted effort to unify our design language. We built a user interface that's cohesive across all our apps, but also makes you feel right at home on the platform where you're using it. The updated designs result in a modern take on 1Password that is both familiar and fresh.
Not just a pretty face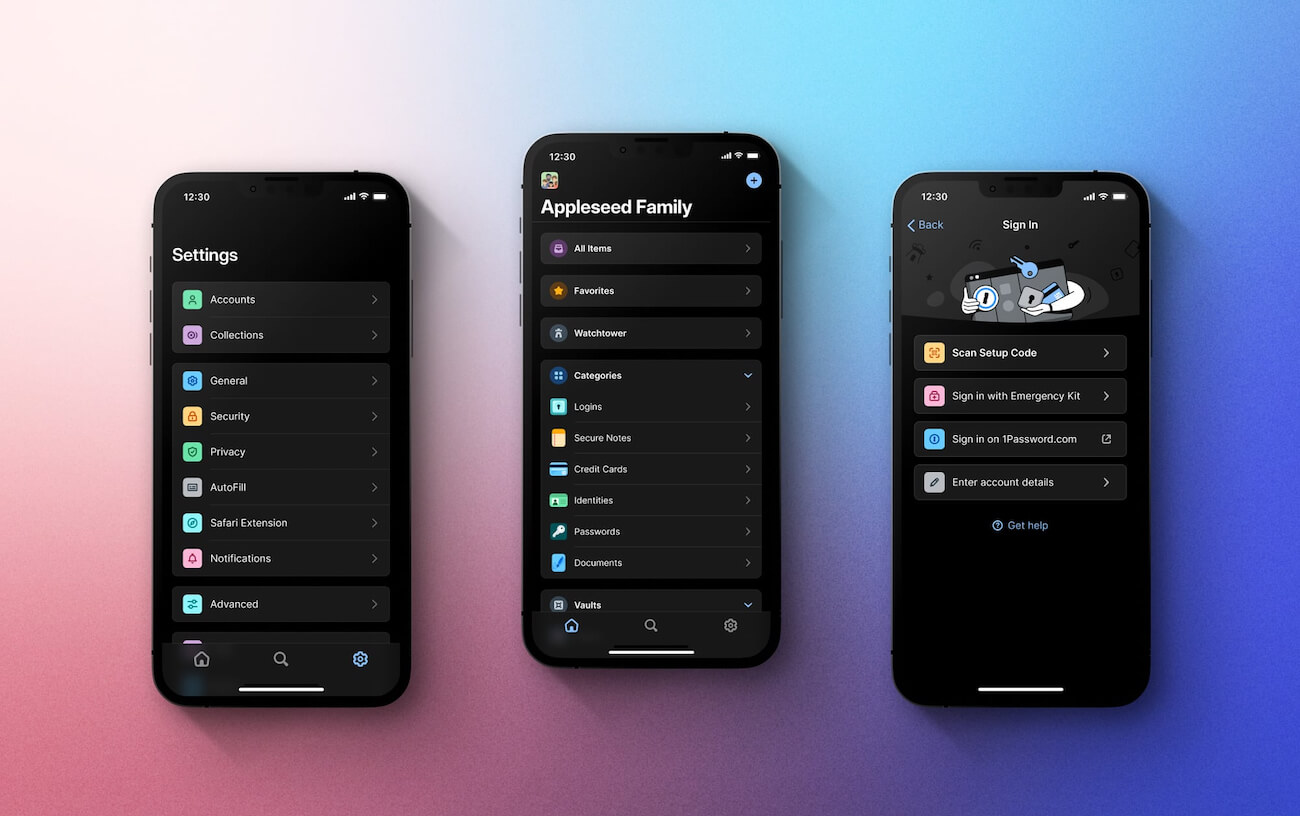 If you've been following along with the development story of our new apps, you know that 1Password 8 for iOS is powered by our next generation 1Password Core; the full capabilities of a desktop-class 1Password app are in the palm of your hand! Written primarily with SwiftUI and Rust, a secure systems programming language famous for its performance and safety, 1Password is more stable, more performant, and more secure than ever before.
The Core also provides a very tangible benefit to everyone who uses our new 1Password apps: predictability. A Core-powered 1Password app behaves the same no matter what platform you're using.
Everything from your search results to the password generator has been unified. Even more complicated aspects of our apps – like item recovery and our incredible new item editor – are handled by the Core. New features, like the ability to create and edit SSH keys, which recently debuted in our desktop apps, can also be found in 1Password for iOS thanks to the Core.
Many firsts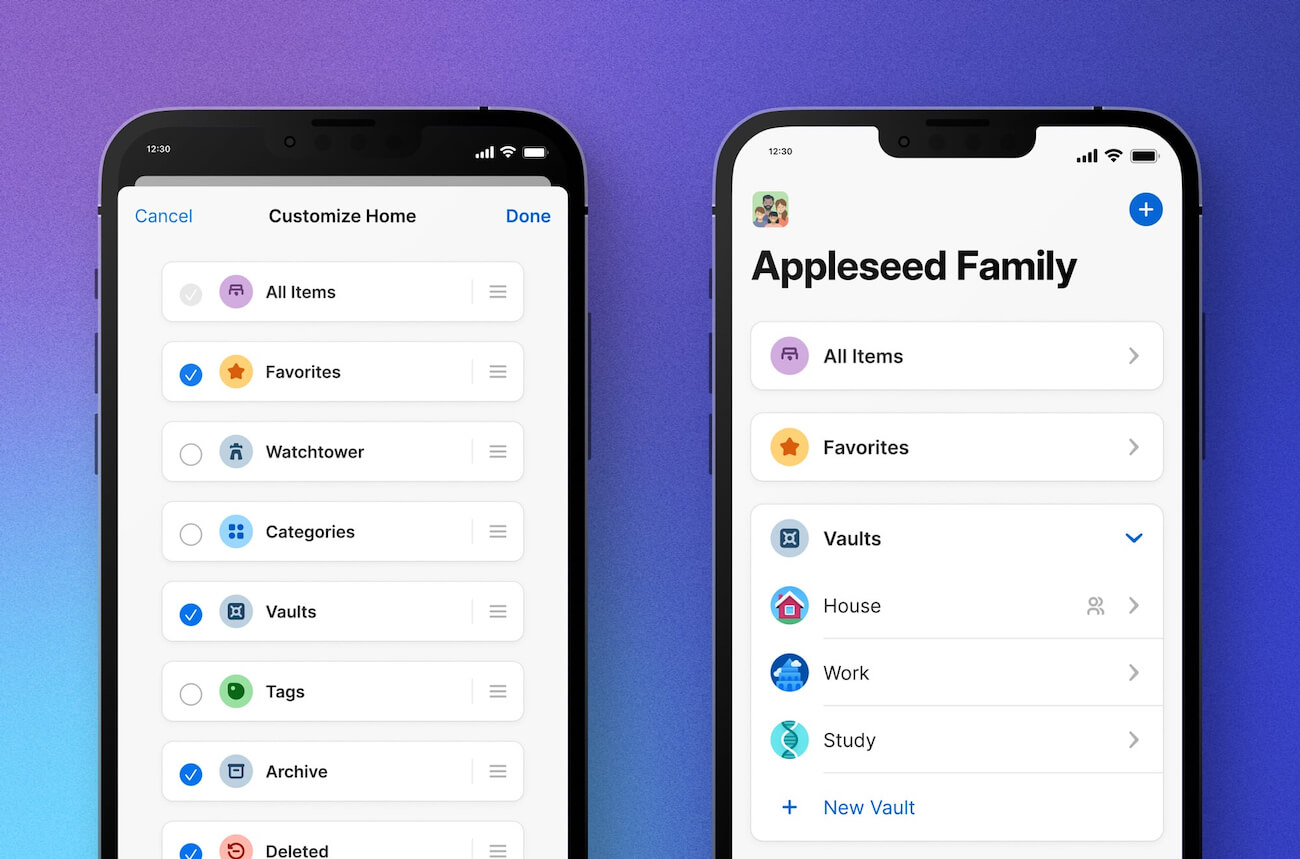 There's a lot to discover in this new app, but let me just touch on a few of my favorites.
Number 1: A personalized Home tab. All of us have slightly different use cases for our favorite security app, and the new Home tab enables you to set it up just the way you like it. Simply scroll to the bottom of the list, tap on the 🏠 Customize Home button, and you're off to the races.
Are you a heavy user of tags and want to see them at the top all the time? Go for it. Would you prefer to never see the archive? No problem, just turn it off. We have a lot of ideas about the type of information we can make available to you on this screen, so let us know in the forums what you'd like to see.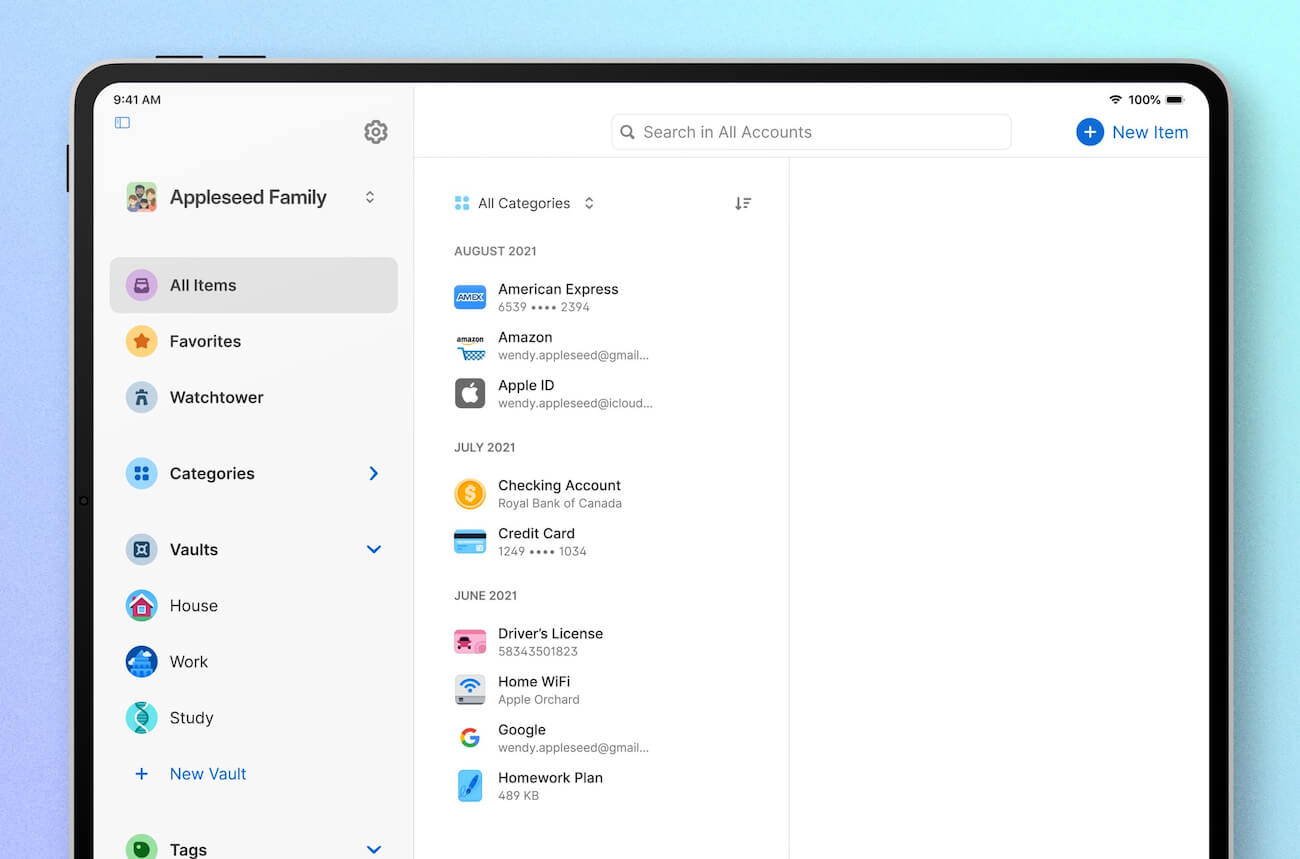 Number 2: 1Password for iPad.
1Password 8 on iPad is next-level. With a gorgeous layout that takes full advantage of the screen real estate, this is the iPad app I've always wanted us to build.
You can tailor the sidebar exactly the way you want it, just like the Home tab on iPhone. The best part is 1Password 8 for iPad scales gracefully to your device – from the expansive iPad Pro or the svelte iPad Mini – and to take advantage of iPad's multitasking views like Split View or Slide Over.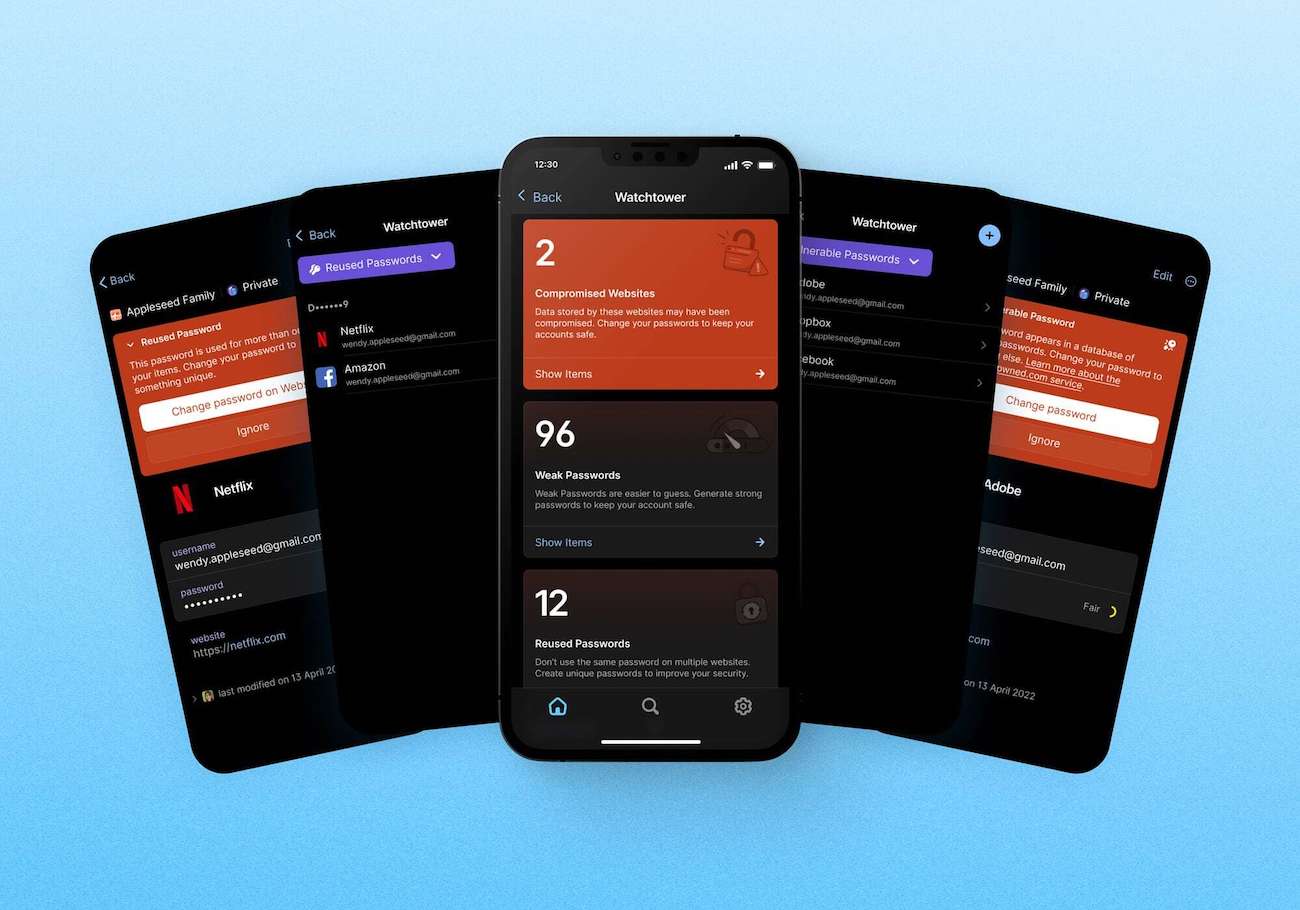 Number 3: Watchtower. Watchtower tells you about password breaches and other security problems with the items you have saved in 1Password. Until now, only fragments of Watchtower have been available on iOS.
We've always wanted to deliver a complete Watchtower experience to our iOS customers and I'm happy to report that 1Password 8 does just that. Featuring a full Watchtower dashboard, it gives you an at-a-glance view of your online security health. Better yet, it allows you to dig in and fix the issues, all from the comfort of your couch, your bed, or wherever you find yourself with a few extra minutes and some security issues to resolve.
The classics
As much as we've changed in 1Password 8, the greatest hits are still here. You can still unlock with Touch ID or Face ID, fill your passwords into apps and websites using Password AutoFill, and use our browser extension in Safari. And of course, the industry-leading security that you've come to know and trust continues to underpin everything we do.
I would recommend popping over to the Settings tab and checking out all of the options available to you to set up 1Password just the way you like it.
More to come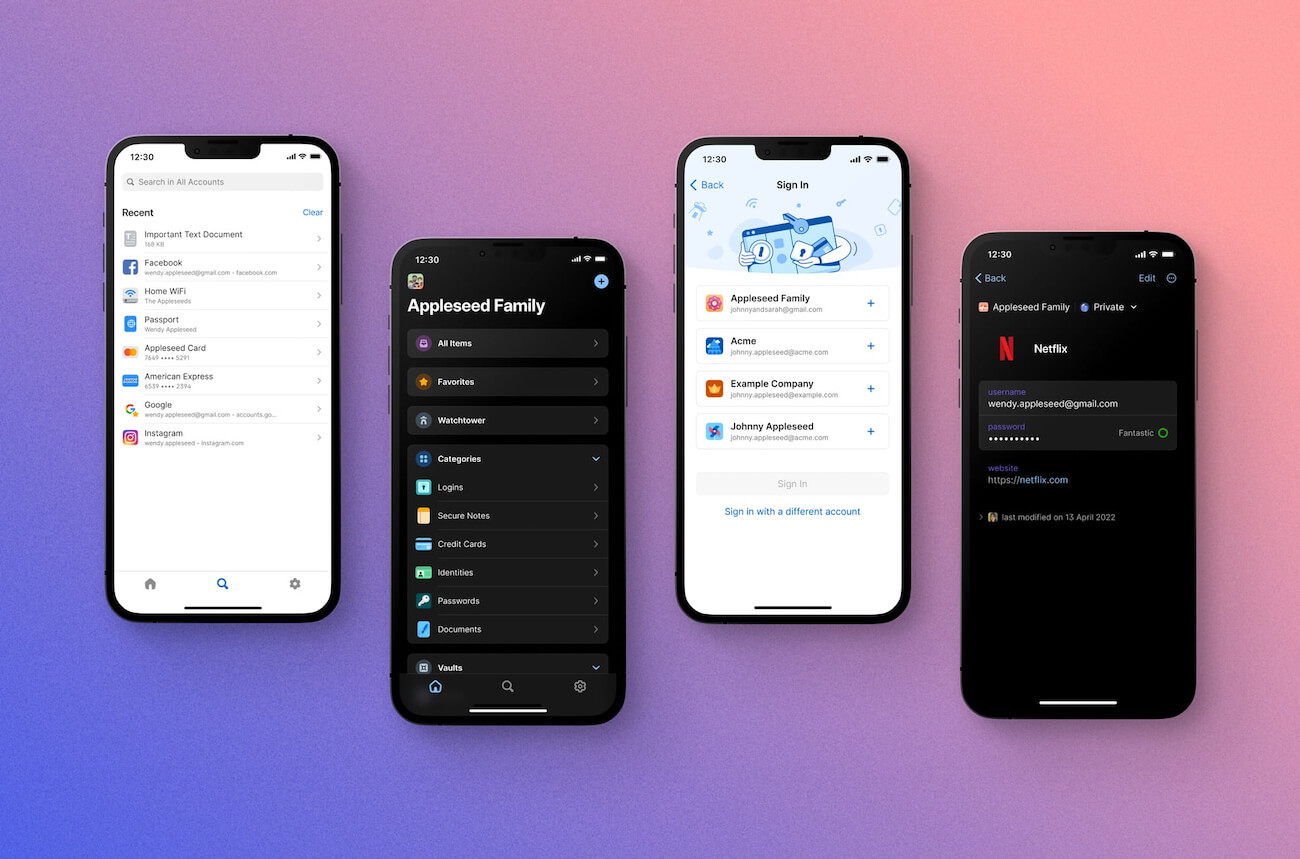 Today's launch represents a massive lift by our design and development teams. There are a few things that did not make the cut, but we'll be adding them in before stable release later this year. Keep an eye out for item sharing, additional Home tab content, Apple Watch support, account management, and an essential settings walkthrough.
Get involved
As I mentioned above, 1Password 8 is a brand new app with a TestFlight program all its own. We'll be publishing updates every week, and posting about the updates to the community forum.
As always, we can't make them great without your help, so please: download the app, dig in deep, and tell us what you think.
Try the Early Access
Want an early peek at 1Password 8 for iOS? Download the Early Access version on your iPhone and iPad today.
Download 1Password 8 for iOS