Today is a momentous day! It's time to take the wraps off something incredible that changes the world as we know it: 1Password 7 for Mac is here! 🎉🙌
There's a ton of amazing features packed into this release and I couldn't stop myself from writing a lot about them. If you'd like to start rocking right away, feel free to jump ahead and download 1Password 7 now. For everyone else, it's my distinct pleasure to share with you the awesome that is 1Password 7.
Marvellous mini
1Password mini is how most of us use 1Password on a daily basis and for version 7 we wanted to make that experience the best it could be.
1Password mini has been completely reimagined and comes with so many features that we needed to give it its own window. When you bring up mini you'll find it waiting for you with an incredibly powerful and beautiful new look.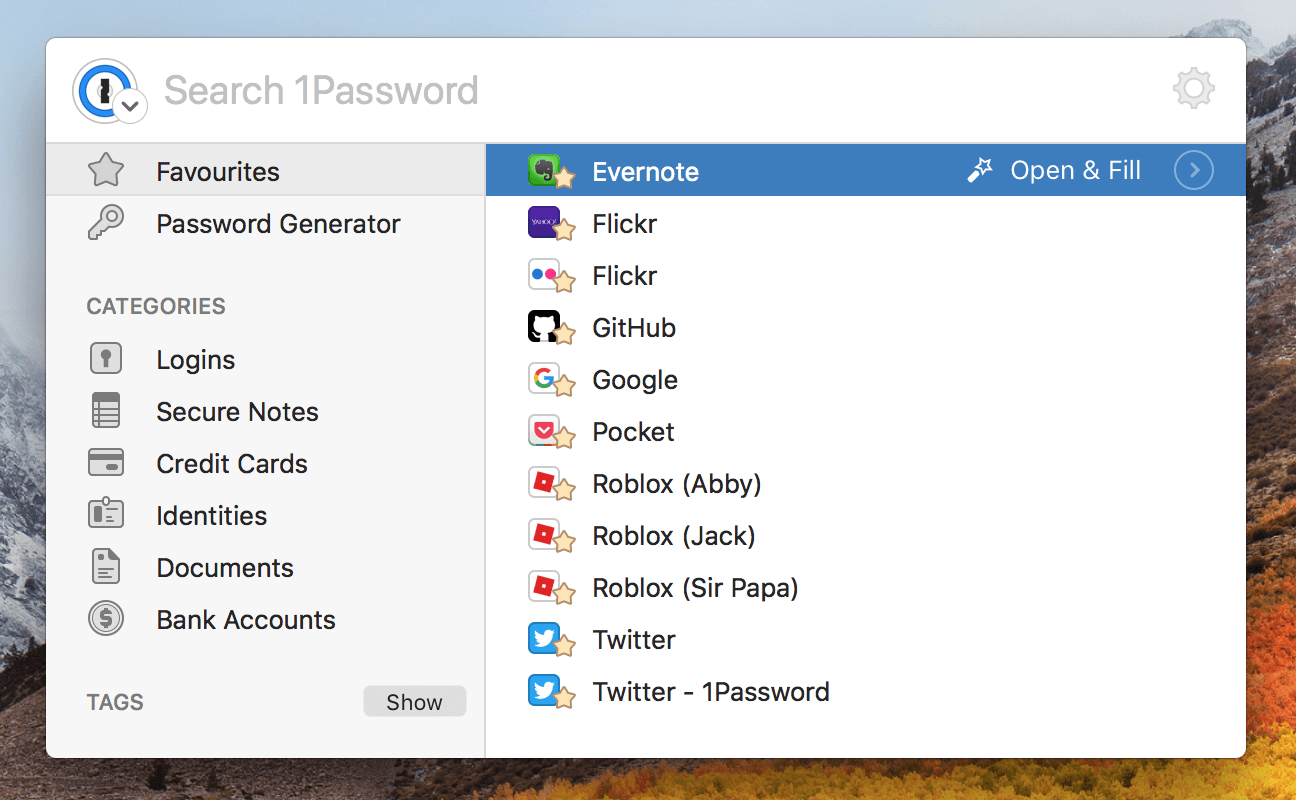 While in your browser, mini will automatically suggest the items you're most likely to need. Select the login you want to sign in with and 1Password will do the rest.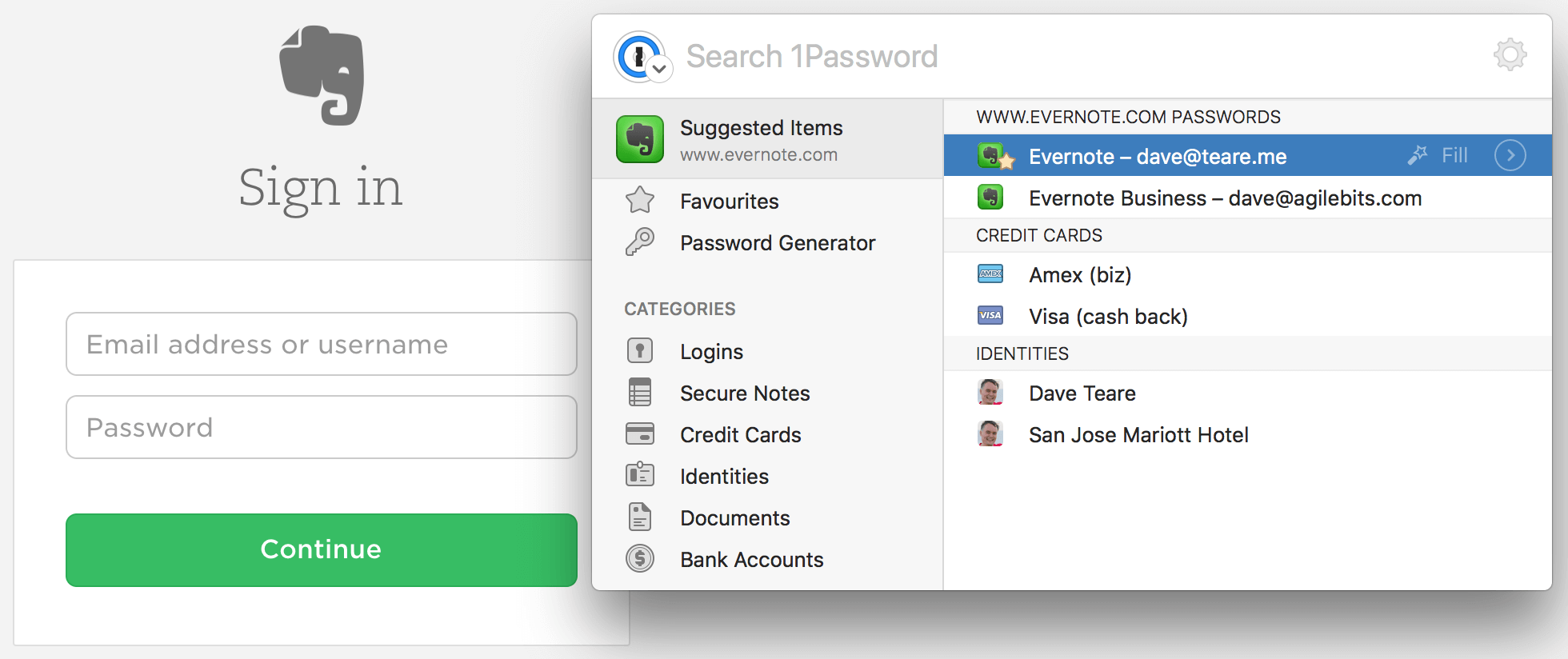 And mini doesn't limit itself to just browsers. With our new app integration we'll automatically suggest logins for the current app you're using. Along with support for drag and drop, this is a real game changer.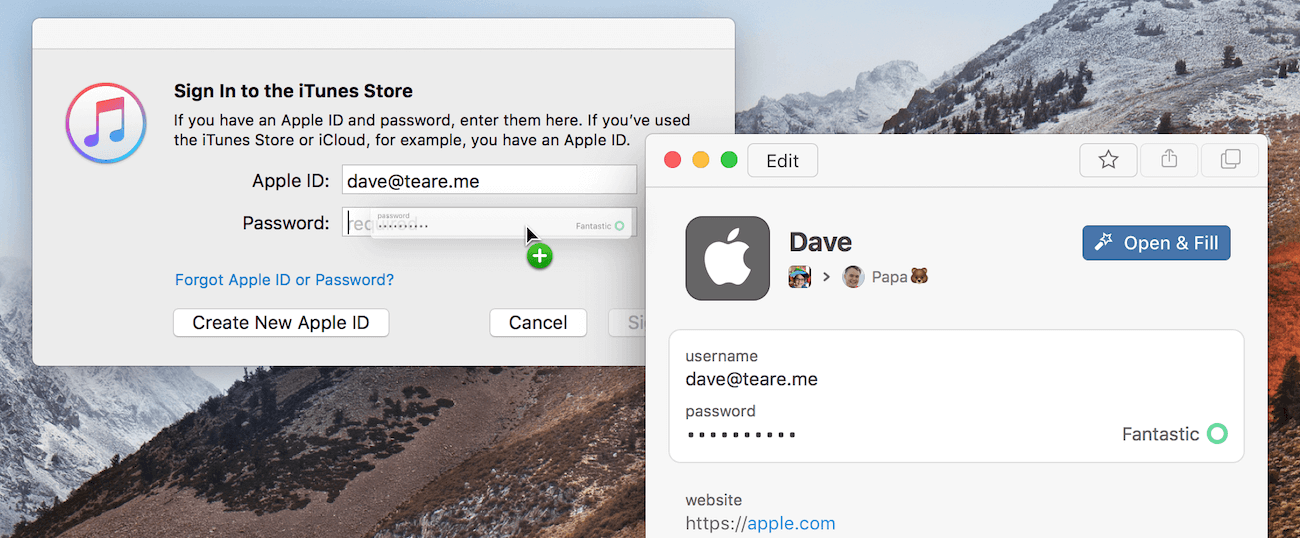 You can also make edits, move items between vaults, and even add documents – all without ever leaving mini. Soon you'll wonder how you ever lived without it. 🙂
Beautiful, bold design
The beauty you'll find in mini continues throughout the rest of 1Password as well. It all starts with the newly designed lock screen and it looks incredible, especially with Touch ID.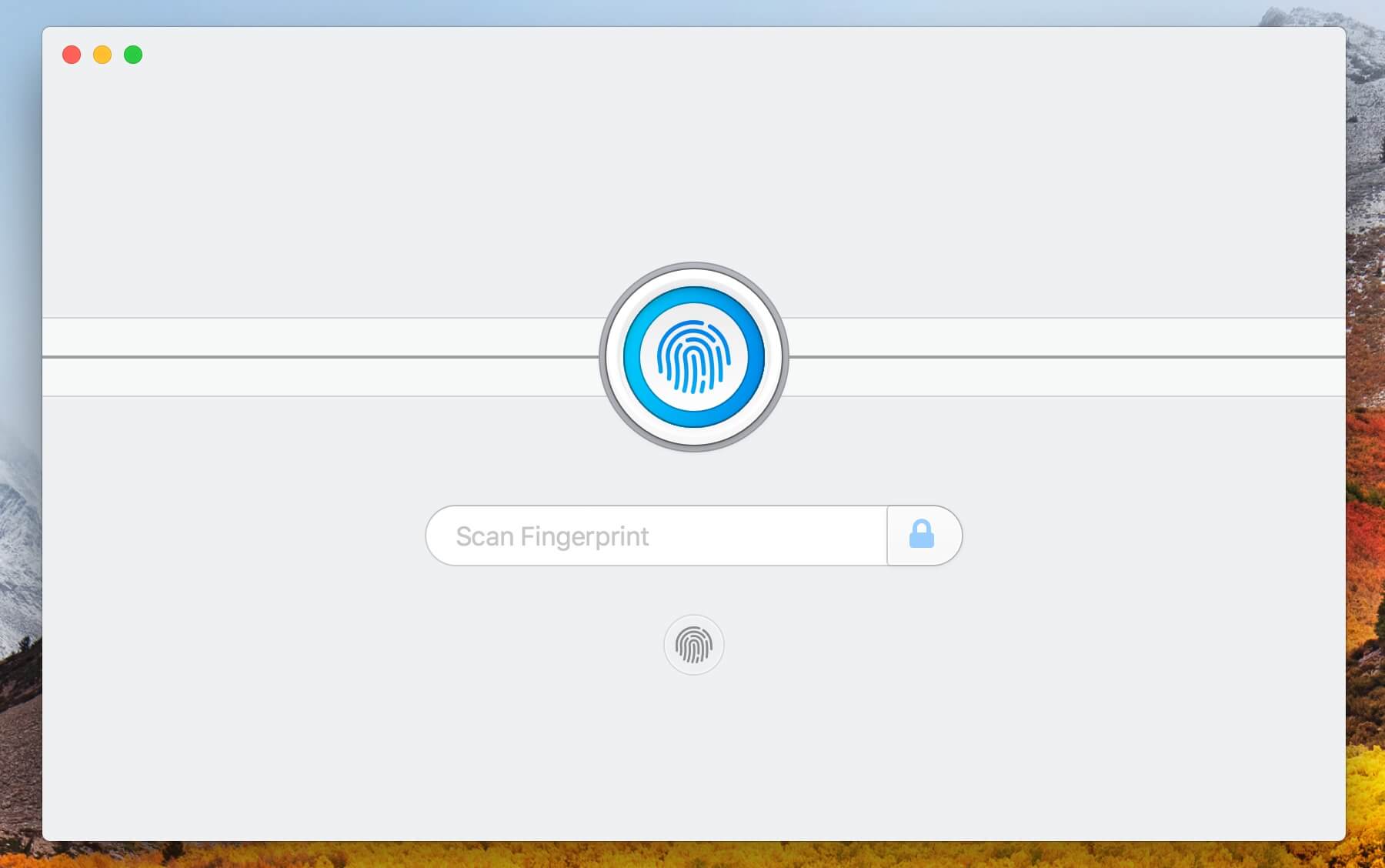 As great as those vault doors look, they pale in comparison to what lies secured behind them.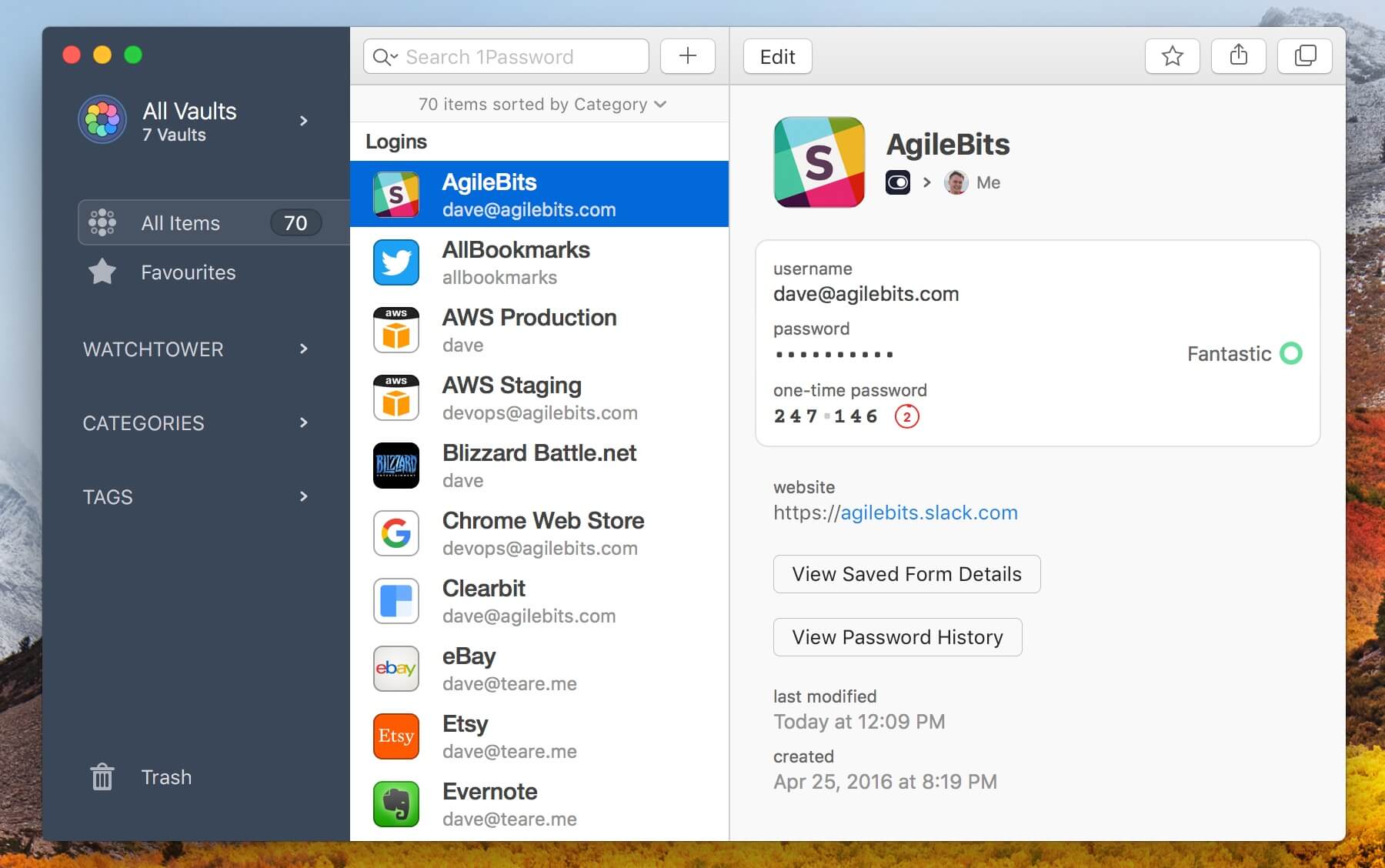 The first thing that grabs you is the stunning new sidebar. It draws you in with its bold dark theme and delights you with its simplicity.
The new sidebar looks great without being overpowering and the high contrast between it and your content allows your eyes to focus on what's most important: your items.
Detailing your items
Your items are able to join in on the fun as well with a new design and some lovely new touches. Each of your items now prominently show which vault they belong to and have their most important information highlighted.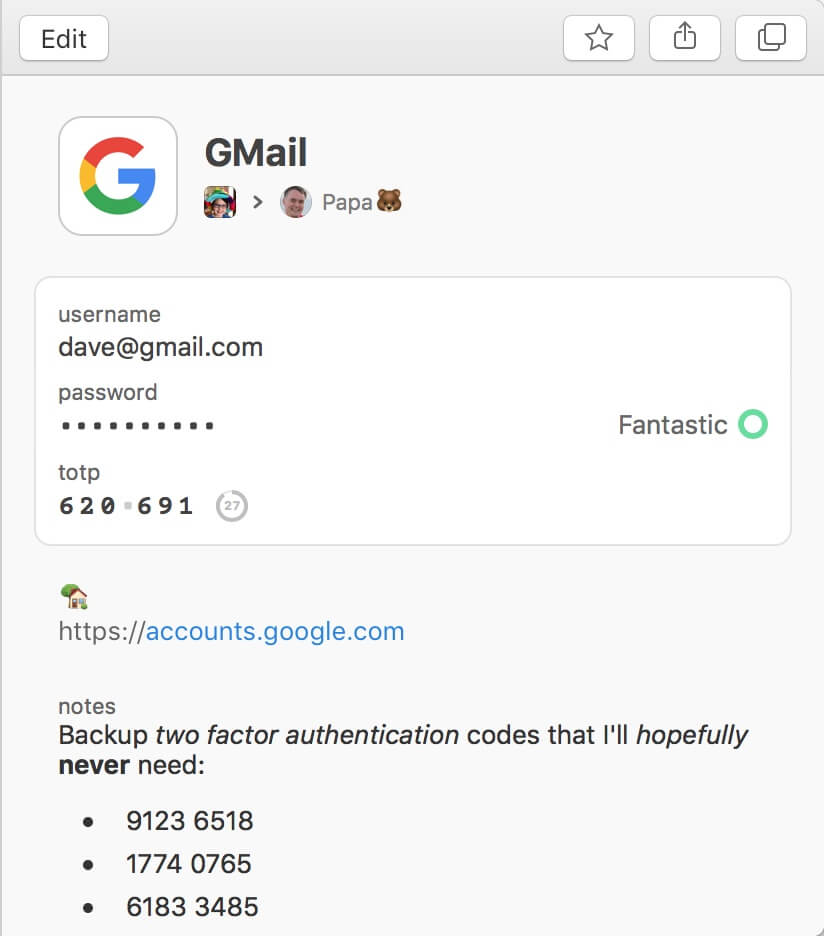 If you caught yourself yelling What Are Those?! when looking at the formatted notes field, you're not alone. You can now give your notes richly formatted text using Markdown! 🎉
Along with the improved layout and typography, we've added a beautiful custom font created specifically for 1Password called Courier Prime Bits (based on the lovely Courier Prime).
Alan Dague-Greene is the creative genius behind this font and it makes large type passwords look absolutely incredible.

Speaking of incredible, when you combine our new custom font with Markdown support, secure notes are now at an entirely new level of awesome.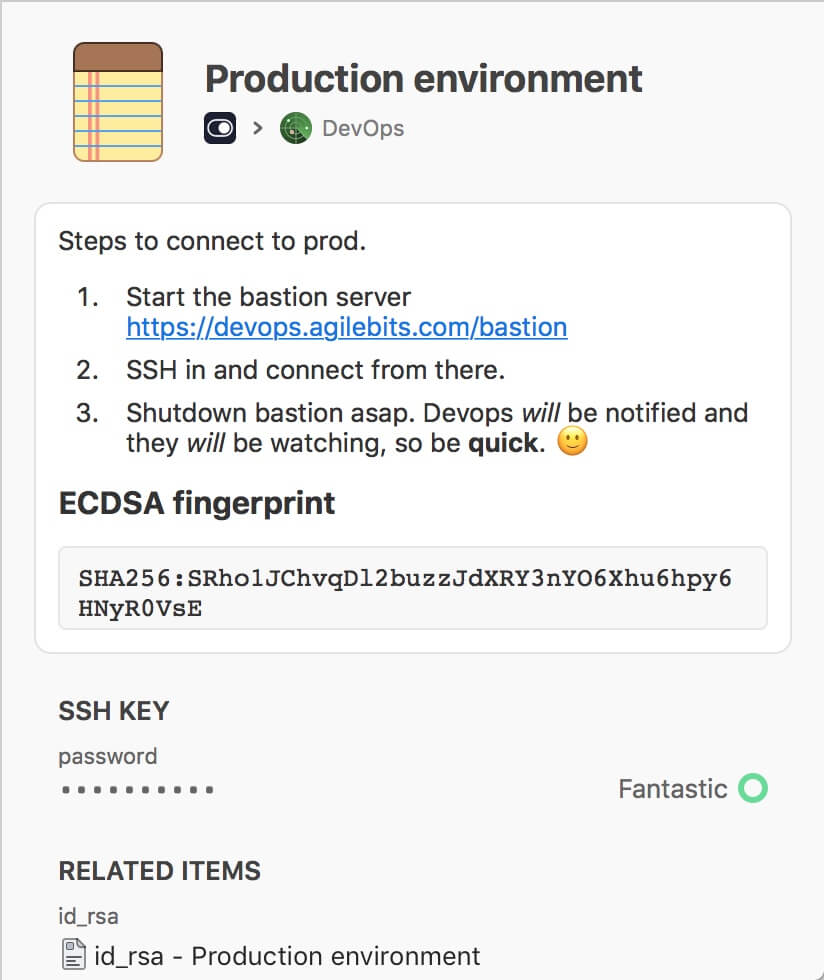 Once you start using Markdown in your notes you'll find yourself wanting to create a lot of them. And when you do, you can keep your notes and items organized using tags. You can even use nested tags if you want to be fancy.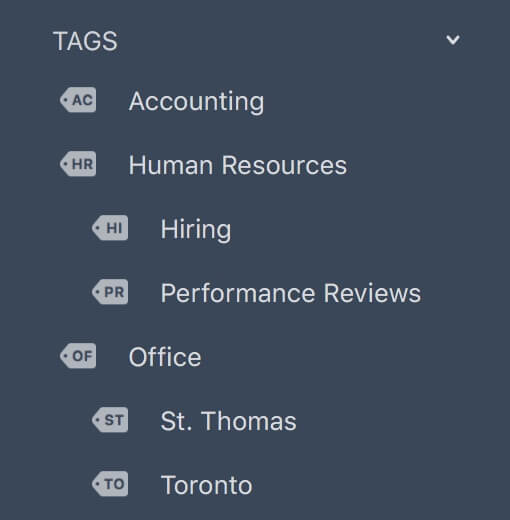 Oh and if you need to copy fields between items or into another app, you can detach the item details view into its own separate window by clicking the

button in the toolbar. This is incredibly useful although to be honest I often find myself clicking it for no other reason than to see the lovely animation. 🙂
Watching out for you
1Password 7 is doubling down on how it keeps you safe online. We have bundled together a suite of security tools that notify you of breaches, warn you of bad habits, and highlight vulnerable passwords. We call it Watchtower and it's amazing.
Watchtower integrates with Troy Hunt's haveibeenpwned.com service to see if any of your logins are vulnerable. 1Password securely checks your items against a collection of breached passwords (over 500 million and counting) and notifies you to change them.

Watchtower also knows which websites support two factor authentication and will alert you when it finds logins without 2FA enabled.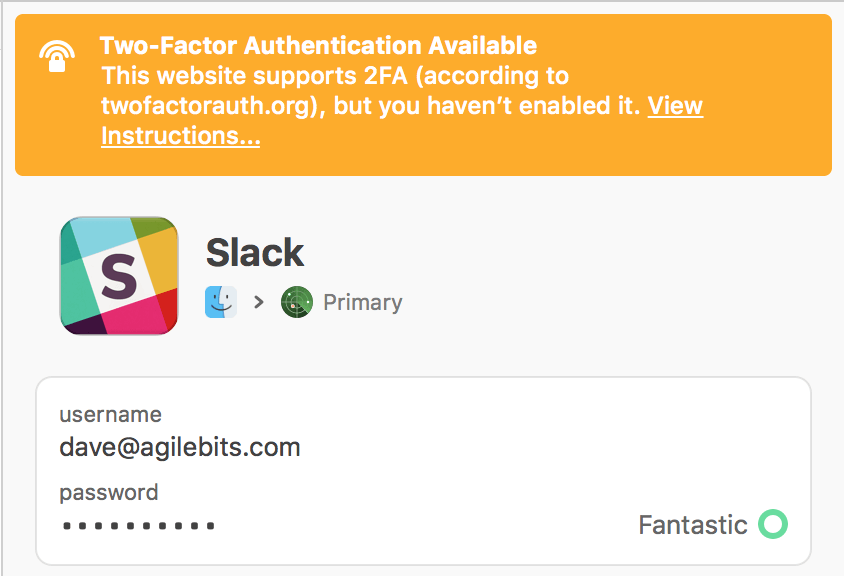 Watchtower will also alert you to logins that are using an insecure (HTTP) website address, weak passwords, and horror of horrors, reused passwords (seriously, don't do that!). And finally it'll even warn you if your credit cards or passports are expiring soon so you don't miss out on your vacation. 😎

Organize & securely share your items
Let's get back to that sidebar because there's more there than meets the eye. Sitting just beneath the surface is a powerful new way to organize and securely share your items.
Simply click on the sidebar header and your categories will slide away, revealing your collection of vaults. Vaults allow you to group your items depending on their purpose and who needs access to them.

You can drag and drop items between vaults and even between accounts. Or, drop your items on the New Vault button and a new vault will be created for you right then and there. It's so simple it's like magic.

Once you have your new vault created, sharing it with your team or family couldn't be easier. Select who you want to have access to your vault and 1Password will do the rest.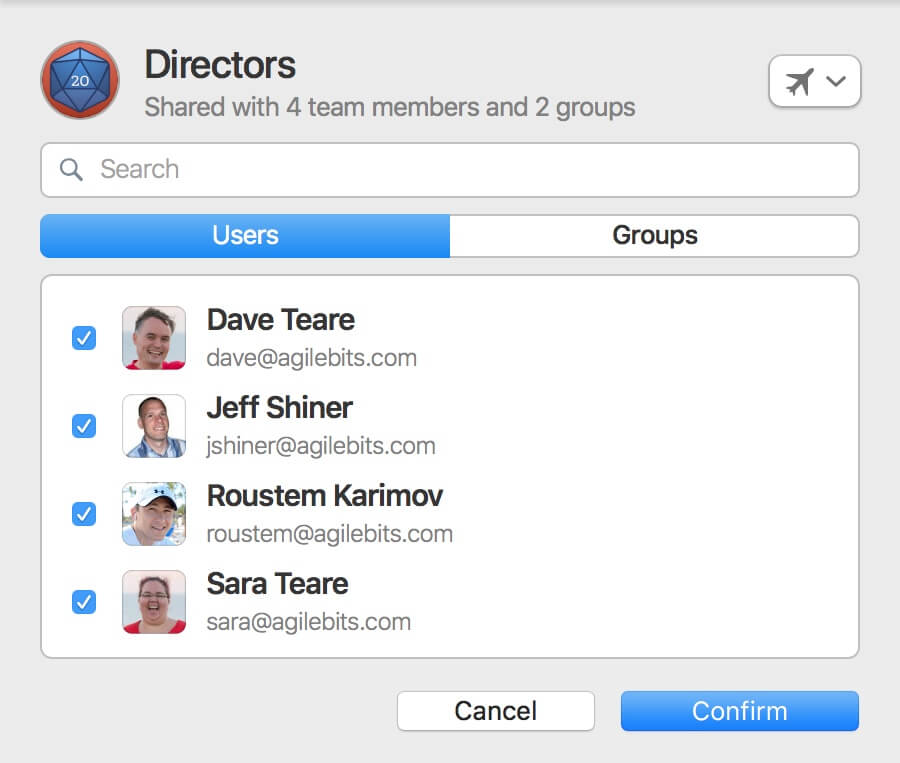 Best of all, any updates to the items appear automatically for everyone. It's easier to share securely with 1Password than being insecure without it. 💪
Strong foundations
Along with all these new features and improvements, a lot of heavy lifting took place to make 1Password 7 faster and secure-er than ever.
It all began by combining 1Password and 1Password mini into a single process. This made items faster to load, reduced memory usage, and decreased launch times. The overall performance boosts made us smile as soon as we saw them and we think they'll make you smile, too.
Also new in 1Password 7, we've taken advantage of Apple's Secure Enclave to protect your Master Password when Touch ID is enabled. This is incredibly cool because the keys used for encryption are protected by the hardware and not accessible to other programs or the operating system.

And if you're moving over to our new 1Password memberships, syncing your data is more secure than ever. With the addition of a Secret Key, Secure Remote Password, and Galois/Counter Mode, your data has never been safer. And the speed and reliability is simply unparalleled.
And so much much much more!

I told you at the beginning that I was going to write a lot about 1Password 7 and I could keep going. But in the interest of getting you into 1Password 7 sooner, I'm curtailing the rest into this fancy bulleted list!
Collapse the sidebar entirely so your items get all the love
Quickly find items with our new Spotlight integration
Use Handoff to view iOS items right from your Dock
Easily see your currently selected vault and account
Marvel at the monogrammed icons for tags and logins
Edit your vaults directly from the sidebar
Enjoy the new password strength meter
Remove duplicate items on a per-vault basis
Jump to items and vaults with ease using Quick Open
Opt in to automatic updates so you can always enjoy the latest and greatest 1Password has to offer
How do I get it?
To start enjoying the best version of 1Password ever built, grab it here:
1Password 7 is included free for everyone with a 1Password membership. Simply unlock 1Password after downloading and you're good to go.
Those of you with a standalone license for version 6 will be prompted to subscribe or purchase a license when 1Password 7 first opens. Licenses will cost $64.99 but are available during our launch special for only $49.99. Licenses are per-person, per-platform so you can use your single license on as many Macs as you have. 1Password 7 for Windows will be released next week as a separate purchase.
I hope you enjoy 1Password 7 as much as we enjoyed making it for you! We couldn't have done it without your help. ❤
Please join us in our discussion forums or in the comments below to share your experiences with us and help craft the future of 1Password. We always love hearing from you. 😘